Billion Dollar Whale, the book that details Jho Low's purported involvement in the Malaysian state fund 1Malaysia Development Berhad (1MDB) scandal, will be launched at the bookstore Kinokuniya, on September 26. Unlike in the United Kingdom where lawyers for Jho Low have sent letters to block the sale of the book booksellers in Singapore have not received any such letter and are all set to sell it.
The book was penned by Bradley Hope and Tom Wright, journalists for the Wall Street Journal. Mr. Low is wanted in Malaysia on charges of money laundering, and the US Department of Justice has also filed lawsuits in order to obtain Mr. Low's luxury assets that were reportedly purchased from money stolen from 1MDB. It is also alleging that Mr. Low is primarily responsible for misappropriating more than US$4.5 billion (S$6.2 billion) from the fund.
Part of these funds were reportedly used by Mr. Low in purchasing a super yacht, private jet, several paintings and real estate, though Mr. Low has maintained that he is innocent.
Last Friday, September 14, it was reported in The Guardian, a British newspaper, that booksellers in different countries have received "threatening letters" from Mr. Low's lawyers. The book is now blocked in the UK, according to The Guardian. Schillings, a law firm based in London, has issued letters on the financier's behalf to independent bookstores in order to stop the sale and distribution of the book.
One bookseller even allegedly received a letter concerning the shop's website  posting a description of the book, and now this bookseller is on notice "that serious defamatory material is likely to be contained in the subject book."
Booksellers are being demanded to commit to several conditions. One, to never sell the book; two, to compensate Mr. Low for publishing the book's synopsis, and three, to reimburse Mr. Low for his legal expenses.
The letter further threatened that legal action would be taken against the bookstores should they fail to respond.
When asked by The Guardian, however, Schillings would neither deny nor confirm that they were hired by Mr. Low, saying, "We do not talk about clients or matters, neither do we confirm or deny whether any individual or entity is a client of the firm."
MPH Distributors, who is distributing the book in Singapore, has said that the book will be available at Kinokuniya, MPH and Times, where 6,000 copies will be made available. These booksellers in Singapore have not received any such letters blocking the sale of the book.
According to the senior manager at MPH Distributors, Marcus Frois, an additional 4,000 copies of the book have been ordered.
Netizens are sure that the more Mr. Low tries to block sales of his book, the more of a bestseller it will be.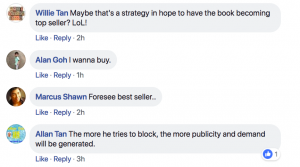 Follow us on Social Media
Send in your scoops to news@theindependent.sg