The Singapore Police Force (SPF) arrested a 52-year-old man for possession of a long bladed weapon and suspected drug-related offences after a stand-off in Block 191 Boon Lay Drive at 5.18 PM.
There were three police officers that responded the call from a citizen. Two were wearing helmets for protection while the third one was carrying a riot shield.
The officers ordered the man to put his weapon down but he did not comply causing the authorities to restrain and disarm him while ordering to get on the floor.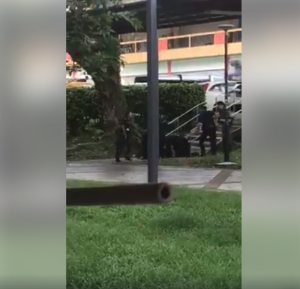 Photo: Screengrab from Facebook/Atiqah Shah
There were no injuries reported.
Upon seeing the video on social media, some netizens were upset given that this happened on the first day of the year.



Photo: Screengrab from Facebook
With the efforts of the police, a lot of netizens applauded SPF for fending off any worse situations that this man may cause.




Photo: Screengrab from Facebook
The Corrosive and Explosive Substances and Offensive Weapons Act 2013 defines an "offensive weapon", that includes any instrument which is used as a weapon of offence is likely to cause hurt. Furthermore, the law states:
Any person who in any public road or place carries or has in his possession or under his control any offensive weapon otherwise than with lawful authority or for a lawful purpose shall be guilty of an offence.
The person is liable on conviction to imprisonment for a term not exceeding 3 years and shall also be punished with caning with not less than 6 strokes.
This offence shall be deemed to be an arrestable and non-bailable offence.
In order not to violate the law, the person should secure a permit and must meet specific criteria. Also, there must be a lawful purpose or with lawful authority when carrying deadly weapons in Singapore.
Follow us on Social Media
Send in your scoops to news@theindependent.sg