On Saturday, January 26, Ryan Goh, who is an army engineer with the Singapore Armed Forces (SAF), wrote a post which has now gone viral. With the recent death of actor Aloysius Pang during training in New Zealand last week, people's emotions are still running high.
First, Goh told everyone that should he die in combat, no blame should be put on the SAF and his fellow soldiers. He asked instead that people be proud of him.
Goh opined that while everyone is mourning the loss of our brother (Pang) accidents still happen no matter how safe a system is. He called this, however, unfortunate & regrettable.
Then Goh addressed his own son, saying that as Singaporeans they are "not forced to serve," but rather, this is a duty and obligation to the country and countrymen.
He then addressed "all keyboard warriors out there," saying they will continue to serve, no matter what.
Goh ended his post extending condolences to Pang's family.
https://www.facebook.com/photo.php?fbid=10156081359991989&set=a.10151803178436989&type=3&theater
Here is Goh's post in full:
To my dear family, relatives, friends & people who may not know me… If one day I were to die in my uniform, please do not put the blame on my organisation & my comrades. Instead be proud of me that I would have served my country till my last breath. We are all saddened by the lost of our brother. Nobody will wish to see any misfortune to befall on our bothers & sisters in arms, but we have to understand that no matter how robust the safety system is, accidents do happen. It's unfortunate & regrettable…
To my son, Jyan… I want you to remember, as a singaporean son, we are not forced to serve, it is our obligation, our duty to protect our country & our fellow singaporeans even though a lot of them do not appreciate what we are doing…
To all keyboard warriors out there… We will continue to serve with passion & pride no matter what you typed in the past or in the future. To add, military funeral is the least we can do for our fallen brother, it is a way of showing our respect and definitely not a formality or for show…
Lastly, to the family of our fallen brother… Our hearts are with you, may you find strength in this difficult time, please stay strong & take care…
Love for country was evident in Goh's words, which is why many of the commenters praised him for his post. The post has been shared, commented and reacted to thousands of times.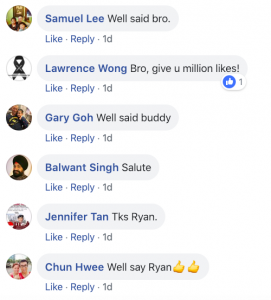 Other netizens, however, were not too happy with Goh's post. Several pointed out the circumstances wherein Pang died is a time of peace, as a trainee/ reservist. Such deaths, netizens argued, should be taken seriously.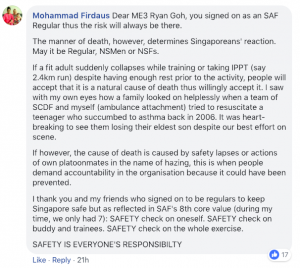 Many took exception to the phrase Goh used, "we are not forced to serve," pointing out that as a member of the armed forces, Goh personally chose to put himself in the line of fire, while others who serve mandatory training do not.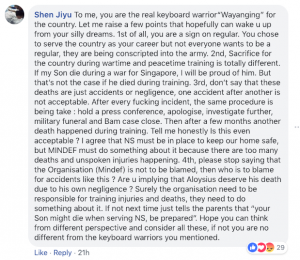 Others reminded him where his salary comes from.


Goh's post even sparked arguments among netizens.



Read related: Aloysius Pang: Why the young man from MacPherson Lane was more important than all the foreign talents you can open your gates to
https://theindependent.sg.sg/aloysius-pang-why-the-young-man-from-macpherson-lane-was-more-important-than-all-the-foreign-talents-you-can-open-your-gates-to/
Send in your scoops to news@theindependent.sg