US singer Ariande Grande's wish is to take a group photo with BLACKPINK.
Seeing that logistically that's not possible for now, she settled for the next best thing, which is to be edited into a photo with the popular K-Pop group.
On August 16, American music producer Tommy Brown shared on Instagram a photo that he took with BLACKPINK in Korea.
Brown, who has collaborated with Ariana Grande on many of her songs including her recent hits "7 Rings" and "Thank U, Next"—playfully wrote in the caption that he was a "New member of [BLACKPINK]. I know I'm your favorite."
https://www.instagram.com/p/B1MXU-zgeGa/?utm_source=ig_embed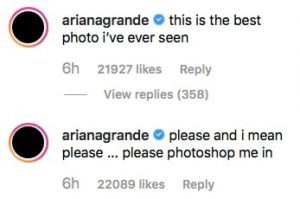 Jisoo responded by jokingly commenting, "Welcome," while Ariana Grande expressed her envy by writing in the comments, "This is the best photo I've ever seen," followed by "Please and I mean please… please photoshop me in." 
Shortly afterwards, Tommy Brown made Ariana Grande's wish come true by posting a new version of the photo, this time with the American singer edited in. He jokingly added in the caption, "Sry here's the real one."
https://www.instagram.com/p/B1MbzWcABhG/?utm_source=ig_embed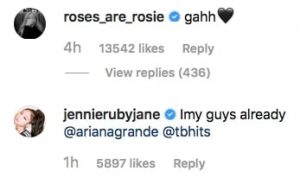 Ariana Grande playfully responded in the comments, "Ty so good seeing u guys." Rosé reacted to the edited photo with an enthusiastic "Gahh," while Jennie commented, "Lmy guys already."
Earlier this week, Tommy Brown's friend Tony Fernandes revealed on Instagram that the producer had worked with BLACKPINK during his time in Asia.
https://www.instagram.com/p/B1F82dRhGwQ/?utm_source=ig_embed