Singapore — After a 70-year old man fell off a stool while eating at the newly re-opened Teck Ghee Square hawker centre and was injured, the Ang Mo Kio Town Council (AMKTC) has launched an investigation into the safety of the chains and tables.
The senior citizen had been eating dinner on the evening of June 2, Sunday, when the seat of the stool came off, causing him to fall backward. He sustained a head injury and had to be brought to the hospital.
Netizen Paul Tan had been on hand and took a photo of the incident, wherein a younger man was seen holding a white cloth to the senior's head, with others standing around looking concerned. He posted the photo late on Sunday night, and it has been shared over 650 times as of the morning of June 4, Tuesday.
Mr Tan wrote, "After 2mths of renovation, juz 2days, tis is Wat happen, tis pity old man fall off frm e chair!!"
Alarmingly, the man fell on the second day after the hawker centre re-opened, having been newly renovated.
The Singapore Civil Defence Force (SCDF) said that it got a call that night requesting for medical assistance at 409 Ang Mo Kio Avenue 10 and that the patient was brought to Tan Tock Seng Hospital.
8world News reported that AMKTC is asking the contractor to conduct an investigation as to the state of the chairs and tables in the hawker centre, and by the following day, June 3, inspections were seen to be carried out, with areas of the centre cordoned off.
Channel NewsAsia (CNA) reports Tan Wen Xin, the chairman of the hawker centre, as saying that customers had earlier already complained of stool tops falling from off. He said to 8world News that it is possible that the old man had been on one of the chairs where the top had earlier fallen and had merely been returned there by an earlier customer.
AMKTC said that there are safety standards for chairs and tables at hawker centre and that these must be complied with. Each stool should be stuck to its base post not only with adhesives but also with four screws.
Photos from the incident looked like the seats had not been screwed on, but only glued with adhesive.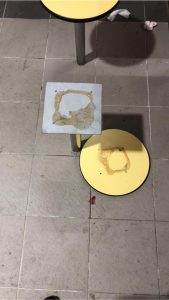 Since Ang Mo Kio GRC is under PM Lee, the Prime Minister was blamed by netizens for the incident that injured the 70-year-old man. The other Members of Parliament from Ang Mo Kiko GRC are Darryl David, Koh Poh Koon, Ang Hin Kee, Intan Azura Mokhtar, and Gan Thiam Poh./ TISG
Read related: Netizens blast PM Lee after glue fails to hold stools at Teck Ghee market, causing elderly man to fallFollow us on Social Media
Send in your scoops to news@theindependent.sg