Singapore – When an electronic parking barrier stopped functioning, a taxi driver took things into his own hands – literally – and manually dismantled the barrier.
On June 7 (Friday), a video was uploaded to Facebook by Alforonso Sontoroyo showing a taxi driver taking a parking barrier from its socket and dumping it on the side of the road.
Once he was done, the taxi driver returned to his vehicle and went back to living his life.
"Power lah u uncle… Fierce siol… Hahaha," read the caption.
According to an update Alforonso posted, the uncle was not in violation of any law although it would seem alarming to a bystander. The parking barrier prevented the taxi driver from leaving what appeared to be an HDB carpark.
"What he did was the protocol instructed by the customer service due to machine [being] faulty," noted Alforonso.
A certain Kzee Db commented that he too experienced the same thing in the past and was instructed by the customer service to remove the barrier.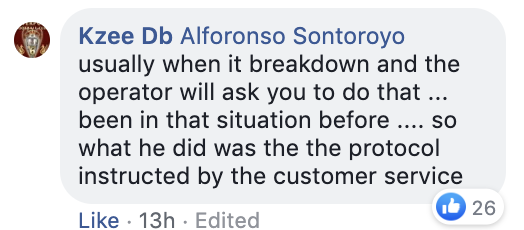 Good thing the uncle acted on logic instead of pushing through the barrier and damaging the mechanism, noted Amir Akyd.

Watch the video below:
Power lah u uncle… Fierce siol… Hahaha*Updated* : What he did was the the protocol instructed by the customer service due to machine faulty.

Posted by Alforonso Sontoroyo on Thursday, June 6, 2019
Follow us on Social Media
Send in your scoops to news@theindependent.sg