One of the most exciting comic book projects in progress right now is The Batman.
Directed by Matt Reeves, the man behind Dawn of the Planet of the Apes and War For the Planet of the Apes, The Batman is set to be a highly character-driven film based on what Reeves did with Caesar in the Apes franchise.
In the past, he mentioned that the movie will be a neo-noir and it will focus Batman as the world's greatest detective.
The casting of Robert Pattinson as Batman is an interesting one. With a resume that includes Twilight, Good Time, The Rover, Lost City of Z, High Life and Cosmopolis, Pattinson is proving to critics that he is not just a pretty face and he is fit for the role as the Dark Knight.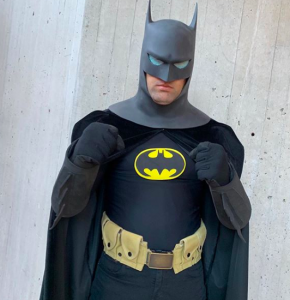 The actor has an interesting thought though. Pattinson spoke to The New York Times saying that we should be sceptical of any actor who only wants to play the good guy all the time.
When asked why Pattinson decided to play Batman, an iconic superhero, Pattinson replied:
"Batman's not a hero, though. He's a complicated character. I don't think I could ever play a real hero — there's always got to be something a little bit wrong. I think it's because one of my eyes is smaller than the other one."
We have to agree with Robert Pattinson with this theory. Batman is a superhero but he is not perfect the way Superman, Wonder Woman and Shazam are. The Dark Knight has a dark past and he does not follow the law. He gets the job done when the police can't but he does it in a violent way. These details are what makes Batman intriguing.
Pattinson was then asked what about Batman excites him. He said:
"I love the director, Matt Reeves, and it's a dope character. His [Batman's] morality is a little bit off. He's not the golden boy, unlike almost every other comic-book character. There is a simplicity to his worldview, but where it sits is strange, which allows you to have more scope with the character."
The upcoming The Batman movie will begin production at the end of this year and is set to release in the summer of 2021. Robert Pattinson plays Batman while Zoe Kravitz will play Catwoman with Jeffrey Wright acting as Jim Gordon and Paul Dano casted as Riddler. /TISG
Send in your scoops to news@theindependent.sg