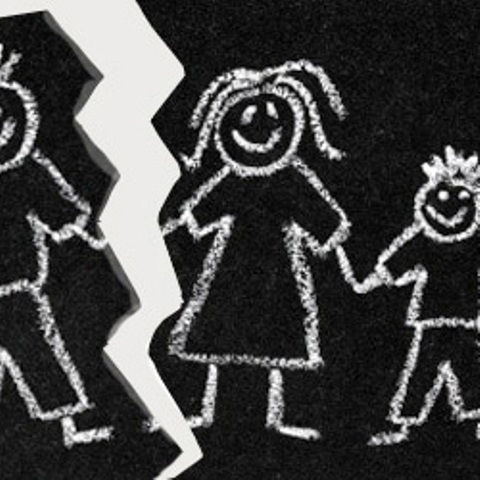 Celebrate International Women's Day with a new movement to support single parents: #asinglelove and Fair for All Families
On 10 March, AWARE launched #asinglelove, a new movement to support and empower single parents (including unmarried, divorced and widowed parents) and their families. The campaign kicks off with the online release of a thought-provoking video looking at attitudes toward single parents, and (on 12 March) a fun family carnival with special freebies for single parents (Guest-of-Honour MP Tin Pei Ling).
#asinglelove
#asinglelove is a collaboration between AWARE, Kinetic and Daughters Of Tomorrow, to stand up for single parents in Singapore. The movement seeks to:
Support and empower single parents through direct services and programmes.
Promote more supportive and equitable policies towards single parents.
Encourage more welcoming and inclusive attitudes toward single parents.
Programmes for single parents include skills training, employment bridging, legal advice, support groups and a strong peer network to provide mutual support and assistance.
On 10 March, #asinglelove released a thought-provoking video featuring interviews with single mothers as well as responses from members of the public.
[fvplayer src="http://youtube.com/watch?v=FuniiBH5zOE"]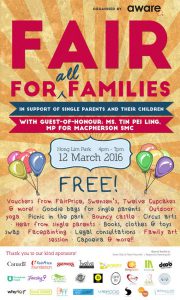 This will be followed, from 1 April, by posters visible on the Northeast Line of the MRT, promoting inclusive societal attitudes towards single parents and their children.
"A single parent is no less a parent," said Jolene Tan, Programmes and Communications Senior Manager at AWARE. "Unmarried, divorced or widowed, single parents and their children are part of society – they deserve inclusion and support to meet their needs, no less than any other families."
"Too often have we been dependent on the government to initiate change. With #asinglelove, we want to start from the ground up," shared Carolyn Teo, founder of Kinetic Singapore. "We want to encourage more people to take action, because simply pushing our views is not enough and may instead create more negativity especially when it's an issue as thorny as single parenthood. We believe that together our small ripples can eventually turn the tide for single parents."
Fair for All Families carnival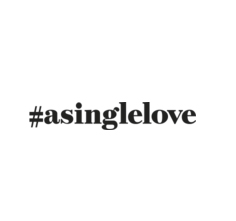 On 12 March, Fair for All Families will treat families of all kinds to attractions and freebies at Hong Lim Park. Welcoming all but with special experiences and gifts for single parents, the fair features Guest-of-Honour Tin Pei Ling, MP for Macpherson SMC, as well as a segment where single parents share their personal stories.
Attractions include a bouncy castle, parent-child painting, community yoga, circus arts, a capoeira (martial arts/dance) party and more. Single-parent families will receive goodie bags (NTUC Fairprice vouchers, picture books and more) kindly sponsored by almost 30 partners. Stalls will offer discount giveaways and free services, such as legal consultations by Eden Law Corporation and health advice from doctors at Wellness for Life Chiropractic.
We invite you to cover this colourful and fun carnival for your media channel, and request you to share the event page with your community through your channel and social networks.
Date: 12 March 2016 (Saturday)
Time: 4pm – 7pm
Venue: Hong Lim Park
The fair is supported by partners including High Commission of Canada, NTUC FairPrice Foundation, Swensen's, Twelve Cupcakes, BooksActually, Chewy Junior, Freedom Cups, Funzing, Chapter Zero, and The Open Centre.
"I am delighted to be part of this great event in support of single parents and their children. Single parents have a tough job, and my heart goes out to the children who have to cope with less resources. It's heartening to see that there is so much community support for them," said Ms. Tin Pei Ling, MP for Macpherson SMC, who will feature as the Guest-of-Honour at the fair.
"At Fair for All Families, single parents get something extra – like special vouchers and discounts," said Jolene Tan, Programmes and Communications Senior Manager at AWARE. "It's a reversal of the situation in society at large, where they often receive less support despite needing more."
One single mother speaking at the fair is Zubaida Binte Mohamed Ali, who started Single and Single Again (SASA), a support group for Malay women undergoing divorce, coming to terms with being single or dealing with the loss of a partner.
"I have been through my own challenges that come with being a single parent, including losing my home. I've heard similar stories from other single parents with children as well. ​But I​ hope that through SASA and events like Fair for All Families, we are able to support one another and show solidarity to single parents in​ these difficult situations," said Zubaida Ali.