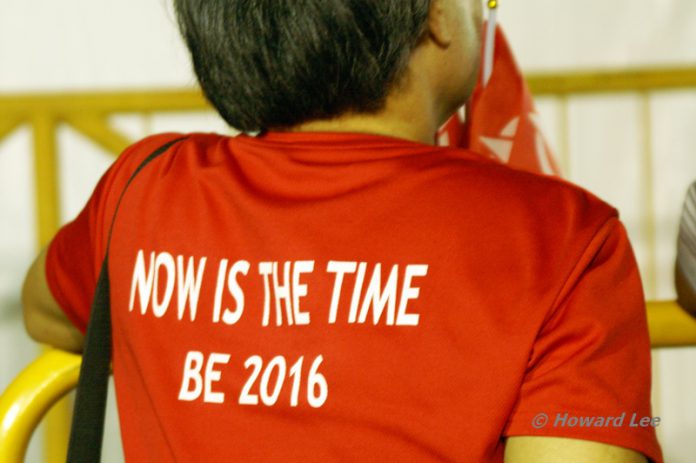 By Howard Lee
The third election rally of the Singapore Democratic Party saw party members take the stage to counter allegations by the People's Action Party against Dr Chee Soon Juan, leaving Dr Chee to devote his speech to SDP's policies and programmes for the by-election.
The rebuttals came fast and thick, but remained civilised, with the most personal coming from Bryan Lim, who only went as far as to mock PAP's candidate Murali Pillai for running spiliting his attention between Bukit Batok and Aljunied GRC where he last stood and had made promises that he will continue to serve.
We give you some of the quotable quotes from the rally.
Sadasivam Veriyah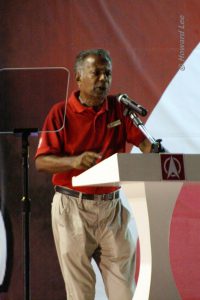 The GE2015 SDP candidate for Bukit Batok SMC recounted his former loyalty to PAP and Dr Tan Cheng Bock, but was disappointed with how the party conducted itself after elections.
"Since I received my PAP membership, I have not received a single pamphlet or flyer. Am I only qualified to be a flag carrier or banner layer?"
Jaslyn Go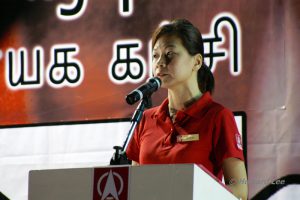 SDP's assistant treasurer highlighted the case of National Serviceman Dominic Lee and how it made her feel disillusioned about asking her own son to protect the nation, as the government did not seem to care about protecting servicemen.
"The Singapore government must know that we are not digits that can be conveniently forgotten… Make the government be accountable for their errors."
Bryan Lim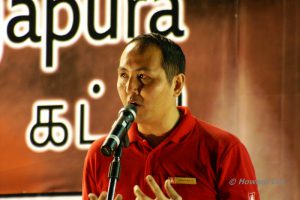 SDP's former youth wing leader and current assistant secretary-general spoke mostly in Mandarin, and shared his perception of Murali Pillai from grassroot events.
"My mother asked me to give up fighting the PAP – they are so powerful and aggressive… But I told her, we need to do it for the people."
"On polling day, please use your vote to tell Murali, don't worry and be so busy running around, stay in Aljunied."
Neo Swee Lin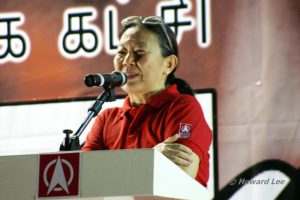 The veteran and award winning actor spoke up on national television in support of Dr Chee's Bukit Batok campaign. She also received the most applause after Dr Chee.
She expressed her unhappiness with what she saw was yet more character assassination of Dr Chee by the PAP, and took jibes at comments by Minister for Culture, Community and Youth Grace Fu.
Neo also read out a petition to call for an end to gutter politics by the PAP. The petition was sent to the media, and Neo also called on the media to publish the letter in full, in the spirit of World Press Freedom Day yesterday.
"I'm a freelance actor. You might not see me working, but trust me I do work."
"As an actor, I feel so ashamed that my own Minister of Culture has resorted to gutter politics. And then my Prime Minister did the same."
Paul Tambyah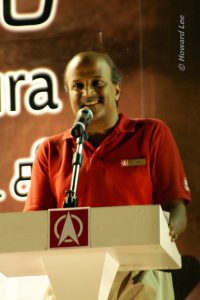 The man behind SDP's healthcare policies chastised mainstream media for what he felt was a deliberate attempt to misquote his earlier speech in order to further vilify Dr Chee.
"Character is not determined by distorted media reports. Character is determined by those who know you best."
"We think that the SDP healthcare plan is better (than what Murali is proposing), offering universal coverage to Singaporeans for life."
Chee Soon Juan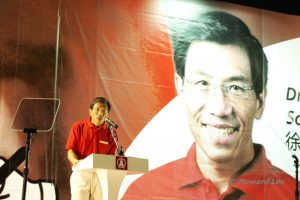 The last speaker, Chee eased in slowly into an opening speech made in a mix of Chinese and dialect, before launching into SDP's various policies and programmes.
He ended with an appeal to Bukit Batok voters to vote for him based on his dedication, sound policies and determination to speak up in Parliament on issues like the Central Provident Fund, transparency for the national reserves, universal healthcare, better care for the elderly and his party's retirement insurance scheme.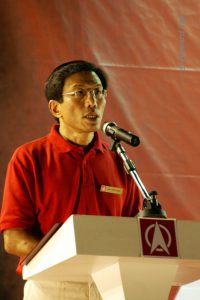 "When you are young, you worked hard like anyone of us and contributed to our nation's economy. When you are old, the government cannot put you aside, use you and put you away like tissue paper."
"I will raise this issue in Parliament again and again and again, until the government increases assistance and support for our elderly."
"It is better to give than to receive… We are called to serve the weak and poor among us. This is what makes us human." (on SDP's scheme for better-off Bukit Batok residents to adopt a needy family)
"Mr Murali wants to focus on helping you find jobs. Yes, I want to do that too, but Mr Murali is not the Minister for Trade and Industry… The PAP only created 100 jobs last year."
"Don't wait for yourself to get retrenched, then try to look for someone to fight for you."
"For those who are going to graduate or just entered the job market, if you vote for someone who goes into Parliament who cannot and will not speak up for you, your future is in trouble."
"We cannot remain so uninformed about the state of our retirement reserves. Vote in someone who will ask the tough questions in Parliament."
"I don't want politics to be so poisonous. I have seen how this tears countries apart. I don't want us to go down that path."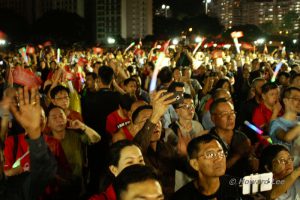 "I'm in charge of my campaign. If you are in charge of yours, then ask your party colleagues to stop." (To Murali, on the accusations made by the PAP against his character and integrity)
"What matters is not what the PAP says I am. What is important is who my wife and family know I am, who God knows I am, and most importantly, who I know I am."
And no, Dr Chee did not sing Ji Ba Ban at the rally, although a few front row supporters seemed ready to.