The Inter-University LGBT Network (Singapore) has expressed disappointment at the last-minute prohibition of its representative from giving a speech at a TEDtalk event in St Joseph's Institution (SJI).
In a statement released on 20 July, the group said the Ministry of Education (MOE) had stepped in to stop the participation of Ms Rachel Yeo, who was scheduled to speak on her experience as a young person concerned about LGBTQ+ issues.
Ms Yeo "had intended to share with the audience the power of listening and constructive conversation in effecting change so that we can avoid villainising those who do not agree with us."
"However, the day before the event on 19 July 2018, we were abruptly informed that due to MOE regulations, Rachel would not be permitted to speak at the event," the group's statement said.
"It is unclear what specific MOE regulation prohibits the discussion of LGBTQ+ issues," it added.
The Inter-University LGBT Network is a grouping of organisations in Singapore universities "to collaborate in fostering safer and more inclusive school communities for everyone regardless of sexual orientation, gender identity and expression."
According to its website, Its vision is that "one day, all higher education institutions in Singapore will be safe and inclusive campuses for all, regardless of sexual orientation, gender identity and expression."
The ban on Ms Yeo, the group says, runs contrary to the government's public position on inclusivity.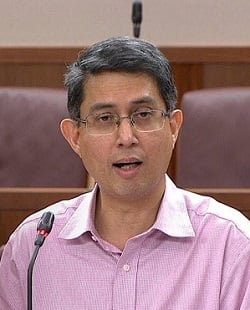 "It is unfortunate that this comes just days after Senior Parliamentary Secretary for Education A/P Muhammad Faishal Ibrahim's response to the recent Parliamentary Motion "Education For Our Future"," it said.
"In his speech, A/P Faishal said, 'We must be sensitive to the needs of every Singaporean… welcome and support them, regardless of their background. Only then can we call ourselves a truly inclusive nation.' In light of these statements, it is disappointing that LGBTQ+ Singaporeans continue to be excluded and erased from the Government's notion of a truly inclusive society."
The group added that "the erasure of LGBTQ+ issues from our schools has a serious negative impact on the well-being of young LGBTQ+ people."
"According to a local 2012 study, a majority of LGBTQ+ respondents have experienced school-based abuse and discrimination from their teachers and classmates. Some of these students have also publicly shared their negative experiences in schools, which have resulted in damaging emotional trauma and mental illness."
MOE's actions, the group says, shows that "there remains much work to be done to foster a truly inclusive society for all Singaporeans, regardless of sexual orientation and gender identity."
"We call on the Ministry of Education to review its policies regarding LGBTQ+ people to live up to the spirit of the recent parliamentary motion to "build an education system that brings our young together, to build an inclusive and united Singapore"," the group's statement said.Follow us on Social Media
Send in your scoops to news@theindependent.sg