Singapore—No one is more grateful than the father of the young girl who was found after going missing for 24 hours, and one thing he has expressed thanks for is the multitude of Singaporeans who offered to help find her.
The father, choosing to identify himself only as Mr Syed to The Straits Times (ST), said that even people he did not know offered him support in an incredibly difficult time.
His 11-year-old daughter, along with her friend, was found by the evening of October 1, Tuesday. He had last seen her early on Monday morning, when she left for school. But upon calling the school, he found out that neither his daughter nor her friend had gone to class that day.
By Tuesday, the Singapore Police Force posted a tweet showing a photo of the two girls along with a description of their green and white Fernvale Primary School uniform, appealing for anyone who spots them to call 999.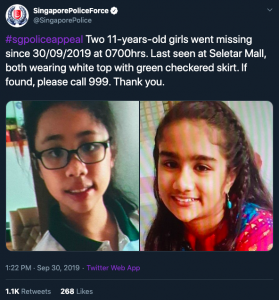 By then, Mr Syed's relatives, neighbours and friends were also helping to try and find the girls. Many other Singaporeans endeavoured to find them as well, and the tweet from the police was widely shared.
Unfortunately, a rumour that five girls had planned to escape from school but three changed their minds at the last minute had also circulated on social media, and this was all written in the girl's diary.
Their reason for leaving school was that they wanted to avoid the Primary School Leaving Examination, according to the rumour, which was refuted by Mr Syed, who clarified that the girls are only enrolled in Primary 5 and are therefore not taking the examination quite yet.
But the girls were found in Seletar Mall by their own classmates by 4 o'clock on Tuesday afternoon, with a photo of them shared on social media.
Mr Syed was able to pick up his daughter at Ang Mo Kio police station shortly after.
He told ST that the two girls had gone on an adventure together in different malls at VivoCity and at Changi Airport, but declined to disclose where they spent Monday night.
Mr Syed explained to ST how happy he was to have found his daughter, but also that so many people came forward and helped.
"I felt the whole of Singapore was messaging and helping me.
Complete strangers were sending their prayers and giving me confidence that Singapore is safe and we will find (my daughter and her friend) shortly.
There were so many people who supported us through the whole thing and I want to thank them all. They gave us hope and we were overwhelmed with the warmth of all these Singaporeans and the police."
/ TISG
Send in your scoops to news@theindependent.sg