Tokyo – Let's face it, we all need a furry friend, from one species or another, to cuddle. In Tokyo, where every square inch of land is maximized making houses quite small and some landlords not permitting pets, the city has made sure to fulfill every animal-lover's craving for animal companionship and interaction. In fact, we're not talking about cats and dogs anymore. How about having coffee with snakes, staring into the eyes of a gorgeous owl and cuddling with fluffy bunnies?
Shibuya, Harajuku, Shinjuku and the other main wards of Tokyo are known for all things exotic, unusual and unique; introducing activities that we, as locals or tourists, didn't know would be fun. So, if you're in the area, the following cafes are a great way to have a date or spend an afternoon with family or friends.
Tokyo Snake Center
Fees:
Entrance charge ¥1000 (S$12.50) which includes a drink
Additional charge for snake handling ¥540 (S$6.75)
Location:
8F Sanbo Sogo Bldg, Jingumae 6-5-6, Shibuya-ku
(2 minutes walk from Meiji Jingumae station)
Operating hours:
Wednesday – Monday 11am-8pm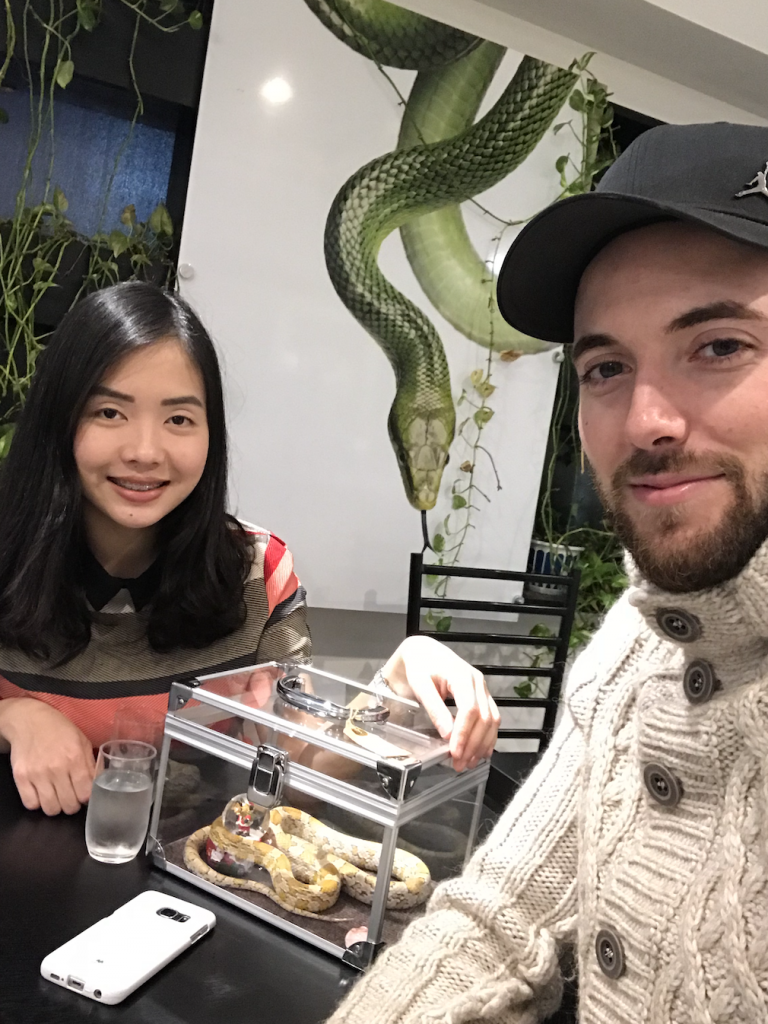 It may sound really peculiar to have a drink with snakes but the experience was actually quite entertaining. The place itself is not hard to find because its located in the main street of Harajuku, just around the corner of the busy Meiji-Jingu Mae intersection.
The café is quaint, cosy and above all, clean. At first, I wasn't ready to actually touch the snakes and was ok with having coffee while a snake in a transparent box joined us on the table. But, watching the other people getting close and personal with the snakes at the corner, and my partner being a snake-lover, I practically had no choice. The additional charge lets you hold 2 of the larger snakes at intervals.
After finishing my delicious matcha frappe and my partner his beer, it was time to face my subtle fear. We chose the gorgeous Black Kingsnake and a dark red Corn snake. We were given towels to place on our laps just in case the snakes pee.
It was obvious that the snakes were treated with care and were not stressed. Those that have been recently taken out had "I am resting" signs on their cage to let the customers know. Pictures were taken and anxieties overcome. Will definitely go back to pet more snakes in the future.
For those who are interested, you can even purchase some snakes as pets.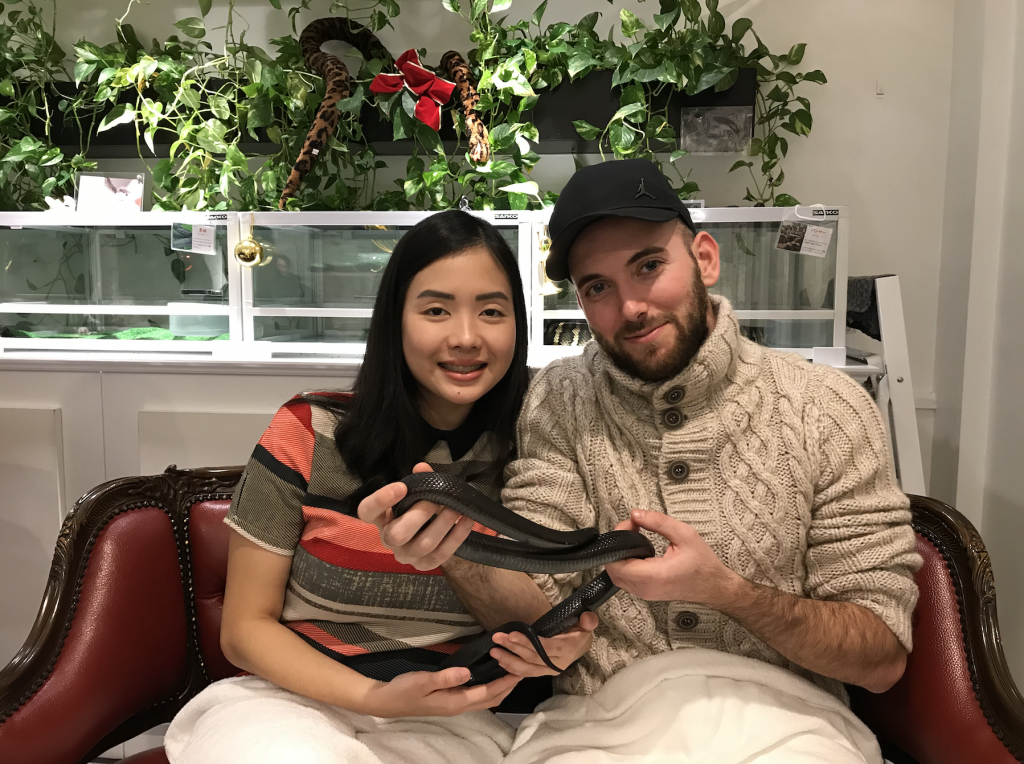 Café & Bar Owl Village
Fees:
Entrance charge ¥2000-2500/hr (S$25-31) which includes a drink, a souvenir, and a 35 min owl petting session
Location:
4F Harajuku ATM Bldg, Jingumae 21-15-1, Shibuya
Operating Hours:
Monday – Sunday 11 am – 7 pm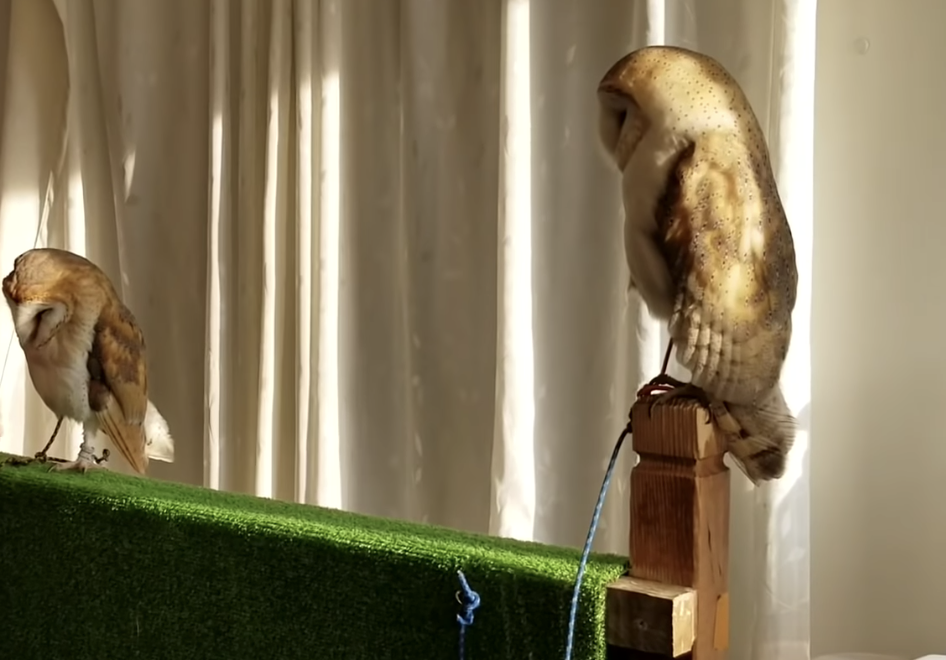 If you find yourself walking along the streets of Harajuku, more often than not you will come across a friendly staff with a beautiful owl on one arm calling to people passing by. They will talk to you about the owl and what they offer in their café. The one we met was restless and the staff told us that it was because his girlfriend was upstairs waiting for him and he misses her already. Unfortunately, you cannot pet the owl then and there even though it is so tempting to do so. It was in no time at all that we were following the lady up the stairs into the café.
The place is clean and has around 10 owls that you can pet, tickle, stroke or hold. The friendly staff will make sure you are properly protected with gloves before putting the owl on your arm. Being up close and personal with the owls, you can really see the intricate details on their feathers and when you stare into their eyes, you just get lost. It was another unforgettable experience.
Tip: visit the café at night so that the owls are awake and more engaging.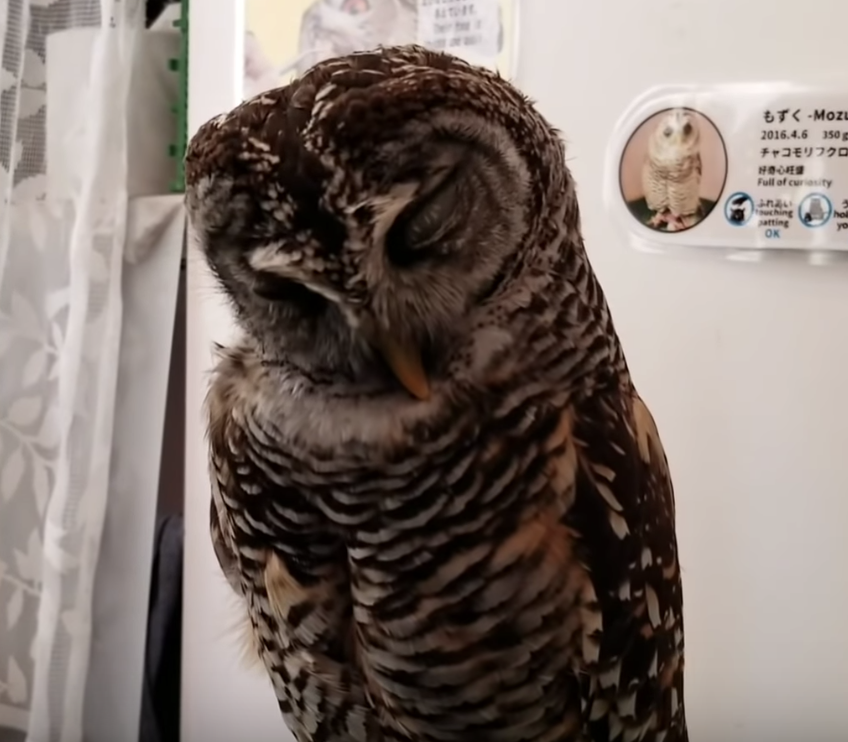 Hutch Asakusa (formerly known as With Bunny)
Fees:
Entrance charge ¥2160 (S$27) for adults and ¥1080 (S$13.5) for children
Location: 1-7-1 Hanakawado, Taito-ku
(5 minutes walk from Asakusa Station)
Operating hours:
Monday-Sunday 12n-7pm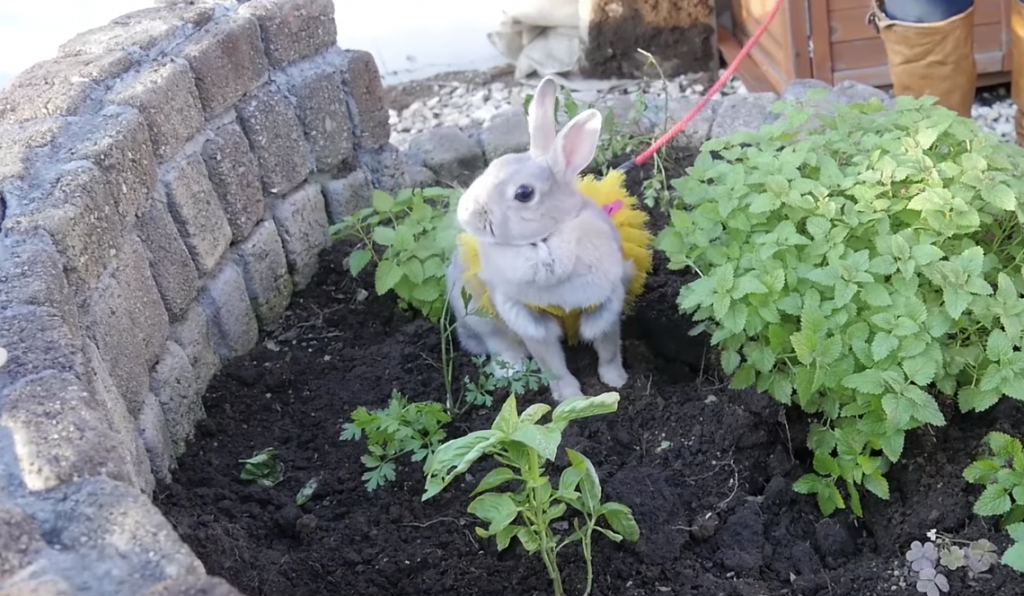 Hutch Asakusa is one of the largest animal cafés in town. The whole place has five floors and a rooftop terrace. Imagine five floors of bunnies.
Although I haven't personally visited, friends highly recommend the café especially to those with children. You get to bond and engage with the bunnies and it also serves as a theme park and museum for additional educational experience.
Must try: Mocha Cat Café
Fees:
Entrance charge ¥200 (S$2.5) for 10 minutes
Additional ¥350 (S$4.5) for unlimited drinks, ¥500 (S$6.25) for cat food, ¥100 (S$1.25) for treats
Location: 8-9F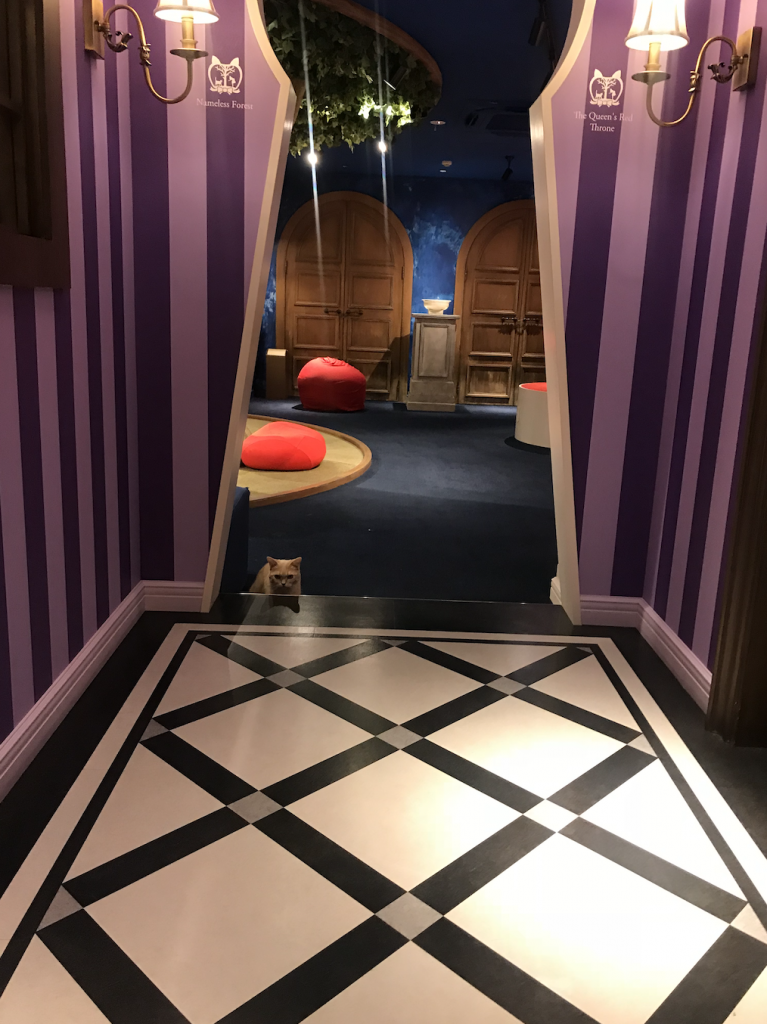 For those who prefer the ever-popular cat cafes, Mocha Cat Café is truly worth it. Ten minutes is definitely not enough so might as well splurge. Don't worry about adding up the bill because you will be charged accordingly at the end upon checking out.
The theme of the whole place is similar to Alice in Wonderland with small doors and windows and brightly coloured purple or red walls and furnishings. The centre area where cats rest is chic and classy with a giant cat tree house in the middle. In one room, you can find vending machines that serve, hot and cold beverages.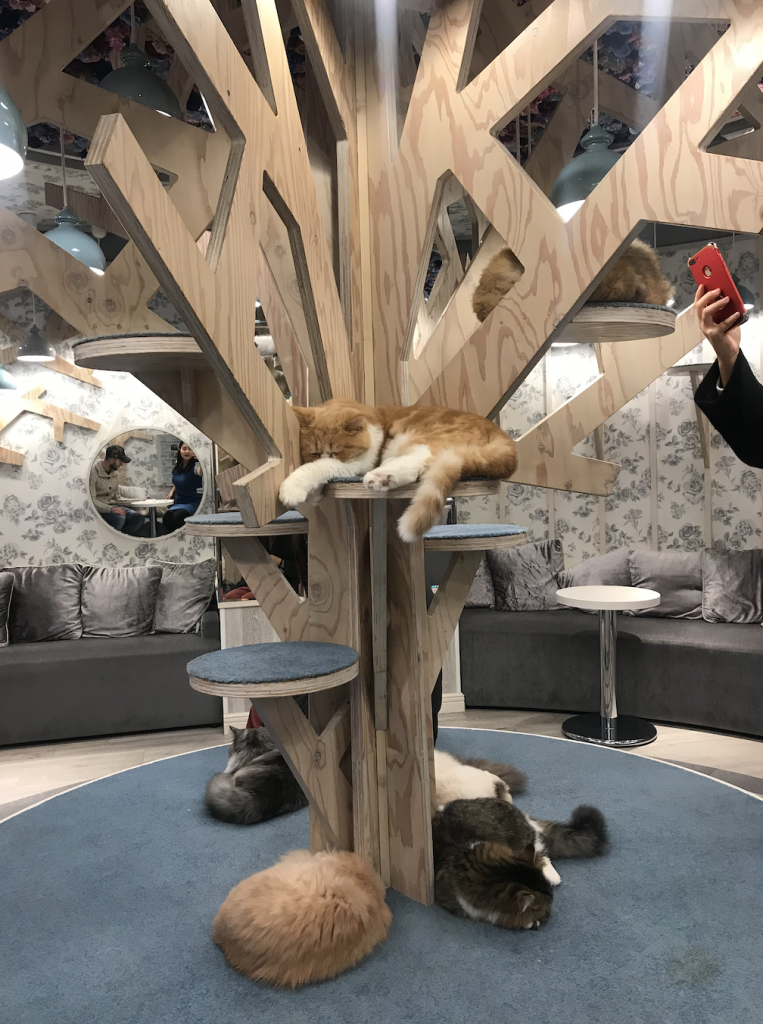 They also have a game wherein you will be given a photo of one of the cat's tail and you will have to find the owner. Take a picture, show it at the counter, get it correct and you get a prize! We got adorable kitty headbands for cats.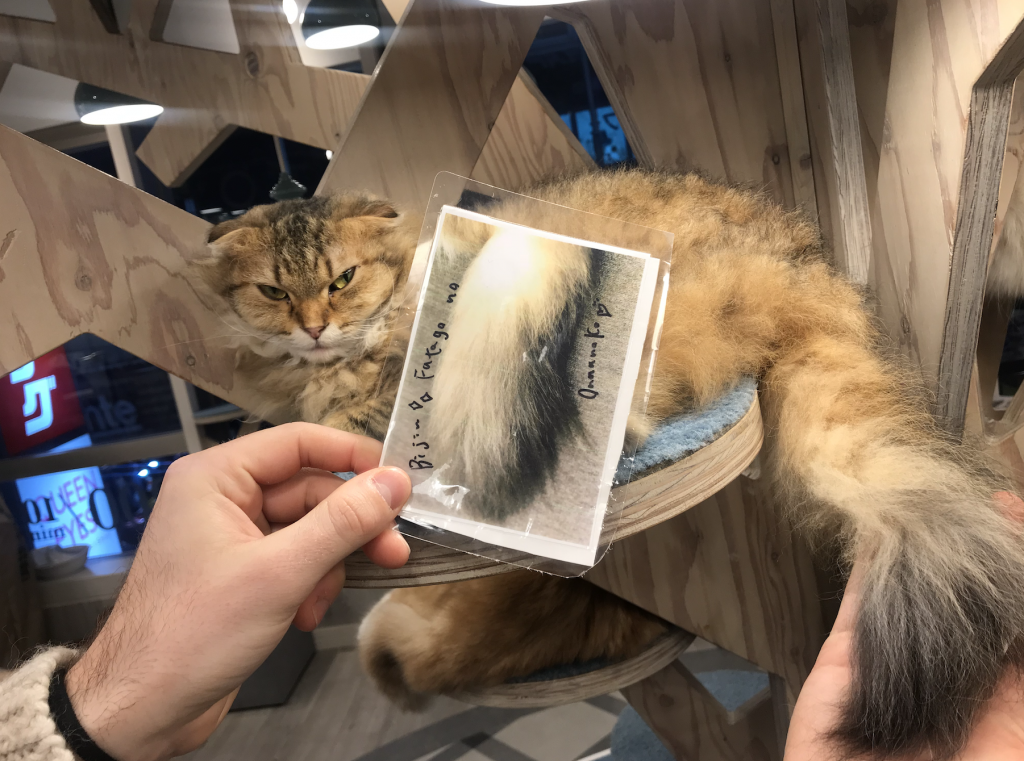 Note: All of the cafes mentioned have friendly and accommodating staff that are well-acquainted with tourists so they can speak basic English which is really helpful when visiting Japan.
Follow us on Social Media
Send in your scoops to news@theindependent.sg