Zakir Naik, the controversial preacher, denied being asked to leave Malaysia and said he is not going back to India.
Dr Zakir Naik will not be extradited to India tonight, the Malaysian Inspector-General of Police confirms.
TS Mohamad Fuzi Harun denied reports on online news portals that the controversial speaker will be handed over to Indian authorities on Wednesday night.
"It is not true. He will not be extradited to India tonight," he told The Star on Wednesday (July 4).
Zakir Naik, who left India in 2016 and has been living in Putrajaya in Malaysia since got into trouble in the Southeast Asian country after getting involved in local politics.
This raised the ire of many in the country as Naik showed he was in support of the then very unpopular Najib Razak regime.
He was given a permanent residency and embraced by top Malaysian government officials.
Zakir Naik is said to be out of Malaysia and was taking a flight to India today, a Malaysian government source told NDTV in Kuala Lumpur.
But Naik has called the report "totally baseless and false".
He was quoted as saying: "I have no plans to come to India till I don't feel safe from unfair prosecution.
"When I feel that the government will be just and fair, I will surely return to my homeland."
His lawyer Dato Shaharuddin Ali said "as of today", there is no truth in the report that Zakir Naik was being sent back to India. Neither had he been served any extradition papers, reported NDTV.
Naik allegedly launched a "public relations" campaign run by his followers to help him improve his ties with the new government.
He published a series of photographs showing him with the new Malaysian government leaders and ministers.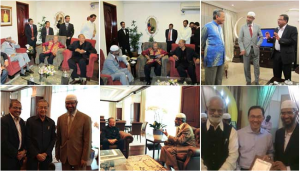 Follow us on Social Media
Send in your scoops to news@theindependent.sg