Will Singaporean Chinese pledge allegiance to "Motherland" China? The answer to this could have profound consequences on the tiny island-state.
It is a question whose answer is worrying some quarters here in Singapore, reports the New York Times on Sunday.
While the authorities here have always struck a balance between encouraging citizens to connect with their cultural heritage and promoting a Singaporean identity, this balance may be under pressure from a resurgent China.
"[There] are growing concerns [in Singapore] that a rising China could tip that carefully orchestrated balance by seeking to convert existing cultural affinities among Singaporean Chinese into loyalty to the Chinese 'motherland'," the newspaper said.
The paper said China's growing global clout has made it look to the Chinese diaspora of about 60 million people in 180 countries, in order to extend its influence and the country's national interest abroad.
"Already, there has been evidence of the Chinese Communist Party's attempts to manipulate political activity among Chinese populations in countries like Canada, the United States and Australia," the Times said.
China's potential influence on Singapore and particularly its ethnic Chinese community, which makes up 75% of the total population, is cause for concern.
Former ambassador-at-large, Bilahari Kausikan, for example, sounded the word of caution in a speech in June of China's covert "influence operations".
"China doesn't just want you to comply with its wishes, it wants you to… do what it wants without being told," he told the audience at the conference on China's global diplomacy.
"For us, it is an existential issue; the stakes are extremely high," said the former permanent secretary of the Ministry of Foreign Affairs.
One of the reasons for Singapore's vulnerability to such overtures from China is because the island is a young state with a nascent sense of collective identity.
"China's rise is a geopolitical fact that everyone must accept," Mr. Kausikan said. "But it's a very small step in my mind from cultural affinity for China to the idea of Chinese superiority. We are only 53 years old. It's not guaranteed that every Singaporean Chinese would not be tempted either consciously or unconsciously to take that step."
China, however, has denied the suggestion that it is trying to influence Singaporean Chinese.
"We oppose the big bullying the small and interference in others' internal affairs," China's ambassador wrote in a op-ed piece in the Straits Times. "This is what China has said, and this is also what China has been doing."
"China respects Singapore's achievements in maintaining racial and religious harmony," he added. "It has no intention of influencing Singaporeans' sense of their national identity and will never do so."
Nonetheless, the fear remains of China's intention, which was given more credence by President Xi Jinping's words last year, where he spoke of the need to bring people of Chinese descent together to enjoy the "Chinese dream."
"The realization of the great rejuvenation of the Chinese nation requires the joint efforts of Chinese sons and daughters at home and abroad," Mr Xi was reported to have said.
"There is a sense that the emphasis now is on how all ethnic Chinese share a similar origin and therefore should be more sympathetic to a PRC perspective," Professor Ian Chong, associate professor of Political Science at the National University of Singapore, told the Times.
The Singapore government here has always been keenly aware of the fragility of the sense of national identity of its people, including that of its majority ethnic group, the Chinese. The message to stand as one has been drummed up every National Day, in the schools, and whenever the opportunity arises.
All these were attempts not only to build a shared identity but also as a form of inoculation against foreign political influence.
But what is the Singaporean identity?
At its founding in 1965, founding Prime Minister Lee Kuan Yew set down what sort of nation Singapore would be:
"We are going to have a multiracial nation in Singapore," Mr Lee said, just hours after Independence came into effect. "We will set the example. This is not a Malay nation, this is not a Chinese nation, this is not an Indian nation. Everybody will have his place, equal: language, culture, religion."
After 5 decades, that aspiration is still a work-in-progress, as the words of government ministers have shown.
In 2015, in his National Day Rally speech before the nation, Prime Minister Lee Hsien Loong said Singaporeans' identity as a people 'has never been stronger.'
But a year later, Education Minister Ong Ye Kung said that the "Singaporean identity itself is rather quite empty.
Mr Ong also heads the Chinese Community Liaison Group (CCLG), which is tasked with deepening ties between the Government and the Chinese community, and to boost cooperation between the various Chinese groups here..
"What fills up a Singaporean identity is the identity of various races and all the traditions and cultures that we bring forth and create this tapestry (with)," he said. "That is the Singaporean identity we are building towards."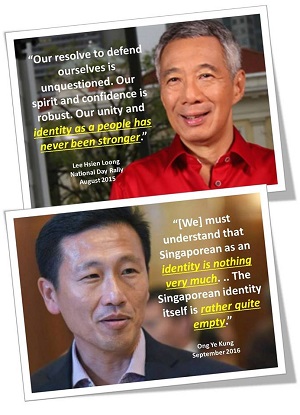 That effort will obviously take many more years, and several generations, before a strong national identity can emerge. Even then, there is no guarantee that such an identity will be a shield against covert operations of the sort China is suspected of engaging in.
The small island-state will have to constantly keep an eye on bigger countries and external influences, such as Muslim fundamentalist teachings, and countries like China and their suspected ulterior (political) motives.
When it comes to strengthening its influence abroad, the Times said, China has proved that it is both patient and persistent.
It is necessary for Singaporeans to be aware of such intentions by China, Mr Kausikan said, because then they would be much less likely to fall for these external manipulations.
"When the Chinese try to impose a Chinese identity on Singapore, we must resist, because modern Singapore is based on the idea of being a multiracial country," he said.
But he added, "It is not going to be a smooth ride."
Indeed, the consequences would be profound for this young nation if China succeeds in its covert plans.
Read the New York Times report: "Worries grow in Singapore over China's call to help 'Motherland'."Follow us on Social Media
Send in your scoops to news@theindependent.sg