Uber wasn't the first ride-hailing company to retreat from Southeast Asia
It all feels like Déjà Vu – what is happening now to Uber Southeast Asia and its employees.
Déjà vu of 'project fade away'
As many of you might know – part of the core team at Momentum Works came from Easy Taxi Southeast Asia, an early competitor of Grab & Uber in the region.
In late 2015, we decided to pull the plug at Easy Taxi Southeast Asia, when an investment didn't materialise while Grab was about to announce its US$750 million Series F. The decision had to be announced quickly to the team across six countries; drivers needed to be reassured that they would still get paid until the service is eventually offline; and finally, this had to be done in stealth such that media & public attention doesn't derail our plans.
By the time the media discovered, we had already paid all the drivers, informed the passengers, and many team members had started working in their new environments.
"Project fade away" was a great success – and we could not have done it without the discipline and coordination of the team (of about 300 in the region).
In the golden days of Rocket Internet (2012-2015), a lot of smart people jumped into the fray, not necessarily for the rewards (cash was OK but equity was minimal, if any), but mainly for the experience and the thrill of building something exciting.
A number of people we had eventually joined Uber, and some of them remained until Uber's last day in the region; a few others joined a myriad of internet companies in the region, taking country & regional leadership roles; a number of us have started their own ventures – while some have been less successful (or lucky) than the others thus far, nobody has given up yet.
As the (ex) regional CEO of Easy Taxi, I am deeply proud of the team, and what they stand for.
A good memory that everyone cherishes
Back to Uber – in 2016, when Uber sold its China operations to Didi, a lot of emotional posts from its employees appeared into the media. Many of these people are smart (to pass the recruitment test), and would otherwise be investment bankers, consultants or fast climbers of the corporate ladder.
One said "I would never have been able to manage a driver riot, secure all of the company's data and safeguard the team members while pacifying the angry drivers"; while another aptly summarised "I felt that I gained 10 years of experience over the last 18 months".
Also Read: The Grab-Uber deal is just the beginning for homegrown SEA startups
In a few articles that emerged after the Uber-Grab merger, the tone, the emotions, and the pride are the same:
Uber is where you come to be the best version of yourself. There is no greater truth than that. It's easy to bury yourself in work, never seeing but hoping you make an impact. What makes it real is hearing from Driver-partners on how support replies have improved visibly.
What makes it real for me is setting up Myanmar's CommOps, with 6 people scattered all over my hotel room, while I interviewed a manager in the bathroom. If you had told me 1 year ago that I would be doing this, I'd probably never believed you or in myself. I learnt a tremendous amount in a very short time, not only honing my skills, but more importantly, learning what I am capable of and who I want to be.
What Uber (and Rocket Internet) did to the developing world is to finally tell the smart people that it is not only okay, but also very very cool to forgo consulting/banking/corporate careers to be in tech, enjoying the thrill of building fast-moving companies.
Or exactly as the post above puts out: "learning what I am capable of and who I want to be."
Now is the right time to put an end to this journey. Realistically, there is not much room for growth if Uber were to sustain itself in the region – this was quite obvious since 6 months ago.
Journey of no return (to banality)
After the merger in China, most Uber employees chose not to join Didi, but to chart their own path.
Not that Didi is not a great company (which is still full of adrenaline, going through battle to battle), but the culture is different.
In this region, Grab faces a lot of new, exciting opportunities – with still a major war in ride-hailing to fight (against Go-Jek), it now seriously enters multiple fronts such as food delivery, payment & financial services.
There is room for everyone – and Grab has guaranteed everyone from Uber would have a role at Grab.
We believe many might simply leave – it is not always easy to join the foe you'd been fighting against for years, and the culture of Grab is indeed very different from that of Uber.
Nonetheless, there are ample opportunities for these smart young people, who have been battle-hardened at Uber.
Tech companies in the region complain about not being able to find good people – the sudden availability of such talent in the market is an opportunity nobody wants to miss.
Many have posted open invitations to Uber employees to reach out: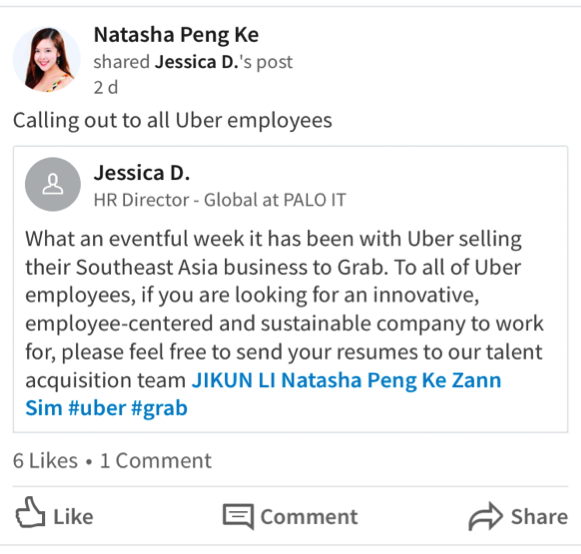 Companies like Go-Jek & Lazada Indonesia have opened up their offices for Uber employees: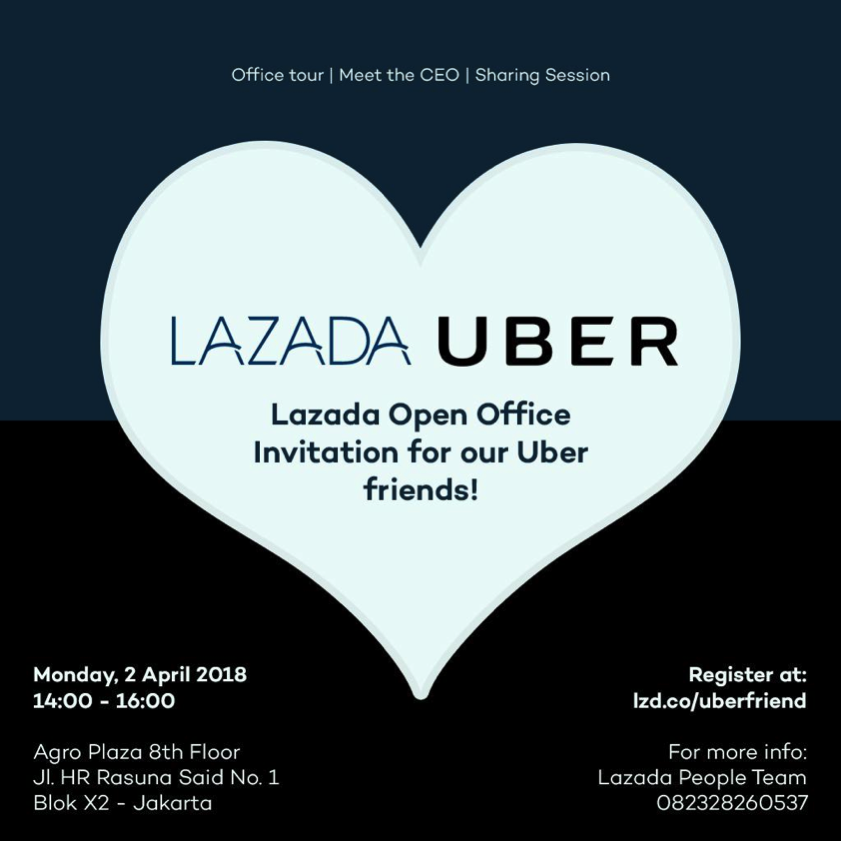 People have also been approached by recruiters left and right.
Even Momentum Works offices in Singapore and Jakarta have become a sanctuary for some of our Uber friends, exchanging ideas and brainstorming for the future.
While not everything is a fit, and some might take months to figure out what they want to do next, one thing is certain: they have discovered themselves, and they are determined not to return to banality, but to strike something great.
We have seen this happening with Easy Taxi alumni, two and a half years since the shutdown.
And that, will leave a deep footprint in the region's tech ecosystem.
—
This post is written by Jianggan Li, CEO and Founder of Momentum Works.
Editor's note: e27 publishes relevant guest contributions from the community. Share your honest opinions and expert knowledge by submitting your content here.
The post Why Uber Southeast Asia's ex-employees are walking into a bright future appeared first on e27.
Source: e27Follow us on Social Media
Send in your scoops to news@theindependent.sg