Starting September 2019, Singaporeans will no longer need to reveal their National Registration Identity Card (NRIC) numbers when they buy movie tickets or enter buildings with tight security.
This was announced as part of revised guidelines issued by the Personal Data Protection Commission (PDPC) on August 31, Friday, for the purpose of increasing the protection of consumers.
From September of next year, organizations will no longer be allowed to ask for, use or reveal consumers' NRIC numbers. They will also be disallowed from keeping or reproducing copies of IDs, except for cases when the law requires it, or when identifying a person is crucial for security purposes.
And during instances when there are no other means of identification, consumers may need to provide only the thats three numbers and ten checksum of their NRIC number.
Except from these new guidelines are critical infrastructure buildings and the public sector.
Should organizations fail to comply with the revised guidelines, they could be fined up to one million dollars and other penalties for breaching the Personal Data Protection Act.
The following are circumstances where consumers are no longer required to disclose their NRICs: online purchase of cinema tickets, redeeming free parking, registering for retail membership, etc. They can instead provide phone numbers, email addresses and other identification forms.
Disclosure of NRICs will still be needed when buying property, high security situations, doctors visits, hotel check-ins, telephone line subscriptions, new employment, etc., according to the law.
This new development is significant because NRIC numbers are used as permanent identification for citizens and random disclosure could lead to  fraud, identity theft, or other illegal activities. Work permit numbers, Foreign Identification Numbers, and Birth Certificate numbers fall under the same revised guidelines as NRICs. Additionally, even if passport numbers are subject to change, the PDPC is encouraging that they be treated in the same way as NRICs.
Many netizens have reacted to the announcement from the PDPC, with some saying that this move is actually too late.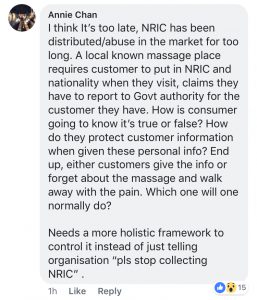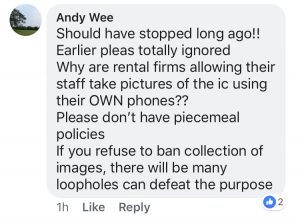 Others asked why it would take so long for implementation?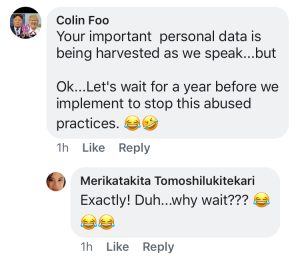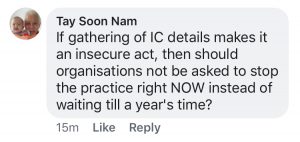 Still, one other netizen commented that the move was "better late than never."

Follow us on Social Media
Send in your scoops to news@theindependent.sg