Statistician and socio-political activist Leong Sze Hian has questioned why Singapore sovereign wealth fund Temasek does not disclose its management costs like the salary it pays to its chief executive, like its peers in other nations such as Norway.
Referring to a Bloomberg report that covered how Norway's finance ministry rejected the nation's wealth fund's proposed cost ceiling, because of the fund's rising management costs.
The news report made it clear that Norway's sovereign wealth fund reports on the actual and projected management costs figures and that these figures are so transparent that the government can take the fund to task over it.
Pointing to this practice, Leong – who also serves as president of human rights NGO Maruah – highlighted in a post on his website that Singapore's national wealth fund does not clearly post the management costs it incurs annually: "To the best of my knowledge, I understand that Temasek does not disclose its "management costs" (such as the CEO's annual remuneration) like Norway's SWF (sovereign wealth fund)."
Temasek is run by Singapore Prime Minister Lee Hsien Loong's wife Ho Ching. Ho Ching has led the fund for the past 16 years, since 2002.
Leong further noted that in 2017, it was reported that Temasek incurred "administrative expenses" of S$8.4 billion, against a net portfolio value of S$275 billion. The fund, however, has claimed that such expenses were not incurred by the fund alone, but represents the total "administrative expenses" of the fund and its subsidiaries.
Responding to an opposition party's scrutiny over the high "administrative expenses" Temasek appeared to have incurred despite only employing about 400 employees in 2011, the group's corporate affairs director Serena Khoo said: "This (administrative expenses) also included expenses of subsidiary companies such Singapore Airlines, PSA, and others, and not for Temasek Holdings only."
Questioning whether other sovereign wealth funds also include the expenses of subsidiaries in their "administrative expenses," Leong called on Temasek to take a leaf out of the Norwegian national wealth fund's book and disclose its management costs.
Singaporeans responding to Leong's post opined that something must be wrong if Temasek does not clearly and transparently disclose costs such as this: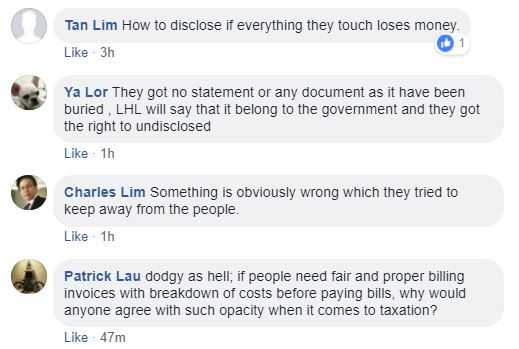 Follow us on Social Media
Send in your scoops to news@theindependent.sg