Prime Minister Lee Hsien Loong drew flak recently for praising Keppel Corporation, a conglomerate that specialises in offshore & marine, property, infrastructure and asset management businesses.
Late last year, news broke that Keppel Offshore & Marine was involved in a mega bribery case in Brazil. Some US$55 million were reported to have been paid by a Keppel agent to Brazilian govt officials in order for Keppel to secure deals in Brazil. These "improper payments" were made over a period from 2001 to 2014, and they were carried out with the knowledge or approval of former Keppel senior executives.
When Bloomberg broke the news last August, Keppel quickly issued a public statement to deny the allegation. The Temasek subsidiary only came clean four months later and acknowledged that the corrupt payments made by their agent to Brazilian officials were "made with knowledge or approval" of former senior executives of Keppel.
Keppel Offshore & Marine USA pleaded guilty to the bribery scheme which ran for more than a decade, while its parent, Singapore-based Keppel Offshore & Marine, entered into a deferred-prosecution agreement with the government. It agreed to pay $422 million to end the U.S. bribery probe.
The aftermath of the bribery probe was not pretty.
The company's net profit subsequently took a hefty 72 per cent plunge, after the company acknowledge the corruption charges. Keppel Corp reported a net profit of S$217 million for the financial year of 2017 and revealed that the financial penalty that the corporation was slapped with, coupled with the legal, accounting and forensics costs amounted to S$619 million.
The corporation earned a net profit of S$784 million net profit for the 2016 financial year. If Keppel did not have to pay the financial penalty and other related costs, it would have registered a net profit S$836 million for 2017, turning in 7 per cent higher profits than in 2016.
In a recent report, DBS Equity Research warned that Keppel Corp's O&M annual revenue could drop to between $2 billion to $4 billion in 2019 if the firm's order books continue to shrink and if its contract flows do not match expectations.
The scandal tainted the public's views of the company and many especially excoriated the management of Keppel for not owning up to their offences earlier.
Enter, PM Lee. Speaking at the conglomerate's 50th anniversary gala dinner, PM Lee asserted that Keppel's journey throughout the year's mirrors Singapore's own story and said:
"Keppel's journey in the last fifty years mirrors our nation-building story. You turned adversity into opportunity. You looked outward and broke new ground in external markets, businesses and technologies. You transformed yourself as the world changed, developing new capabilities and businesses beyond your original focus. Your success is also Singapore's success as you contributed to our economic growth and international branding, and uplifted the livelihoods of many Singaporeans."
Some Singaporeans responding to PM Lee's speech questioned him about where his "moral compass" was, since he praised a company with the aftershock such a large scandal still looming over it: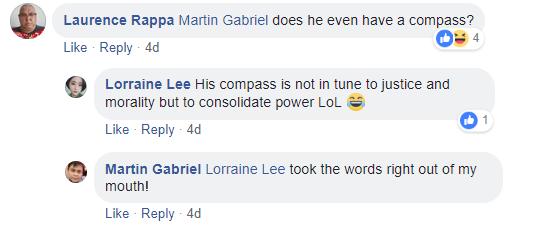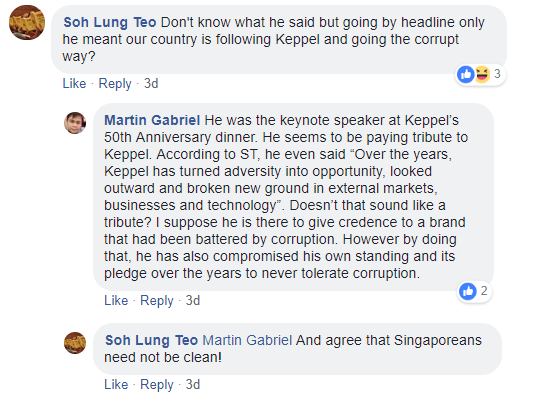 It must be noted, however, that the head of government did touch on the bribery scandal – in his own way. Seeming to lightly chide the company and advising Keppel Corp to uphold local values, PM Lee said:
"It is absolutely necessary for Keppel to go overseas, and to operate all over the world. Keppel could not be the company that it is, if it operated solely in Singapore. Yet it is equally necessary for Keppel to maintain high standards of integrity and performance, and keep its own operations and culture clean and transparent, even when operating in complicated environments where different norms prevail. We may not be able to convert the rest of the world to Singapore norms, but we must uphold Singapore norms and rules in our own system, wherever our business may take us in the world. When things go awry from time to time, it is important that the company is resolute in putting things right, as Keppel has done in the recent case in Brazil. It is not an easy path to tread. Other MNCs face the same challenges. But it is essential to maintaining Keppel's, and indeed Singapore's, reputation, built up with such enormous effort for so many years."
Follow us on Social Media
Send in your scoops to news@theindependent.sg