Some Singaporeans on social media have been circulating an answer to a Quora thread trying to explain what Singapore's founding prime minister, the late Lee Kuan Yew, gave up for the sake of the nation.
Earlier this month, Quora user J Cheng, attempted to answer the question "What did LKY give up for the sake of Singapore?" on the question-and-answer platform and opined that the late elder statesman sacrificed a lucrative career as a lawyer for the sake of the country.
A clear Lee Kuan Yew fan, Cheng wrote:
"The late Mr Lee Kuan Yew could have lived a relatively carefree life. As a top student from Cambridge, he had his pick of countries to emigrate to e.g. UK, US etc. He could have also made a lot of money in private legal practice. Instead he choose to go back to Singapore. Back then, the situation was very different. It could be argued that Singapore was a basket case.

Post WW2 – Singapore and Malaya was administered by the British Military Administration (BMA). However, it was staffed by British and Australian national servicemen. The experienced colonial officials were repatriated. Most were soldiers or were interned in Japanese camps and badly deserved a break. The national servicemen knowing that their time was short, made the most of the situation. Some took part in the black market or sold military supplies (cigarettes, food, fuel etc). The population, which suffered greatly during Japanese occupation was already impoverished and starved. The black market jacked up prices and fuelled resentment towards the British. To compound matters, the Australians were especially racist and treated the locals with disdain. These played into the hands of the communists and emerging Anti-British League.

Sectarian violence – Singapore and Malaysia was wracked by sectarian violence with serious racial riots. The local army unit were partial and turned their weapons on Chinese. To restore order, the British brought in Gurkhas from Hong Kong.

Poverty – Singapore was relatively poor.

Housing – There was inadequate housing.

Unemployment – There was insufficient jobs for the relatively young population. The communists took advantage of this to stir up strikes and riots.

Communists – The communists were engaged in an armed struggle with the British. They did not officially sign the peace treaty until 1989.

Confrontation with Indonesia – Indonesia sent in commandos to infiltrate Malaya and Singapore. MacDonald House was bombed.

Malay supremacist – These stirred up racial tension.

During that period, Mr Lee Kuan Yew and a few of the old guard carried a pistol for personal protection. This was necessary as the communists and Malay supremacists threatened their lives. Mr Lee made Lee Hsien Loong promise to look after his family when he went to meet with The Plen (Communist) and Malay leaders as he was concerned that he would be killed.

In summary, Mr Lee Kuan Yew:

Gave up a relatively easier career i.e. lucrative private legal practice

Learned Mandarin and Malay to deliver speeches in these languages

Faced death threats

However, together with the old guard, he laid the foundations of Singapore and is immortalized as one of the great leaders of our time. RIP Mr Lee Kuan Yew."
Another Quora user, Deborah Su, felt that Lee Kuan Yew gave up family time to build Singapore. She wrote, "Time spent with family. The time he took to build Singapore, is all the time he did not spend with his kids. No one can put that much time and effort in politics and still have the energy with what remaining time he had for family. Something always has to give."
Two other Quora users attempted to answer the question on what Lee Kuan Yew gave for the sake of the country but their answers were flagged on the website for being inappropriate or needing improvement: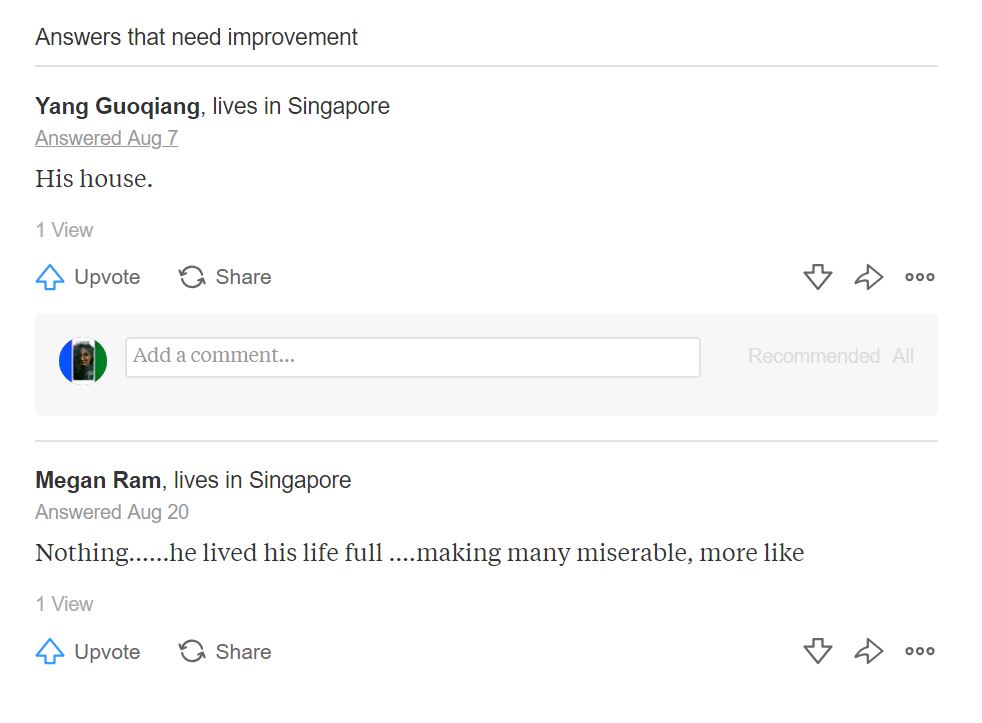 While it may be interesting to discuss what the late politician gave up for the sake of the nation, some on social media have also felt that it is crucial to discuss what Lee Kuan Yew gained from running Singapore.
Send in your scoop to news@theindependent.sg