Surveillance footage of a Malay woman clad in a tudung cheating a vegetable stallholder of a few dollars has triggered racist insults on social media, after the video went viral online.
Facebook user Fu Yuet Hoe shared the video of the older Malay lady pulling off a blink-and-you'll-miss-it sleight of hand trick as she swipes a few dollars while the vegetable seller is occupied. The incident allegedly occurred at a market at Blk 441 in Pasir Ris, according to Fu.
https://www.facebook.com/fu.yuethoe/videos/1042685192548102/
Fu's video quickly garnered eyeballs online, attracting nearly half a million views, over 12,000 shares and almost 1,000 comments since it was published two days ago. Some netizens, however, brought religion into the comments section of the post as they criticised the woman: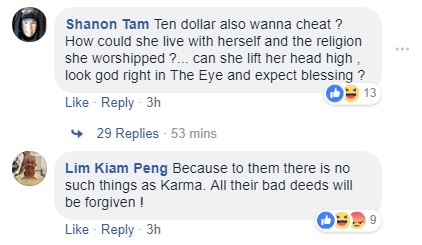 While the comments above are certainly unwarranted, the outright comments war between a Chinese woman and a Malay man stood out, due to the racist insults the woman spewed during their exchange despite claiming that she is not a bigot.
In one comment on the video, Facebook user Prisca Leong alleged that a "few entitled Malays" are trying to silence those who criticise the Malay woman in the video. Prisca then goes on to casually say that this is a "Malay trait" before alleging that the people who are trying to deter her from speaking up even tried to attack her family, including her late mother.
Hashtagging her post "#gangsterpariah", Prisca asserts, "If you were in Malaysia, i wonder how extreme can you be".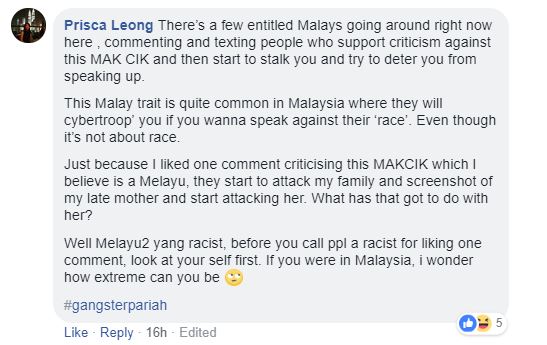 Prisca's comments triggered Facebook user Firdaos Pidao to speak up and share screenshots of racist remarks Prisca liked in the thread that likened Malay people to dogs: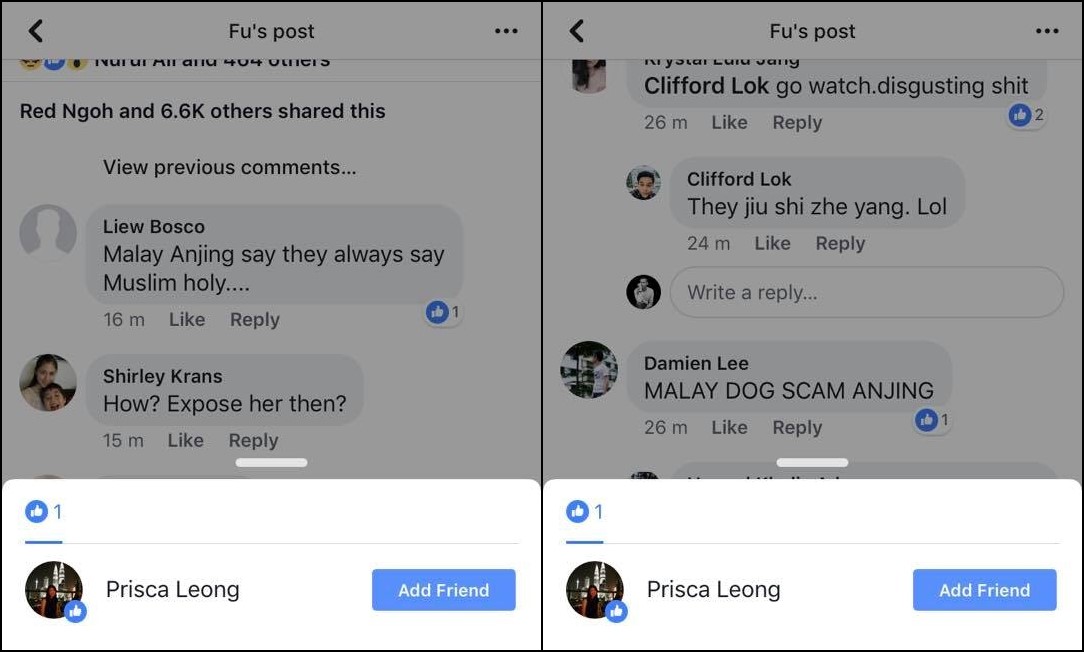 As Firdaos called Prisca out for her racism, Prisca blamed Firdaos for criticising her family. She claimed that she is "in no way a racist" but added, "But for you melayu to jumped into conclusion…oh, how typical."
Prisca then shared screenshots of another Facebook user Shad Rud Dean's private messages to her, telling her that posting racist remarks in Prisca's choice but that Prisca's mother would probably not like her to act in such a manner.
Prisca responded, "That's why Malay will always be Malay. So worked up. Always feeling that entitled. You're lucky to be in Singapore I must say."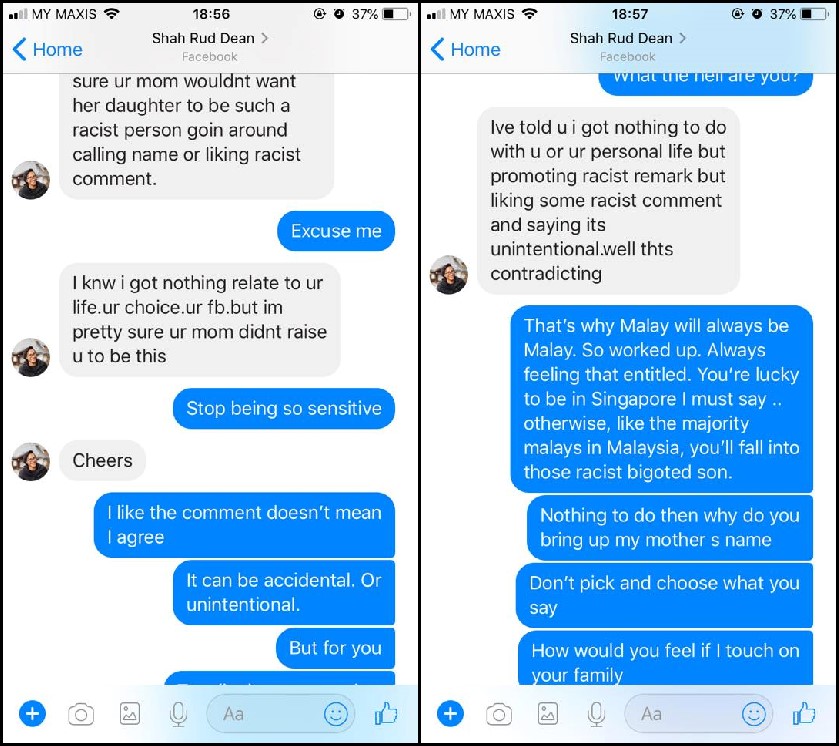 Despite the fact that Firdaos and Shah Rud Deen are clearly two different people, Prisca proceeded to call Firdaus a racist and a cyber bully. Firdaos called Prisca a "racist in denial" and criticised her for trying to turn the tables on him: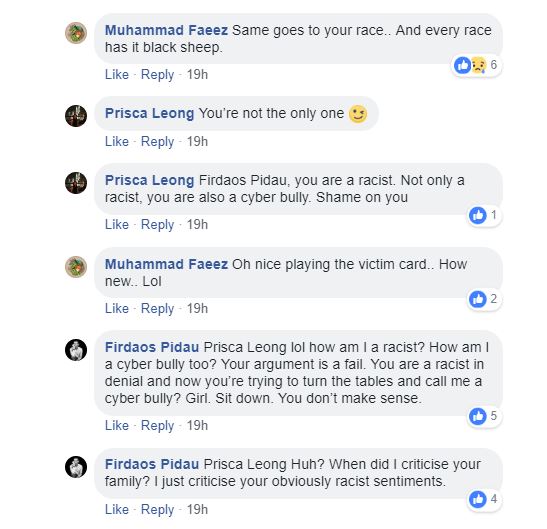 Refusing or perhaps unable to respond to Firdaos' questions, Prisca appears to try a different tack and accuses that Firdaos private messaged her and then deleted the message.
Firdaos responded Prisca's accusation by posting a screenshot of their Facebook messenger conversation and pointed out that Prisca was the one who did not respond: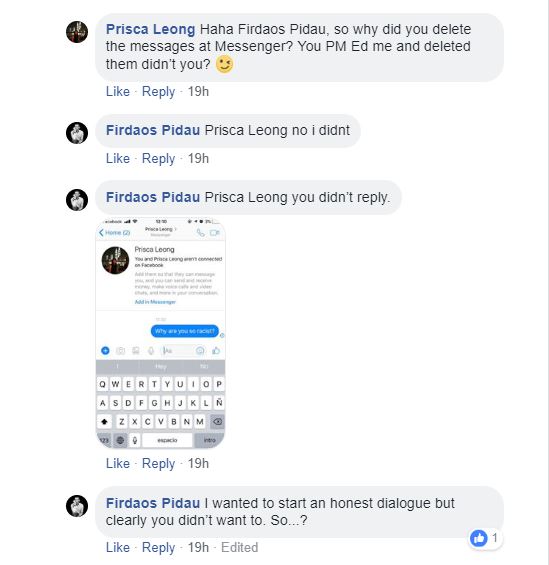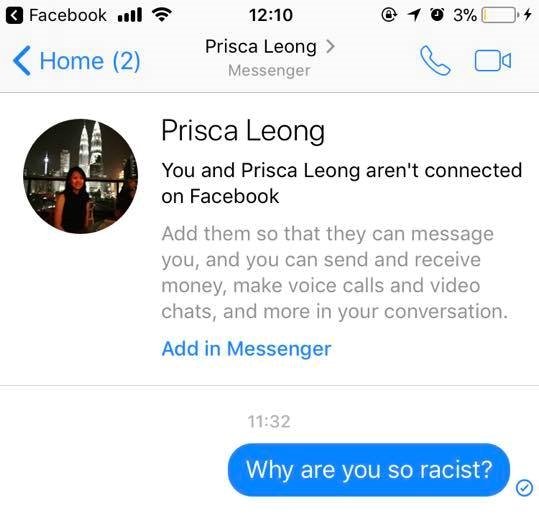 At this point, Prisca claims that she wants to start an "honest dialogue" but that Firdaos is the one who is uninterested to do so.
Referring to the racist slurs she liked, Prisca then claimed: "A like doesn't mean I'm supporting them. If I were that racist, I would have commented. But these few of them .. started PM and screenshot of my FB and all, I don't think that's very right of them. Plus criticising my late mom. It was uncalled for."
Prisca then backeddown and apologised to Firdaos in case she had offended him. Sharing that he was not offended, Firdaos urged Prisca to let go of her unfair prejudices. Prisca thanked Firdaos and said that she will delete her comment. She has yet to do so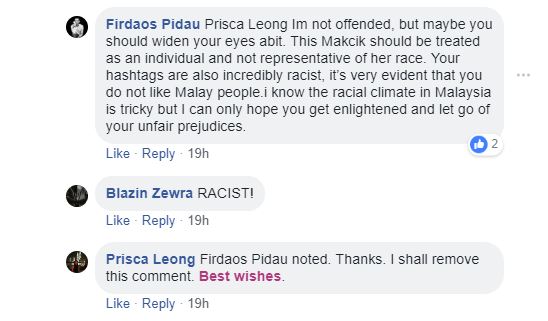 Even as some netizens resort to cruel, racist remarks on social media, others have been a voice of reason and have advised these netizens that race and religion has nothing to do with what the woman in the video did: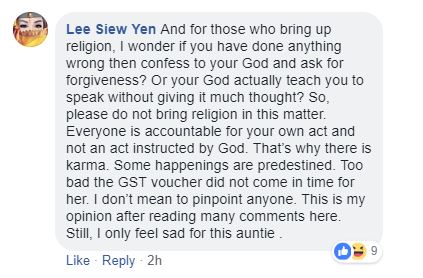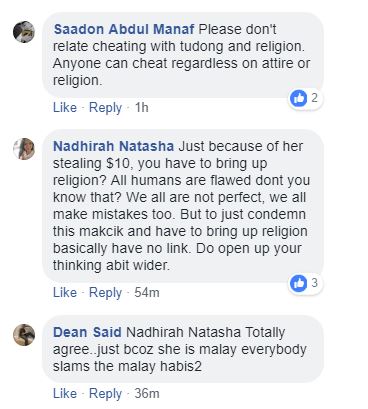 Follow us on Social Media
Send in your scoops to news@theindependent.sg