A video showing a Jetstar customer slapping a Bali immigration officer for refusing to allow her to travel to Singapore has been going viral on social media and text messaging apps like WhatsApp. The incident occurred this past Saturday (28 July) evening, at about 9.25pm.
The video shows a woman screaming hysterically at an immigration officer for causing her to miss her flight to Singapore. In a profanity-laden spiel, the woman screams that she brought money but that immigration refused to accept money in return for allowing her to take the flight.
The woman then reaches out to slap the immigration officer, before continuing to scream at the officer in front of her. She then screams at the man filming the scene to "shut off the f!@#ing camera and show your ugly face" even when the man says that he is filming her because she is in his office:
An Indonesian publication identified the assailant as 42-year-old Auj-e Taqaddas, who was not allowed to fly to Singapore with Jetstar Airlines 3K-240 because she illegally overstayed in Indonesia since February 2016.
Travellers visiting Indonesia on a tourist visa are only allowed to stay in the country for a maximum 60 days or two months.
When immigration officers at the Ngurah Rai International Airport discovered that Auj-e Taqaddas had overstayed her visa by 15 months, she was denied entry into the Jetstar flight. Incensed, Auj-e Taqaddas began screaming at 28-year-old immigration officer Ardyansyah, before striking him.
Head of immigration at Ngurah Rai, Mr Aris Amran, told reporters that Auj-e Taqaddas pretended not to know that she had illegally overstayed in the country and revealed that his company has lodged a police report over the incident.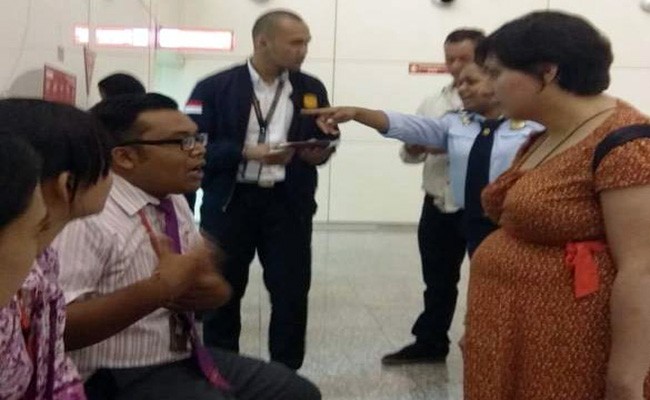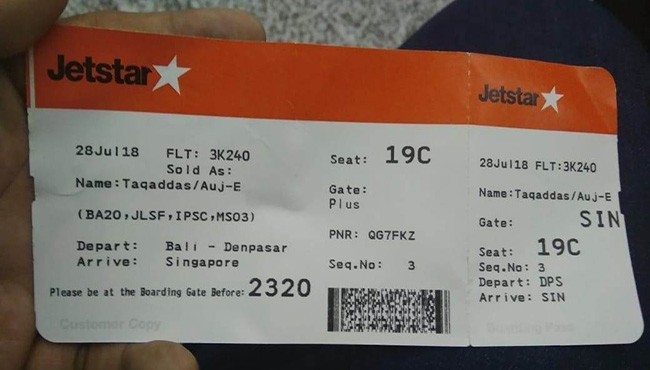 Follow us on Social Media
Send in your scoops to news@theindependent.sg