There is no end to human creativity and innovation. And it seems that there's no shame, either, in putting to good use women's sanitary products, especially for Vietnamese soldiers.
A post on the 羽軒粉絲團 which translates to Yu Xuan Fan Group (@Yuxuan.fc) Facebook page on Sunday, August 12, went viral very quickly, and to date has been shared more than 2,500 times.
Captioned 其实这个真的不止女人用,男人也有用!or "In fact, more than women using these, men also find these useful" the post showed a series of eleven photos of Vietnamese soldiers using women's sanitary napkins for a novel purpose, to line their army boots.
https://www.facebook.com/Yuxuan.FC/posts/2047169221993902
Photo after photo shows soldiers placing different kinds of pads into their army boots and shoes, not only for comfort, as they add a soft padding to the shoe, but also for hygienic purposes, since these pads solve the problem of foot bacteria that lead to bad odors. Because the pads are extremely absorbent, this eliminates opportunities for bacteria to grow.
However, this is apparently not a uncommon practice among young Asian men. A few years ago, a young Chinese entrepreneur made waves at Southwest University in Chongqing for repackaging sanitary pads for males so that the freshmen at the university could buy them without embarrassment when they needed them for padding their boots in the mandatory military training for male freshies.
The positive comments on the Yu Xuan Fan Group post showed that netizens thought the unusual use of the pads was a good idea.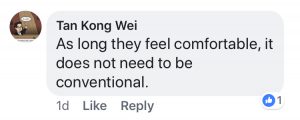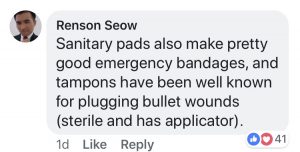 Some netizens confirmed that the post is true.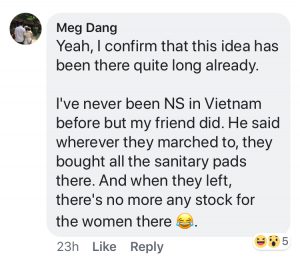 Follow us on Social Media
Send in your scoops to news@theindependent.sg