Unable to handle rejection, a young man insulted a Malaysian girl and flaunted his wealth to her when he thought she was uninterested in him.
The man, who is allegedly Singaporean, got to know the Malaysian girl named Carrine on Facebook Dating. According to Carrine, the man claimed to have a car accessories trading business and co-owns a car leasing company. He further said that recently entered the logistics industry and has been single since October 2016.
After matching with each other on 19 Oct, the pair took their conversations to WhatsApp since they were not so active on Facebook. Carrine, said that the exchange later turned "weird and nasty" and she did not feel comfortable sharing too much about herself. She posted screenshots of some of the texts online.
She told World of Buzz: "I created the Facebook Dating profile on Friday and on Saturday morning, got a message from this guy there. We exchanged phone numbers but I only started chatting with him on Sunday afternoon and then it got really weird and nasty."
The man, who was initially chatty, decided to end their correspondence since he found her replies to be "inconsistent":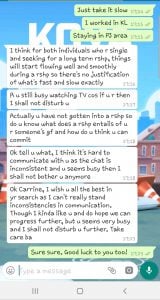 Strangely, even after they decide to end their conversation amicably, the man went on to lecture Carrine about relationships.
The man, who called himself a "psychology major," accused Carrine of having a lack of concentration and focus in finishing tasks and added that it is unlikely that any Singaporean man would want to be with her: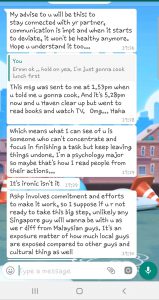 Carrine politely explained that she did not want to share details of her day with him and wished him luck as he looked for another match. Instead of ending the conversation, the man goes berserk and told Carrine "f**k off Malaysian girl".
Calling Carrine a "bloody loser in life" with "nothing to offer", the man said: "no Singaporean guy will waste time on u…I think those cheap Malaysian guys suits u better."
The man wrote: "Typical Malaysian mentality. You got nothing to offer and beggars don't choose. So don't think you're a bloody good catch lah and no Singaporean guys will waste time on you. On employment permit, no CPF so can't buy a house even if you get married and all. So, I think those cheap Malaysian guys suit you better."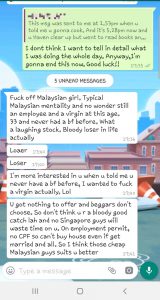 While Carrine took the insults in her stride, the man did not stop there. He went on to send her a photo of a POSB Passbook Savings Account bank balance that showed a balance of over S$350,000 or about RM1 million.
Asserting that Carrine has missed out on a man who not only buys a watch using S$47,000 in cash and is "in a good position to provide (his) partner with a better future", the man also sent her photos of stacks of cash: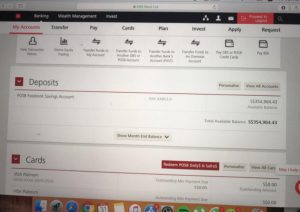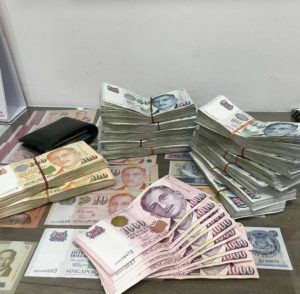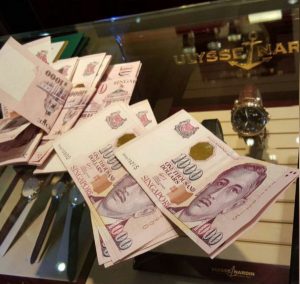 Carrine, who shared her story to warn singles to be careful when they explore online dating, told World of Buzz that she has reported the man to Facebook Dating but doubts that any action will be taken against him. -/TISG