It is a question which no one wants to provide a direct, clear, simple answer to: how much exactly is the Executive Director and Chief Executive Officer of Temasek paid?
Some have tried to do the impossible and offer what are speculative guesses, with answers ranging from a salary of tens of millions to even $100m for the executive in question.
Others have endeavoured to probe for an answer by looking at the Administrative or Management expenses of Temasek, as perhaps proxies which can be further distilled to reveal the magic number. No such luck.
Temasek's Administrative expenses range from $7.3b in 2011 to $9.6b in 2015.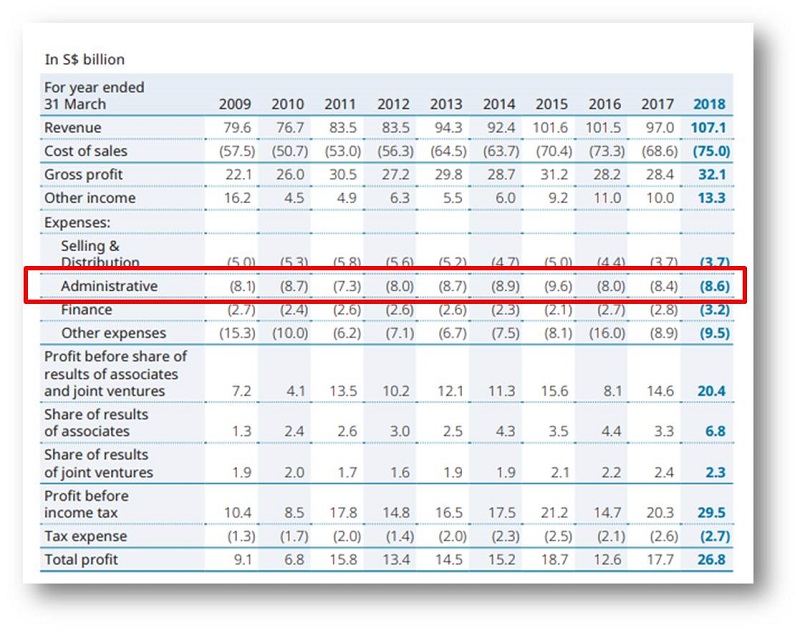 When questions were raised about such seemingly astronomical administrative costs in its annual reports, the sovereign wealth fund explained:
"This also included expenses of subsidiary companies such Singapore Airlines, PSA, and others, and not for Temasek Holdings only."
So there. Basically, the administrative costs are commingled. Temasek did not bother to separate and itemise them so Singaporeans can know the Administrative costs for Temasek itself.
Only a few people would know the exact and accurate figure we are seeking – the president, the prime minister, the Minister of Finance, the Temasek Board, and the executive herself – but none apparently is willing to divulge what seems to be a state secret.
As the debate sparked by ESM Goh Chok Tong's remarks on ministers' salary continues, questions of executive salaries for government-linked entities like Temasek and the GIC should be raised as well.
The assumption by many is that the top executives in GLCs are handsomely paid. The CEO of DBS, for example, is paid more than S$10m.
Using this as a marker, the salary of Temasek's CEO is then speculated to be – some say, naturally – much higher, since she oversees a much larger reserves, at some $300b.
But we can't extrapolate like this. In any case, it would just be speculative work.
What we do know is that in 1996, when the CEO of Temasek was a mere managing director of a smaller entity called Singapore Technologies (ST), her salary was in the spotlight because of remarks made by the late Lee Kuan Yew, then Senior Minister, in 1996.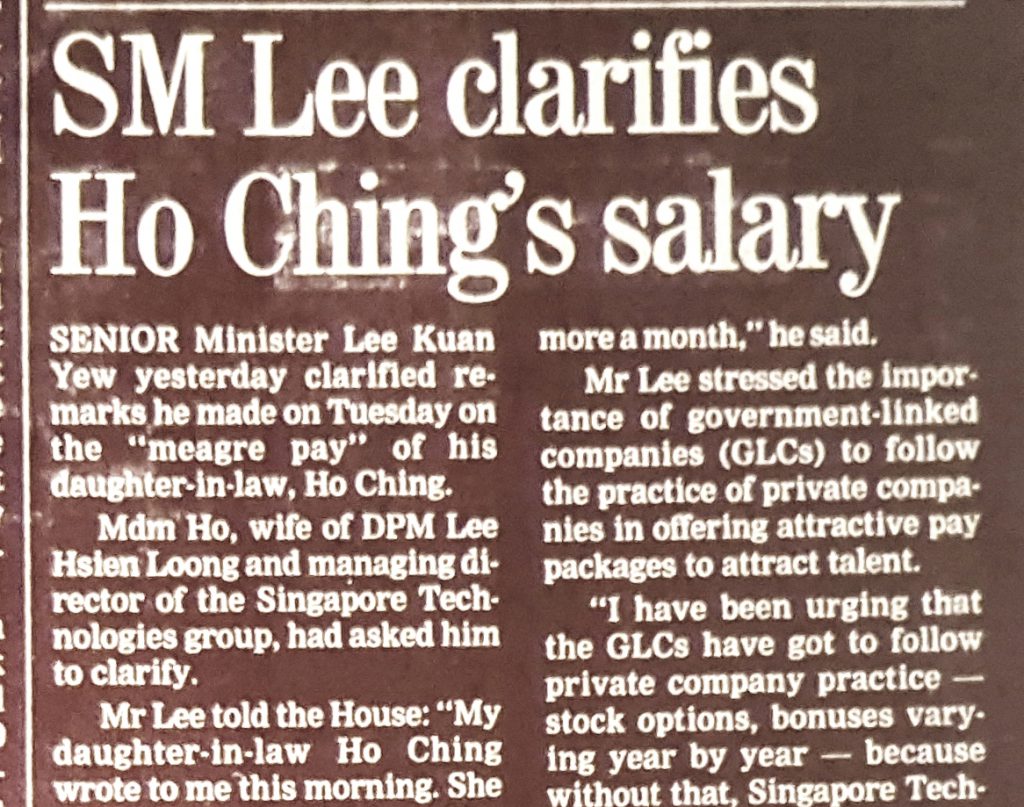 SM Lee had described the salary of his daughter-in-law, who hadn't yet joined Temasek then, as "meagre".
This prompted her to ask SM Lee to clarify the remarks, otherwise she would find it hard to recruit "good men" for the company.
"My daughter-in-law," SM Lee told Parliament, "wrote to me this morning. She says: Better clarify about Singapore Technologies otherwise she can't get good men. She said: Yes, she does not get much but she as MD has paid $1 million in bonuses to successful MDs of her subsidiaries."
SM Lee then revealed that her salary in 1995 was $21,500 a month.
"If you include the 13-month AWS, it's $279,500 (annually). Her bonus was $290,000, so it's a total of $569,500," SM Lee said.
In 1996, her salary went up to $28,000 a month.
If you used the Monetary Authority of Singapore's Wage Calculator, which factors in inflation, a $28,000 salary in 1996 would be about $38,000 today.
SM Lee had encouraged government-linked companies to follow the practice of the private sector and to pay officers "attractive packages" to attract talents.
As for the $1m bonuses paid by the CEO of ST to ST subsidiaries' executives, SM Lee said:
"I think there's no harm letting it be known because it is a difference in philosophy. She was trying to follow the market and gave $1 million. The chairman, [former minister] Yeo Ning Hong, thought: God, $1 million. Better clear with me. But she thought: That was the market price.
"But he's been in government for so long, the idea of paying $1 million when he was earning $300,000 or $400,000 as a minister shocked him."
So, how much is the CEO of Temasek herself paid? We don't know and won't know until the books are opened, or someone who knows disclose the numbers, as Mr Lee did so openly 22 years ago.
But that doesn't seem to be happening anytime soon.
This little episode with Singapore Technologies perhaps gives us an idea behind the thinking of the Temasek CEO with regards to remuneration for top executives in GLCs, and in Temasek itself.
And oh, incidentally, back in 2004, everyone in Temasek sat on Herman Miller chairs and "shares the sunshine" in the office.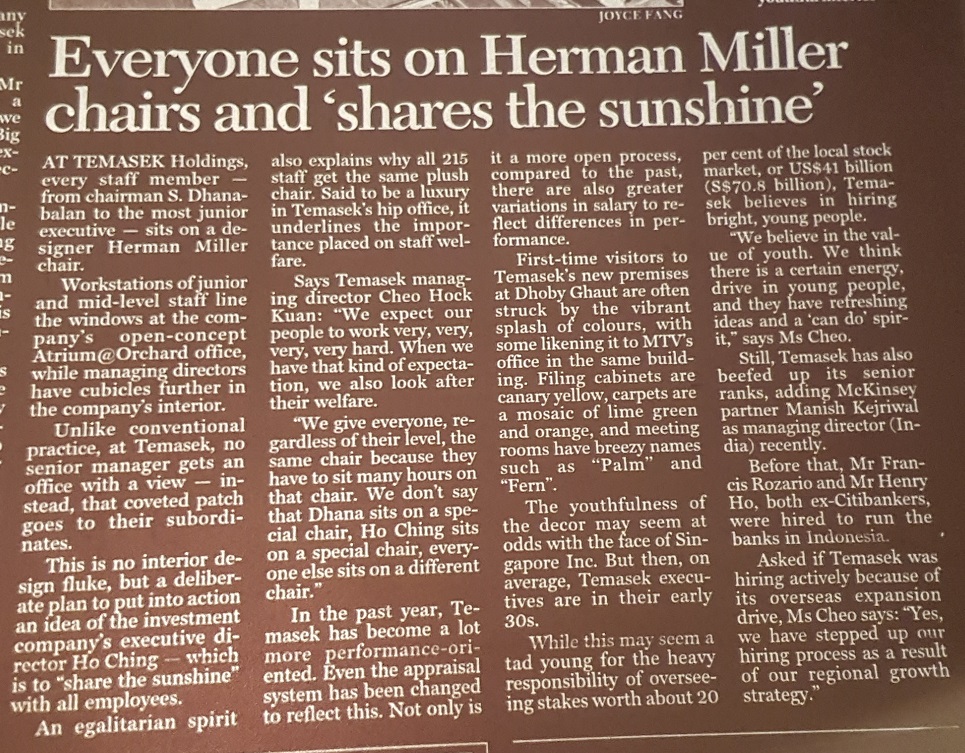 Follow us on Social Media
Send in your scoops to news@theindependent.sg