It's a common refrain nowadays, one which was recently parroted by Emeritus Senior Minister Goh Chok Tong: if we don't pay ministers enough, it will be hard to find men and women who will serve the country.
It is unfortunate that when we speak of public service now, it is invariably tied-in with how much money one will be paid in doing so. And we do not speak in terms of ordinary thousands, but extraordinary millions, of dollars.
Be that as it may, this is perhaps a good time to turn the clock back a little, to a time where men and women stepped up to serve willingly, proudly and dedicated decades of their lives to be at the service of their fellow men and women.
I am referring to our founding fathers, the first (or 1G) generation of leaders.
Some of these public servants indeed gave up millions of dollars which they would have made in the private sector, to roll up their sleeves to serve, and they never asked for anything back when they were done with the job.
Now, more than ever, we need to look to these past leaders as inspiration, and not constantly lament about how little ministers are paid.  
One such person we can look to is Edmund W Barker, minister at the very dawn of our nation's birth.
Mr Barker's life is a very colourful and accomplished one, both in politics and in other areas, such as sports.
He had already established himself as a lawyer of repute with both Braddell Brothers and Lee & Lee by the time Lee Kuan Yew asked him to join politics in 1963.
The 2 men had been friends since their younger days in school.
Mr Barker described the circumstances and the reason why he joined Mr Lee's team:
"It was Goh Keng Swee who persuaded me at dinner in Lee Kuan Yew's place. He said, 'Come into politics.' I did not respond. Then Lee asked me to join, saying, 'If you don't and the commies will come in, where will your English education be? But that's not the reason. If commies took over, with my legal background, I could resettle. No, I joined for Singapore. I was born, bred, educated here. There's a feeling of attachment and loyalty."
Mr Lee had only approached Mr Barker about a week before the 1963 elections.
"He was looking for an English-educated person to stand in Tanglin," Mr Barker related some years later. "I did not think that an Eurasian had any chance of being elected, but he said, 'You'll win.' And so I did, and I remained unopposed till I retired."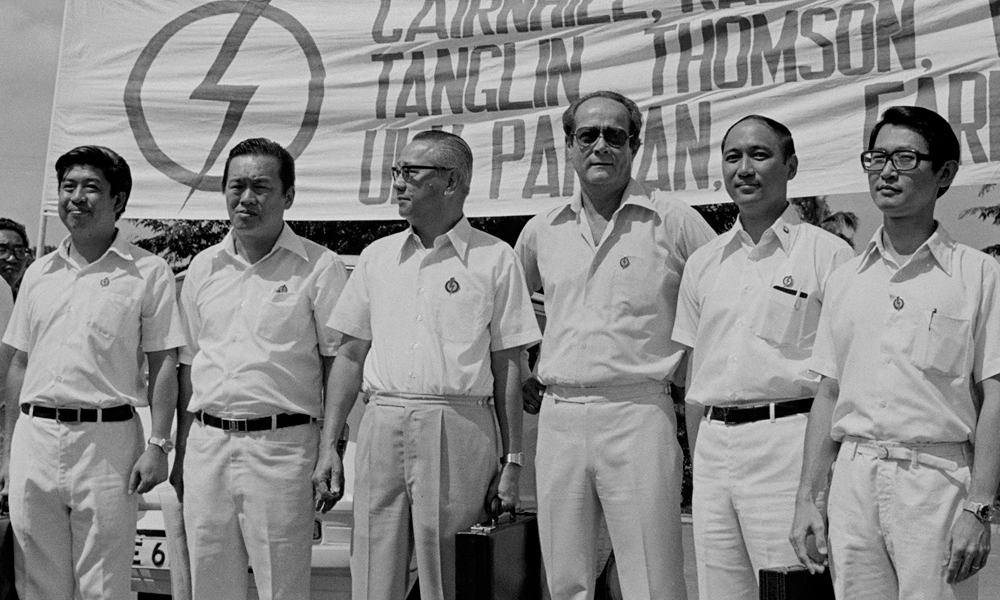 Mr Barker would subsequently be made Law Minister after he joined Mr Lee's Cabinet. The Law portfolio was a newly created one which thus made him the first Law Minister in S'pore.
Indeed, his position as Law minister was crucial in the separation negotiations with Malaysian leaders whom he had very close personal relationships with. It was Mr Goh and Barker who were sent by Lee to hold secret discussions on separation with the Malaysian leaders, without even the knowledge of the members of the inner circle of the PAP, such as Toh Chin Chye and S Rajaratnam.
Mr Barker drafted the separation papers, and his signature is the 4th one in the documents. He had left space for his senior colleagues.
Mr Barker would go on to hold various portfolios, including as Minister for National Development, Home Affairs, Environment, Science & Technology, and Labour.
An avid sportsman, he would be the first President of the Singapore National Olympic Council, President of the South-East Asia Peninsular Games Federation Council. He also held the positions of chairman of the Bukit Turf Club, and chairman of the Singapore Stock Exchange.
In Cabinet, he was known for speaking his mind, and would often disagree with Mr Lee, which prompted the latter to one day call him into his office and asked why he was disagreeing so frequently with him.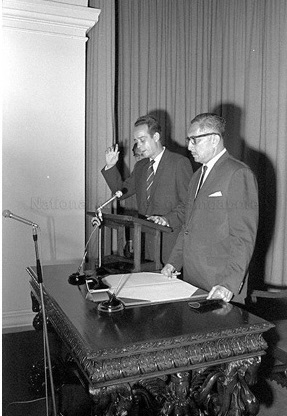 "I'm not scared of him," Mr Barker explained. "I'm his contemporary. I never wanted the job. He asked me to come in, and I came in. I gave him the benefit of my advice. Whether he took it or not, that's another matter. In fact, a few months after I was appointed Minister in 1964, he called me to his office and asked me:
Lee: Why are you always taking me on in Cabinet?
Barker: Well, if I think you are wrong, I must tell you.
Lee: But why so many times?
Barker: Well, if you want me to be a 'Yes' man, then starting tomorrow, I'll say 'Yes' to everything you say.
Lee: Well, ok. You just carry on.
One issue which Mr Barker later disagreed with was the GRC system, which was introduced by the government in 1988. It was supposed to provide for minority-race representation in Parliament.
"In Cabinet, I objected to the GRC system," Mr Barker said later. "What is the point? Why protect minorities? I remembered my own case. Uncontested. I went to the kampungs, and the little boys would shout, 'EW Barker datang!' You know, it's the little guys that win you your votes. But I was outvoted in Cabinet. It was Lee's idea. Same thing with NCMPs. I mean… to me, if you've lost, you've lost. To be an MP, you must be elected. I wasn't in the Cabinet when they talked about NMPs. I would have objected. There is always a danger you will nominate like-minded individuals. Independents, however, are good."
Mr Barker stepped down from politics in 1988, after 25 years of service to Singapore.
In 1996, during a Parliamentary sitting where the issue of salaries for ministers was debated, Mr Lee spoke of how Mr Barker had made personal sacrifices to serve the nation.
"I feel very guilty today about Mr Barker, my friend Eddie," Mr Lee said. "I robbed him of at least $30 million had he stayed in Lee and Lee. Had he gone into business with my brother, he would have had easily $60 million. When he left, all I could give him was a pension which he could commute. And he wanted to leave, from the 1970s, the moment the Government was stable, he said, "Can I leave now, Harry?" I said, "Who have I got?" He was honest. He was capable. He was honourable. I trusted him. He ran the Ministry of National Development. He ran the Ministry of Law and he ran it with competence. His wife was not a lawyer. He had only his salary. Can I repay him now? All I could do was to ask the Prime Minister, "Will you consider giving the old guards a little token of recognition?" It is too late. By the time he retired in 1988, time had passed, his energy levels were lower."
Mr Lee had suggested raising ministers' remuneration, and was in support of linking ministers' pay to those of the top professions in the private sector.
It has since been a controversial topic, with ESM Goh's recent remarks the latest to ignite yet another debate over it.
But there are lessons to be learned from those who had sacrificed their personal goals for public service, those like Mr Barker.
These 1G leaders may have answered the call in a different time and under different, more critical, circumstances; still, their decisions hold lessons for us.
One of these would be: when it comes to public service, there is no comparison with the private sector ultimately – one is about the people, the other is about profits.
Mr Barker was clear headed when he made the decision to serve: "I joined for Singapore."
If potential leaders lament that $5.5m (for an entry-level minister for 1 term) is not enough, then perhaps that person, and those who think like him, would be entirely the wrong persons to have to lead the country.
Singapore would not be here today if our founding generation leaders like Mr Barker were as money-minded, and constantly had dollar signs in their eyes. If potential leaders think even millions of dollars are not enough, then they should not be our leaders.
It is as simple as that.Follow us on Social Media
Send in your scoops to news@theindependent.sg