Speaker of Parliament Tan Chuan-Jin allegedly shut down a student who had apparently asked why the Government is not doing more to help certain races, at a recent Q&A session.
Pointing out that there seems to be a trend of politicians trying to passive-aggressively "roast" students in Q&A sessions, redditor u/FeelinSpiffyPunk alleged that Tan Chuan-Jin shut down a student who talked about "how the government doesn't do enough to help certain races in Singapore."
The redditor said that he was present at the event where the exchange between the student and Tan occurred and that Tan responded to the question by asking, "Do you help out in the community?" The redditor wrote:
"…last year I was at SIM for Model UN and there was a dialogue session with Tan Chuan-Jin. There was a guy who raised a question about how the government doesn't do enough to help certain races in Singapore. His response: "Do you help out in the community?" Basically he shut him down and proceeded to ask questions which the guy had no idea how to answer."
The event in question appears to be the eighth Model UN Preparatory Conference that the Singapore Institute of Management (SIM) hosted from 18 to 21 December 2018. Tan Chuan-Jin was the guest of honour at the event.
u/FeelinSpiffyPunk wrote that while it is fair to point out hypocrisy in questions posed by students, shutting them down effectively demeans the students' arguments. Thoughtfully reflecting on the exchange, the redditor wrote:
"However, while I do agree that it is fair to point out the hypocrisy in students, I feel like it's also just a way for them to effectively demean their arguments and make it not seem legitimate.

"At the same time, while I sometimes feel that whenever students ask these questions pointing out problems without really caring about these issues and only wanting to attack the government, it doesn't mean that their arguments don't have any value and if they had more research, they could better defend themselves from these aggressive tactics."
Several netizens responding to the redditor's post expressed support for Tan and said they would not have answered such a loaded question themselves: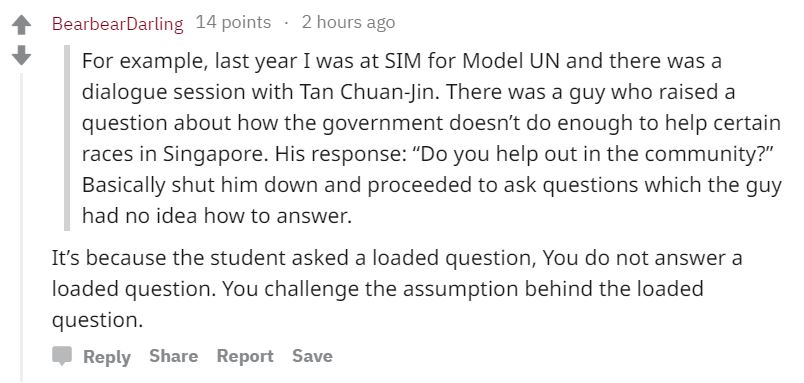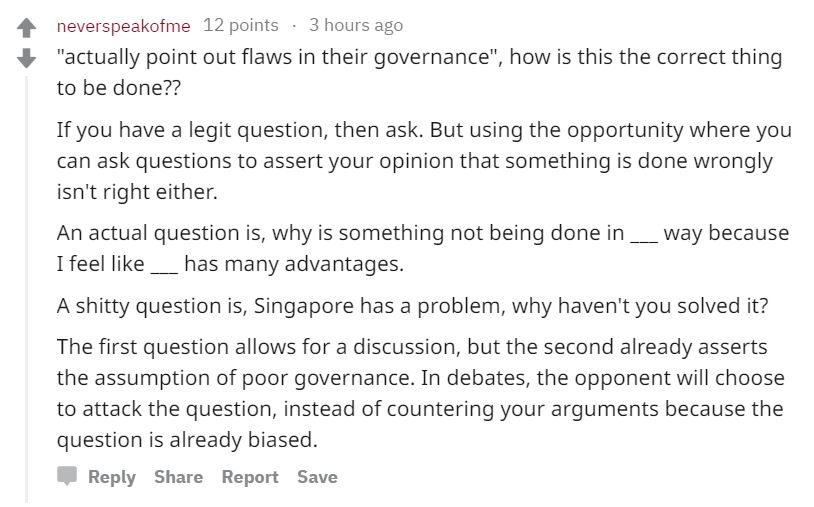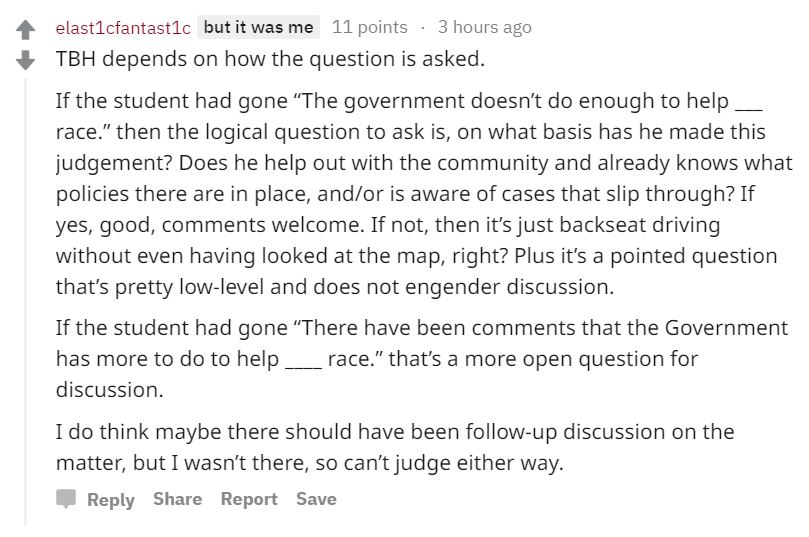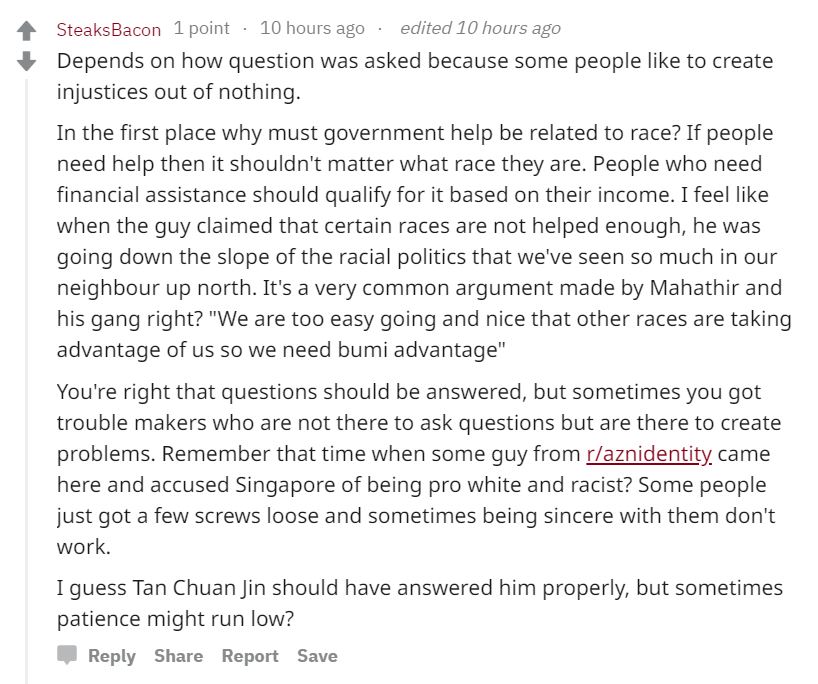 Others, however, criticised Tan for his "nonsensical response" and asserted that Tan should not have responded as aggressively as u/FeelinSpiffyPunk said he did: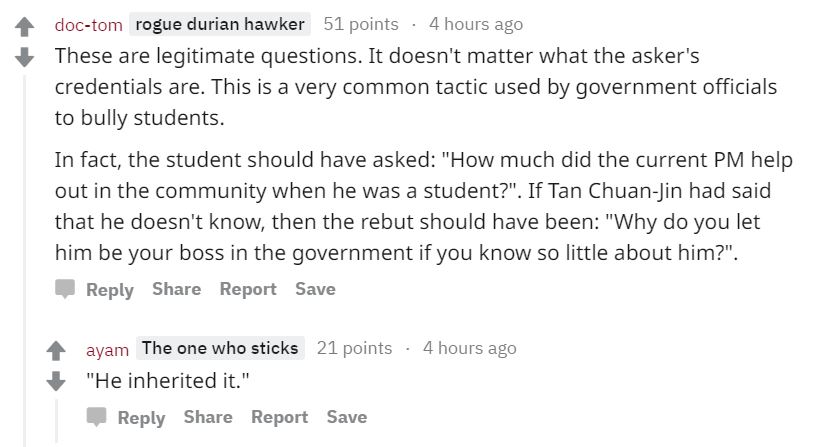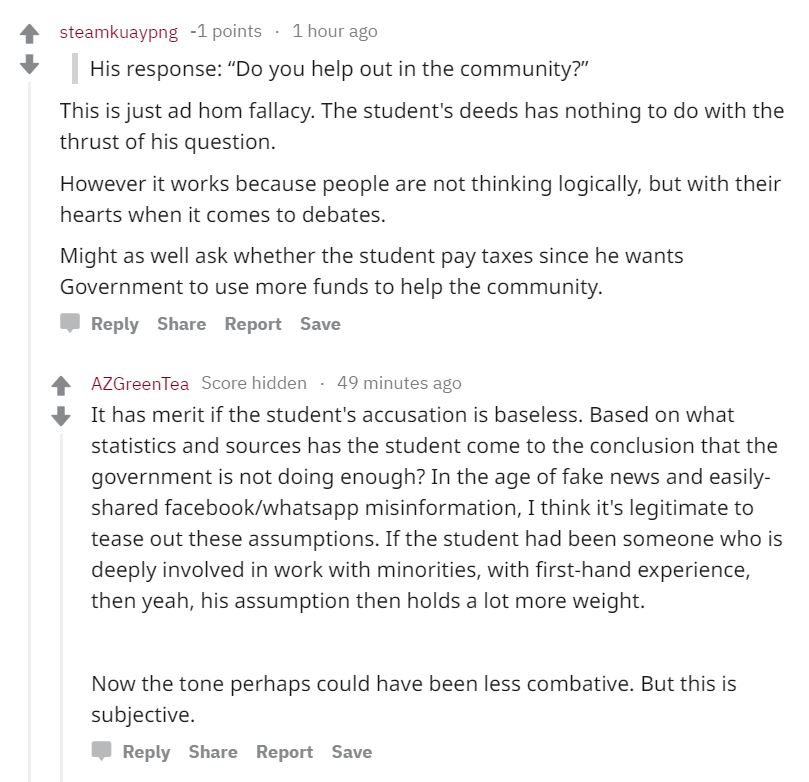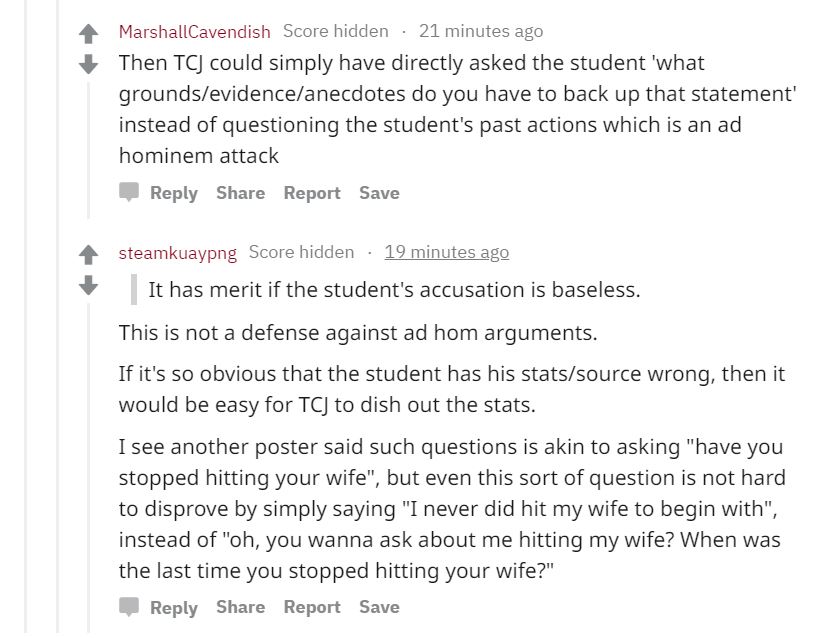 Some also said that this sort of response is not new from local politicians. Redditors even pointed out that founding Prime Minister Lee Kuan Yew has also roasted students as he answered questions in the past.
In one instance, Lee told a female PhD candidate who asked him a question to find a boyfriend, get married, and have children before her childbearing years are over:
Follow us on Social Media
Send in your scoops to news@theindependent.sg