A Malaysian stand-up comedian drew brickbats from many Singaporeans after a video of her claiming that Nasi Lemak is 'Malaysian' in an expletive-ridden defense went viral online.
In the clip, the stand-up comedian begins poking fun at the ingredients Nasi Lemak here is served with – like sausage, fish fillet, and telur – before she jokes about how little sambal she feels Nasi Lemak dishes here are served with. The comedian jokes that the snot that comes from her nose if she sneezes may have more volume than the sambal that is served with Nasi Lemak here.
The comedian goes on to say that the Nasi Lemak here is "arranged nicely" and that the ingredients are fanned out in the dishes they food is served in. She explains, "You know why or not? Because Singapore if it's messy, they cannot eat you know. Every must be in a row, so they know (how to eat)."
"Bloody hell, and then they want to claim Nasi Lemak is theirs! B!@#," the comedian asserts as she is met with loud cheers from the crowd.
Bringing McDonald's' Nasi Lemak burger that is sometimes served in Singapore outlets, the comedian continued: "Ooh! Nasi Lemak Burger! 'Cause you all cannot make Nasi Lemak properly, that's why you all make Nasi Lemak burger. K!@#$%"
While some netizens defended the entertainer's rant as comedy, several Singaporeans criticised the comedian's assessment and excoriated her for using profane language. Many also resorted to making vicious remarks about the comedian's weight: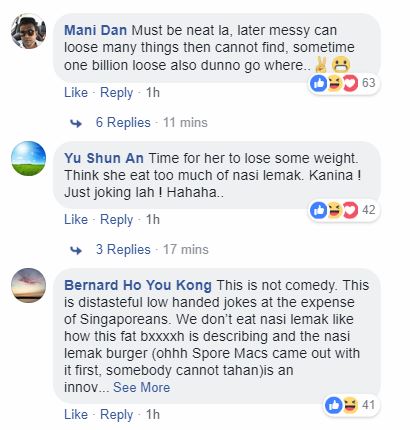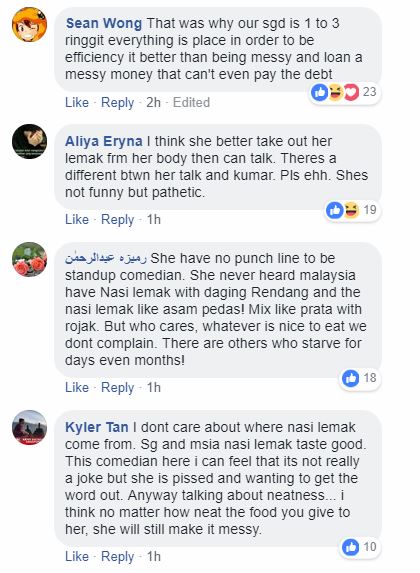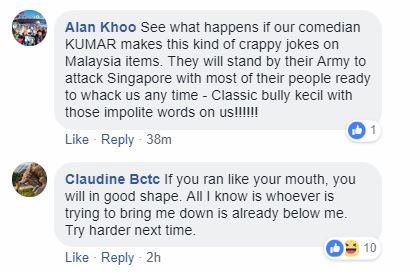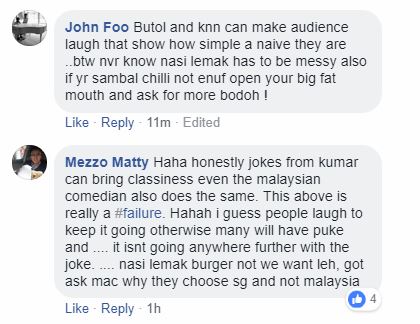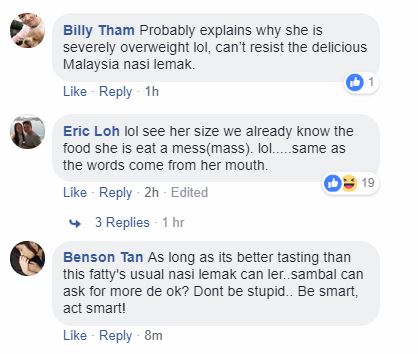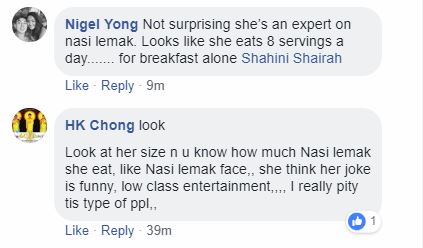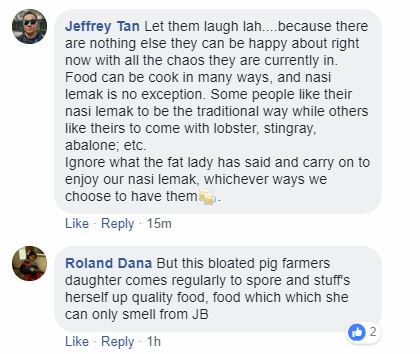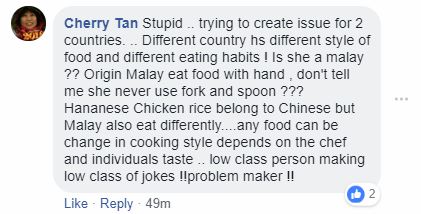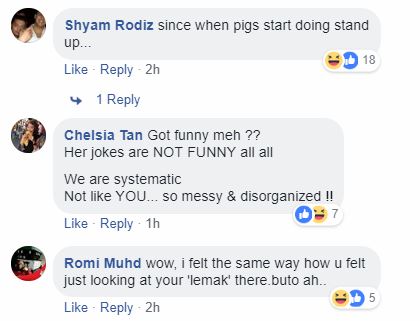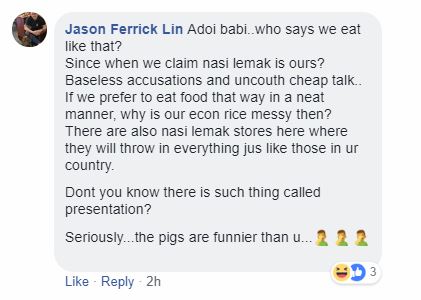 This is not the first time that tensions over food dishes have arisen between Singaporeans and Malaysians. When McDonald's' launched the Nasi Lemak burger in Singapore to commemorate National Day with a "local favourite", angry Malaysians went up in arms and claimed that Singapore has misappropriated their national dish.
Likewise, Singaporeans accused Malaysians of misappropriating chilli crabs when their neighbour across the Causeway laid claim to the famous dish in 2009. Similar skirmishes have occurred over the years over other favourite dishes like rendang and Hainanese chicken rice.Follow us on Social Media
Send in your scoops to news@theindependent.sg