It must be the worst 'Merdeka' day for former director-general of the Malaysian External Intelligence Organisation Datuk Hasanah Abdul Hamid.
Not only did the Malaysian Anti-Corruption Commission (MACC) arrest her to help in the probe in the latest case of misappropriation of election funds 0n Tuesday.
The local social media is riling over her role as spy chief and the accusations that she stole government money.
The MACC is widening its investigation into the alleged misappropriation of US$12mil (RM49.3mil) worth of government funds involving Malaysian External Intelligence Organisation (MEIO).
She is the one latest among the ex-Najib Razak regime top officials who got arrested by the MACC, sparking comments that the prison authorities should allocate a block in the Sungai Buloh prison for them.
Facebook user Razak Fansuriah said: I suggest that the prison department allocate a prison block in Sungai Buluh. The block can be named as Najib's Razak block. He and his companions, male or female should lock up in the block. And the block should be open to the public as a reminder of their deeds to the nation.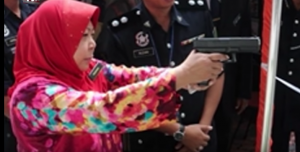 Siti Shahirah
Remember the movie "Face Off". The good cop ( Travolta ) was purposely sent to the jail so that he could change his face with the crook prisoner (Nicholas Cage ). It may be the same plot here. She needs to be put in jail to later change face with a lady of her size…..
The most laconic comment is perhaps from one
Ocram Teh,
 who must however have made those comments to show the sarcasm that has gripped the nation: 
Your honor, I solemnly declare that I was just an ordinary makcik selling nasi lemak at kampong when one unidentified stranger offer me monthly remuneration of rm30k just signing papers. Nothing did I know that I will be working as the country's chief spy and I just wish to go back to operate my nasi lemak stall.
Patrick Sia
If you look closely and remove that tudung, you can see this makcik spy is actually Jho Low in disguise. Our special branch has done a great job to bLow Jho Low 's ingenious cover.
Some questioned the very fact that she was the chief spy in the country:
Imran Shakil
What skills she had to become spicy chief? 
A spy always ready to take his/her own life for the country when kantoi.
The senior public officer was arrested when she was called to the MACC headquarters here Tuesday (Aug 28) evening.
She is expected to be remanded later at the Putrajaya magistrate's court.
Several screenshots of the letter were leaked, which went viral.
Previously, Hasanah, the former head of the Malaysian spy agency, had written to CIA director Gina Haspel, appealing to the United States to support Datuk Seri Najib Tun Razak's administration.
Follow us on Social Media
Send in your scoops to news@theindependent.sg