A notice by Tan Tock Seng Hospital (TTSH) that says "Young male Indians are at higher risk of developing a heart attack in comparison to other ethnic groups" has drawn mixed reactions on social media, with some calling the notice "racist" and other defending the message.
The notice began trending online when Facebook user Rethinam Sabapathy spotted the notice at one of the elevator doors at the first level of TTSH's ward block. Mr Rethinam snapped a photo of the notice and uploaded the image online. He wrote: "Thanks for the concern. Some diseases are racist. So take care.."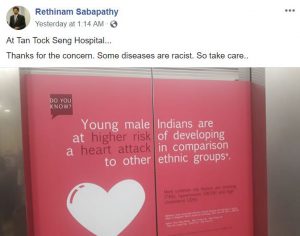 The post quickly made its way across social media and was shared by some who though the notice was indeed "racist" and others who felt that the message was simply factual. Some netizens were outraged by the message while others felt that Indian foods generally have higher cholesterol levels: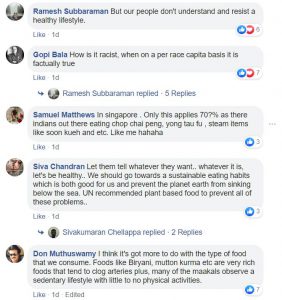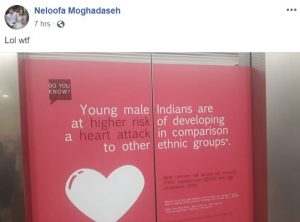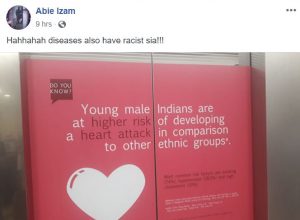 This is not the first time that race has been linked to health conditions and health outcomes, instead of other factors like the socio-economic status of patients.
In 2017, Prime Minister Lee Hsien Loong drew criticism when he pointed out that six in 10 Indians, and half of Malays above age 60 are diabetic, compared to 2.5 in 10 for the Chinese.
PM Lee's statement, that was made during that year's National Day Rally, was criticised for providing statistics about diabetes based on race and not on statistics on diabetes based on the socio-economic status and genetic predispositions of the diabetic patients.
Later that year, a TODAY article – entitled "Getting Malays, Indians to change eating habits may not be easy" – drew backlash for reinforcing stereotypes instead of providing empirical evidence.
Reporters simply spoke to a couple of Indian restaurant operators, a few Malay operators, and a taxi driver before coming up with "anecdotal evidence" that there is a lack of healthier food choices for the Malay and Indian communities.
Why link war on diabetes to race and not socio-economic status of patients?