After being slammed by prominent public figures for caricaturing food-guru K F Seetoh as a hypocrite, self-styled internet-vigilante group SMRT Feedback by The Vigilanteh is recoiling from the backlash.
https://theindependent.sg.sg/prominent-public-figures-slam-smrt-feedback-for-character-assassination-of-makansutras-k-f-seetoh-claim-it-is-typical-of-pap/
The group had earlier said in a post that they agree that hawkers "should not pay for customers to return their trays", but questioned if Seetoh was riding the "high-horse to protest hawker rentals when he himself is charging exorbitant rates".
They claimed that Seetoh charged $10,000 per month to those that wanted to rent stalls from his franchise Makansutra Gluttons Bay. The Page further claimed that unlike NTUC Foodfair which employs elderly Singaporeans, Seetoh's 12 outlets employ cooks, cashiers and cleaners who are foreigners. It asked Seetoh to ensure that his "own backyard got very high fence" before criticising SEHCs.
After Facebook users slammed the group for unfair comparison of hawker centres with upscale kopitiams, they deleted the post, and issued an apology:
"In a previous post, I compared Seetoh's atas food court vs the HDB food court, which is indeed apples vs oranges, in the context of economics. On this note, I'd like to evoke the words of the venerable Lee Kuan Yew: I stand corrected."
But after issuing the apology, they went on to clarify why they felt it was necessary to call out Seetoh and also went on to rebut prominent economist Donald Low who had defended the food-guru against the attack by SMRT Feedback by The Vigilanteh.
"1. Both private and social enterprises are the same for-profit entities that share the same goals of commercialisation. The core difference is that the latter utilises profits for socially-driven causes. Where people get confused is whether such causes are meant for the benefit of hawkers or the benefit of consumers? If a chicken rice cost $2.50 (non-halal one because the chicken anyhow cut so it's cheaper), the consumers benefit, while the hawkers are left in a lurch. Are social-enterprises able to compromise with a solution that benefits both parties? Improvements yes, but I reckon it's not simply black and white. Someone has got to give.

2. Hawkers should not pay for the return of trays, period. Where they should pay is dishwashing and cleaning, because this then improves the efficiency for the hawkers and for them to focus more on the cooking, instead of the cleaning.

Now, I'd like to also highlight the points made by a Donald Low.

Donald said:
"But as Seetoh has pointed out, some of their tenancy agreements are ridden with unreasonable terms and hidden costs, like making hawkers pay for customers returning their trays. It takes a special kind of stupidity to equate this kind of unethical business practice with high prices."

Unreasonable terms? Perhaps. That's why it's called a contract No parties actually come out happy. Hidden costs? No. Agreements is what it is, an agreement between two parties. Costs are stated in the contract and it is up to the person to agree. This holds true even for Seetoh's agreements with his stable of hawkers. Perhaps Seetoh might want to share his contract? But then again, there's nothing wrong with howsoever one wants to set the terms. It's a business decision made for a business entity. Is it unethical? Perhaps. My nasi padang stall charges me 2 times what Ahmad gets. That's bloody unethical.

Donald also said this:
"Finally, hiring elderly Singaporeans as cleaners is not necessarily laudable. If they are paid the market rate, why should we applaud the employers? You mean discrimination against older Singaporeans, and paying them below market, is such an accepted norm for you that the mere act of hiring them should be applauded?"

How many of those over-60, without any educational background, are able to find a job easily? Hiring elderly Singaporeans as cleaners are indeed laudable. Why? 99% of Singapore companies ignore them. You rant about them not being paid market-rate, about the dollars and cents, but where you fail to rationalise is that the fact that these elderly people are employed, for the sake of their survival is an act itself that at the very least deserves credit."
When Facebook users asked why the group deleted the post criticising Seetoh, SMRT Feedback by the Vigilanteh claimed that they didn't do, Facebook did.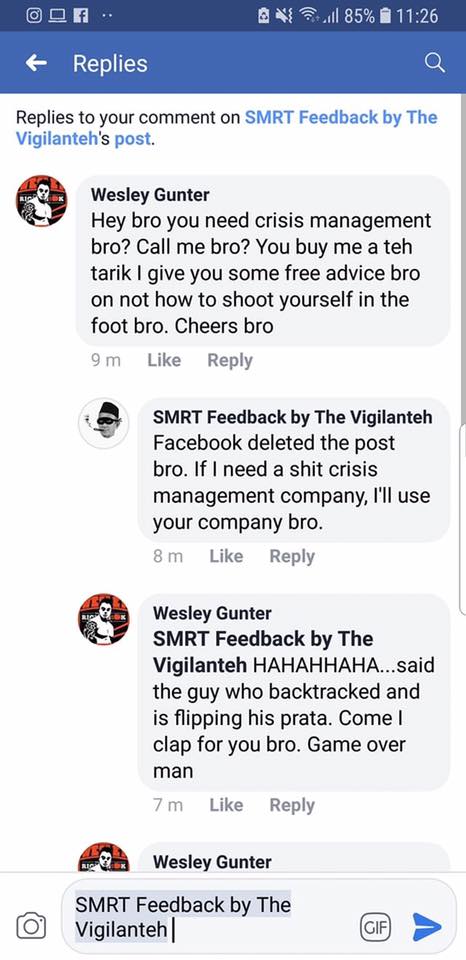 This led to Facebook users calling out their bluff.
https://www.facebook.com/danielyaponfb/posts/10160949813445402?__xts__%5B0%5D=68.ARCht86cAcN-oafyVUNmNZ0b3rjpfbTEb3jduGW2NM-whrzDWMD0AIiej-mlaem7myzFxBrGnJWbnFbCQ7lNQWIdKW2acKRRKzVBT01HhJzhepnTfX7utFH0nzMGBaWkuBTx1GN8KS1eWELA_PPe-lj_mu-nJNzqlkiJH8-OWUFgABha5fKkV6X6LKIEHPcuyXBA-ejWJK6Hopn9SYHC9L8P5A&__tn__=-R
Facing a deluge of criticisms against what many perceived to be an insincere apology, SMRT Feedback by the Vigilanteh started to delete unfavourable comments from its post.
They later edited the entire post of apology to Seetoh claiming that it was made by a 'previous admin' and said they will "call out Singaporeans who are suddenly so righteous about hawkers' well-being when in the same breath demand for lower hawker fares, belittling them and devaluing the actual effort of hawkers."
The group added that they are not "bootlickers to the PAP" and "don't need to be paid by anyone to speak."
https://www.facebook.com/smrtsg/posts/2220749497949250?__xts__%5B0%5D=68.ARBqJZkxNgjGlROPplUDO2A3O52VRogNTt00uKTF6HJhfP4FlPBdj5VhuksdWA9lfF9nlOHAQkC0ehXr7ihunV9_4cL4b-K2IYMUvFZ2HkHc2LkLS-LOHYaLA-xivpiO3CdeSPhE3CVOyO-BE7S3TMsisbUvTDRcARXJGIhtBifaDbHMVbwWuzYp3g4dCm2Aku10PoNltC1hx0ZbKSp9TQ07&__tn__=-R
Some Facebook users who responded to SMRT Feedback by the Vigilanteh's claim that they were not bipartisan, said they didn't believe that assertion.
https://www.facebook.com/photo.php?fbid=10155937061167939&set=p.10155937061167939&type=3&theater
Send in your scoops to news@theindependent.sg