Several netizens are pointing out that Singhealth's chief executive is Defence Minister Dr Ng Eng Hen's wife, Dr Ivy Ng, in the aftermath of the massive Singhealth data breach that has affected 1.5 million people.
On Friday, Facebook user Phillip Ang shared the following picture on social media and pointed out that Dr Ivy Ng is ruling party politician Dr Ng Eng Hen's wife. Ang's post has been shared nearly 300 times on his Facebook page. Another Facebook group reposted the picture and garnered an additional 180 reactions and 150 shares:
https://www.facebook.com/photo.php?fbid=2282886468605213&set=a.2120811958145999.1073741826.100006516457547&type=3
A mother of four aged between 24 and 34, Dr Ivy Ng has served as CEO of Singhealth since 2012, after she left her former position as CEO of KK Women and Children's Hospital that she had held for eight years. Now 59, Dr Ng had first met her husband when they were both in medical school together.
In 2012, the year she joined Singhealth, Dr Ivy Ng was honoured for her achievements in healthcare and named the Her World Woman of the Year 2011/2012. Published by SPH Magazines, Her World awards the title each year to Singaporean women who have contributed to society, projected a good image of the nation, and are role models for other women:
Meanwhile, the photo which pointed to the fact that Dr Ivy Ng is married to Dr Ng Eng Hen also noted that the chief of the Cyber Security Agency of Singapore (CSA), David Koh Tee Hian, is a Singapore Armed Forces scholar.
The CSA chief made a shocking claim that there is "No strong commercial value" to the stolen data, even though the breach involved the theft of the names, addresses, birth dates, genders and NRIC information of 1.5 million patients. Mr Koh's remarks are also published on the website of the Ministry of Communication and Information (MCI), under the title: "Singhealth cyberattack: what you need to know".
In the midst of the data hack and its aftermath, popular blogger mrBrown has shared what appears to be a screenshot of an internal email sent to Singhealth staff that reveals that staff internet access has been curtailed.
mrBrown added that "thousands of staff" have also been advised to change their passwords:
Something has gone terribly wrong in SingHealth. Thousands of staff were all told to change their passwords. pic.twitter.com/d1zVXwfYnR

— mrbrown (@mrbrown) July 20, 2018
Netizens responding to mrBrown's revelations on Reddit wondered why the internet for employees was only shut off on Friday when the hack was detected half a month ago, on 4 July.
While the data breach was only announced on Friday, unusual activity was first detected on Singhealth IT databases on 4 July. The Ministry of Health was given confirmation that the unusual activity was due to a cyber attack on 10 July and the authorities made a police report on 12 July.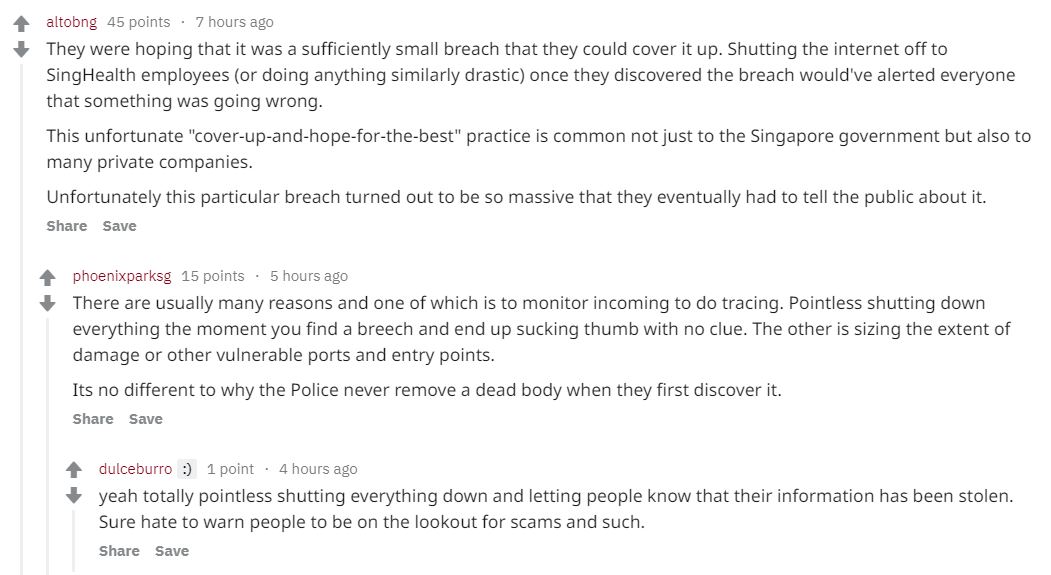 https://theindependent.sg.sg/govt-reveals-singhealth-data-hack-half-a-month-after-discovering-breach-yet-sph-says-govts-response-to-hack-is-lauded/
https://theindependent.sg.sg/super-spouses-in-the-land-of-marry-tocracy/Follow us on Social Media
Send in your scoops to news@theindependent.sg