Several Singaporeans have criticised a new Central Provident Fund (CPF) Board advertisement that appears to encourage members to gift their loved ones the "gift that keeps on giving" – that is CPF Special Account top-ups.
The advertisement, called 'Birthday Gift', was launched earlier this month. In a 30-second long clip, a couple can be shown celebrating the wife's birthdays after the first year of marriage, the fifth year of marriage and the tenth year of marriage. The husband gifts the wife a bouquet of roses on her birthday after their first year of marriage and expensive jewelry four years later.
On her tenth year of marriage, the husband gifts his wife "a gift for the years ahead". The wife is extremely joyful to discover a statement from CPF Board, showing that her husband has topped up her Special Account under the Retirement Sum Topping-Up Scheme.
The wife exclaims "Wow," before teasing her husband, "So how are you going to top this next year?" as the advertisement asserts, "The future is closer than you think – Be ready with CPF".
Sharing the video, that has already garnered over 200,000 views on YouTube, CPF Board said: "When you've been married for so long, it gets harder to find the right birthday gift for your spouse as time passes. Life has a way of creeping up on you. This year, why not surprise your spouse with a gift that keeps on giving even in the years ahead? The Future is Closer Than You Think. Be Ready with CPF."
Some netizens, however, have flamed CPF Board for the advertisement. Facebook page Kuanyewism shared this meme, poking fun at the commercial:
https://www.facebook.com/kuanyewism/photos/a.1160493877314516/2056939017669993/?type=3&__xts__%5B0%5D=68.ARDBz3xSbuTr36jKQVecBjyCJFKaczFpEXZw0cKKl3_tazaFJkn2OqCWLMYDRVtYyBTAOj0AoYxK_PJ91P4K1peO7KWmMLUCRYcl-cIhaY8HAIg7WJazZQrzRB6sAiv1CIWZhPJq7e3iXDVg109bVEvcYnB8l-aLVbZMQIUJ5znaOPgWdF_g7Q&__tn__=-R
Netizens responding to the commercial on social media have slammed the advertisement a "joke". One Facebook user added tongue-in-cheek that CPF Board will announce Wedding and Birthday angpows in CPF cheque form soon: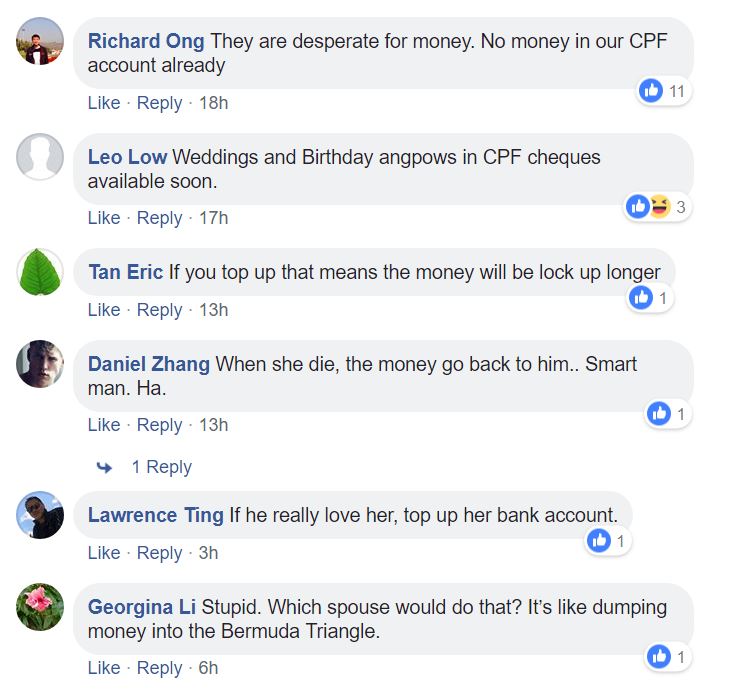 Follow us on Social Media
Send in your scoops to news@theindependent.sg 
No tags for this post.