The former friendship between Singapore Prime Minister Lee Hsien Loong's wife Ho Ching and ex-Malaysian Prime Minister Najib Razak's wife Rosmah Mansor was the butt of jokes at a recent fundraising event for non-profit arts charity W!ld Rice.
Performed by Singaporean actors Ivan Heng (who serves as W!ld Rice's Founding Artistic Director) and Siti Khalijah Zainal, the skit was based on the writers' imagination of what the relationship between Ho Ching and Rosmah might be like if they were still friends today.
Ho Ching and Rosmah always seemed to be on good terms with one another during official visits to Singapore and Malaysia, when their husbands met. They've even been on a shopping trip without their husbands, that the media covered, and have participated in meetings with the wives of other regional leaders in ASEAN.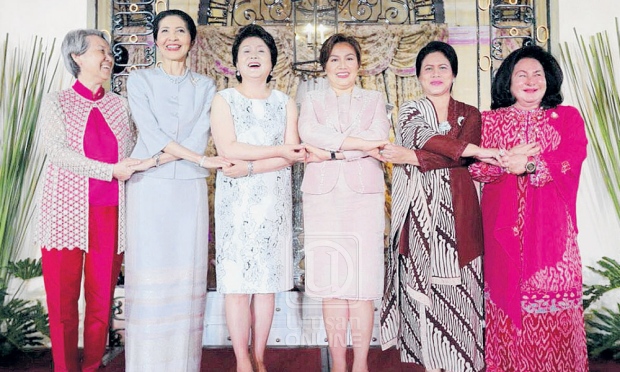 Their friendship seemed to have fizzled for the most part when Najib was toppled at the polls at Malaysia's watershed General Election in May and subsequently charged in court in connection to the 1MDB scandal. Last week, Rosmah was also arrested and charged with money-laundering.
The W!ld Rice performance, where Heng portrayed Ho Ching and Siti Khalijah Zainal portrayed Rosmah, comes on the heels of Rosmah's arrest on 3 Oct.
A six-minute video of the no-holds-barred performance was uploaded online and the duo's jokes on Rosmah's infamous love for expensive Birkin bags, her plastic surgery, Ho Ching's fashion sense and career as the head of Singapore's sovereign wealth fund quickly went viral.
The video begins with "Ho Ching" explaining her oft-criticised fashion sense to the audience. Referring to the real Ho Ching's post as CEO of Singapore's sovereign wealth fund Temasek, Heng tells the audience: "As you know, I'm very busy looking after your money. So I don't have time to fix my hair, do my makeup or change clothes. So you're stuck with me."
Heng wore a blue silk blouse and pink silk pants – just like what Ho Ching wore when she and her husband visited current Malaysian PM Dr Mahathir Mohamad and his wife to congratulate the PM on his historic win at the polls that saw Malaysia's first transition of power since independence.
Heng also sported replicas of the heavily criticised sandals the real Ho Ching wore to the White House when she accompanied her husband on his official visit to the US.
"Ho Ching" explains that she was once mistaken to be a cleaner at a hotel because of the way she is dressed as she says that she wears such outfits "all the time!"
"Rosmah" then appears and "Ho Ching" asks her how she managed to leave the country. "Rosmah" replies, "I pay lah!"
"Ho Ching" then clocks the many bags "Rosmah" is carrying before asking, "Why are you carrying so many handbags? Didn't they confiscate everything?" Referring to  and to the recent uproar over whether ageing HDB flats will still have value like the Government promised in the past, "Rosmah" responds:
"No, not these five…if you carry five Birkin bags at the same time no one would ever think they are real…You would agree with me that they are such a great investment because they appreciate in value, unlike your HDB."
The dialogue then turns to Ho Ching's dress sense which has been ridiculed by many online again. "Ho Ching" is asked why she is repeating the outfit. She explains:
"It's quite comfortable. I wear it in the office every day, go to work, and then at night I can attend social functions and dinners like this. After this I go home and wear it as my pyjamas … blue is my favourite colour and pink is my husband's favourite colour."
"Rosmah" then suggests that "Ho Ching" take her husband's name and change her name to "Lee Ching". As "Rosmah" suggests that she could be called "CEO Lee Ching", "Ho Ching" cites "optics" as she declines.
The conversation then turns to how Rosmah is holding up with the corruption probe. "Rosmah" responds:
"It's been very very difficult without my other 295 Birkin bags. But you know what? They can rape my house, they can take away my bags, my diamond, my husband! But they cannot take away from me my Botox, my implants, my face lift and my fillers."
"Rosmah" then says she has $500,000 dollars in the bags she is towing about and asks "Ho Ching" to safe-keep the bags filled with money for her since no one would think she would buy Birkin bags.
"Ho Ching" appears to agree and "Rosmah" says they they should hurry to Oxley. The comedians refer to the 38 Oxley Road saga that unfolded last year as "Ho Ching" says "anywhere but Oxley!" Rosmah says, "Oh! Forgot! Family drama".
"Ho Ching" then offers to invest "Rosmah's" money for her: "You can ask anybody. I am a very good investment banker…I am Singapore's most highly paid investment banker!"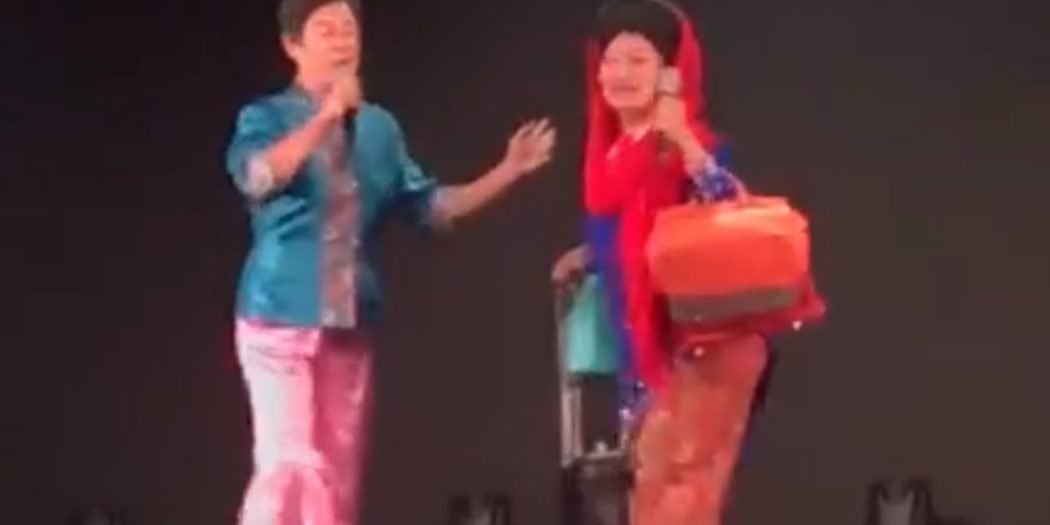 Singaporean journalist Bhavan Jaipragas, writing for the South China Morning Post, noted that such satirical performances wouldn't fly if Najib still held the reins of Malaysia.
When Najib was still in power, fear of reprisals ruled and artists in Malaysia and Singapore were wary of the possibility of legal prosecution if they dared to poke fun of Najib and his wife.Follow us on Social Media
Send in your scoops to news@theindependent.sg