A rather dubious looking table with a list of menial jobs and their relevant salaries got netizens riled up, because the jobs were supposedly offered to foreign talents before locals were given a chance.
The list of jobs included housekeeping, warehouse person, cleaner and driver, with the salaries attached mostly above S$2000.
The table, shared on Facebook page All Singapore Stuff on Thursday, 11 October, received many comments on the nature of the jobs and if it was indeed true that the salaries given were so high.
The table was also captioned, 'These are the jobs foreign talent are being hired for in SG. Locals don't want, or not given chance to try out?'.
In the image, it was also stated that no education or experience was needed and that a visa and airplane ticket was provided by the company.
While many Singaporeans griped about the apparently high salaries, others said that such jobs were at a supervisory level and above, or that the jobs had long working hours and other requirements that actually made them less favoured by Singaporeans.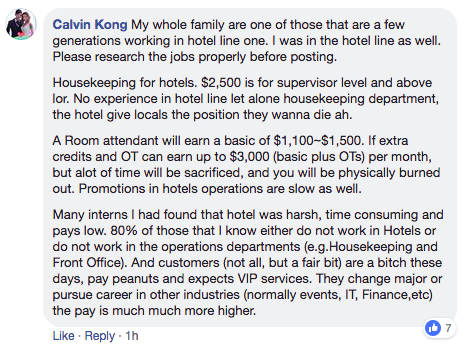 ________________________________________________________________________
obbana@theindependent.sg
Follow us on Social Media
Send in your scoops to news@theindependent.sg