Several Singaporeans have opined that Minister in the Prime Minister's Office Indranee Rajah should be "more humble" and that she still "lives in the ivory tower" even after she rebutted claims that she was spurned by a "true blue Singaporean" during a recent walkabout.
The Minister had been responding to Facebook user Kelvin Ling's post that claimed that a senior man who was approached by the Minister at the market yesterday not only rejected Indranee's attempt to talk but also called out the Government over rising costs.
The post alleges that the man who Indranee approached bluntly told her that he doesn't care who she is and that he does not want to be disturbed as he has his meal. To this, Indranee allegedly asked whether the man was a Singaporean or Malaysian.
The post then claims that the man responded, "I am a born and bred true blue Singaporean and I am in deep thoughts about the second tranche of water price increase of 15 per cent and the 6.9 per cent of electricity tariffs increases starting today."
Taking to Facebook, Indranee clarified that she was indeed turned away by a gentleman who did not want to be disturbed as he ate. However, she denied that the subsequent conversation where the man spoke about rising costs is true.
After rebutting the claims, Indranee added: "I have learned however not to be deterred by such online things."
Some netizens responding to her clarification expressed support for the Tanjong Pagar MP and asserted that she is a genuine politician who works hard.
One Facebook user even said that only "losers" complain about rising costs: "Don't worry. All Singaporeans are happy about rising prices and income inequality, only losers complain…The government is doing everything good for Singaporeans."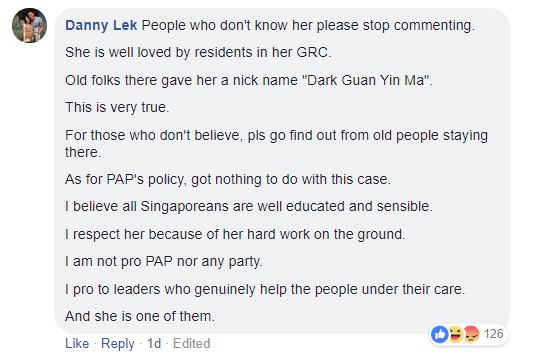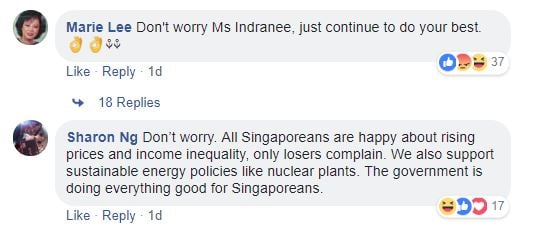 Many others, however, felt that the story Ling shared shows the sentiments on the ground whether the story is true or false. These Singaporeans said that Indranee's remarks defending herself show that she is "still living in an ivory tower" and urged her to be more "humble":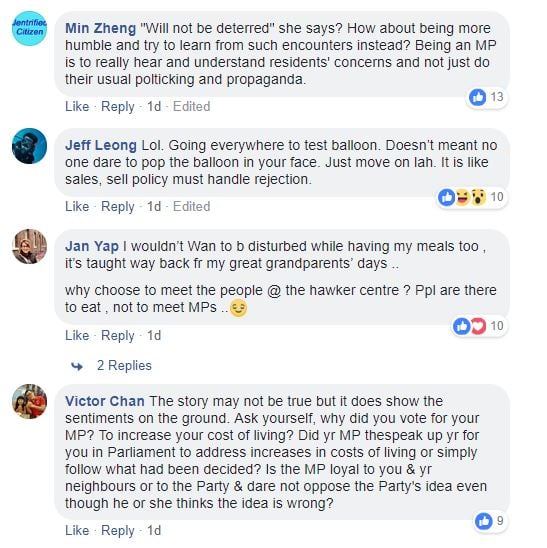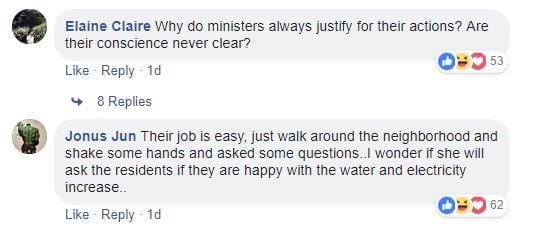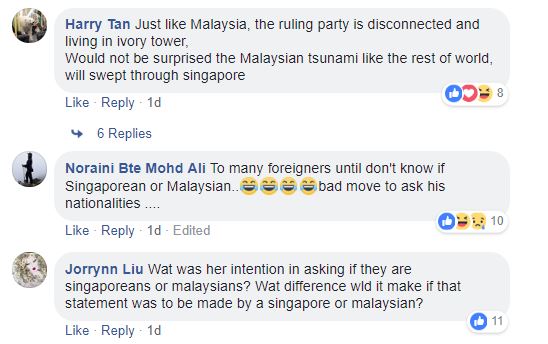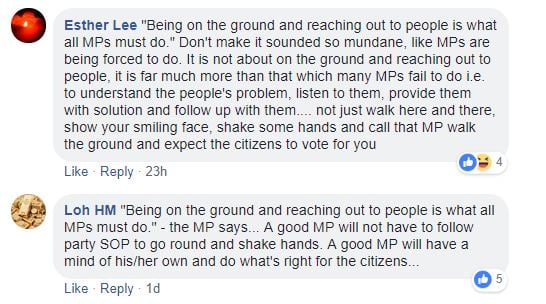 http://ww2.theindependent.sg/indranee-rajah-refutes-account-that-she-was-spurned-by-a-true-blue-singaporean-during-tiong-bahru-market-walkabout/
Send in your scoop to news@theindependent.sg