Singaporean youtuber and beatboxing champion Dharni was surprised to stumble across a rather fancy Chinese-Italian restaurant in Poland that served cocktails with names like "chao chee bye" and "kanina-bu".
Dharni, a Singaporean who appears to be based out of Poland, stumbled upon the familiar names at a restaurant called Reginabar. The youtuber was surprised to find that two beverages in the restaurant's drinks menu are seemingly named after profane insults in Hokkien used by Singaporeans and Malaysians.
Was in a restaurant in Poland and I decided to have a drink. But what I saw in the menu was really interesting. If you know what it means, please share and tag your friends. ??? I am done ??.. Reginabar

Posted by Dharni on Tuesday, 15 November 2016
It appears that the restaurant is aware of what the names of the drinks translate to since the waiter serving Dharni sports a grin as he repeats Dharni's order.
For the uninitiated, this is what the two insults mean in English: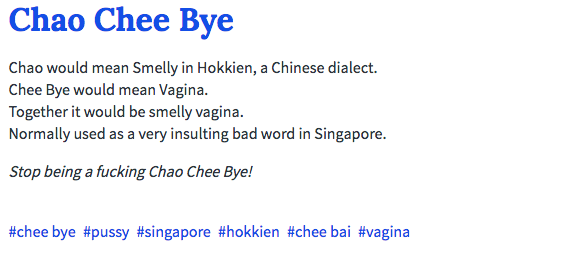 Follow us on Social Media
Send in your scoops to news@theindependent.sg