A older Singaporean man has claimed that he has been living in squalid conditions in a dumpster and trash disposal facility at Blk 19 Ghim Moh Road over the past two years since the Housing Development Board (HDB) "doesn't want" to give him a rental flat.
Speaking to a fellow Ghim Moh resident known only as Mr Lim in a video that is trending on social media, the man explained that he decided to stay at the garbage disposal facility where he works as a cleaner since he had nowhere else to stay.
Revealing that he applied for a rental flat from HDB two years ago and even sought the help of his Bukit Timah-Holland GRC MP, the man lamented that his efforts have yet to bear fruit and that HDB has not given him a response on whether he can get a rental home.
In the video, the man goes on to show the conditions where he stays and his makeshift bedroom that he has carved out within the garbage disposal site. As he shows Mr Lim his living conditions, the man reveals that he is sickly – suffering from "heart pain" and breathing difficulties – and that he was just discharged from the hospital a day prior:
https://www.facebook.com/allsgstuff/videos/331168737694490/
While he hopes that "HDB will give me a rental house," the man also says that living in the dumpster site is better than living in a "car-park" or a more exposed location.
The video has already garnered about 50,000 views since it was shared online yesterday. Netizens, however, were divided when it came to the man's plight. While some were skeptical and said that there must be more to the story than the man is letting on, others were sympathetic and hoped he would be able to get a better place soon.
While one netizen claimed that her schoolmate's family were also forced to stay in such a dumpster site, some others said that Mr Lim should not have exposed where the man lives since the authorities are likely to evict him: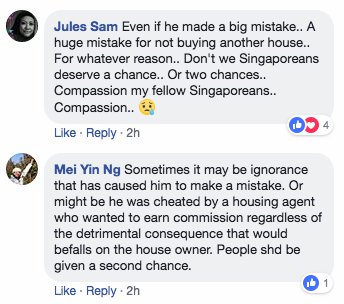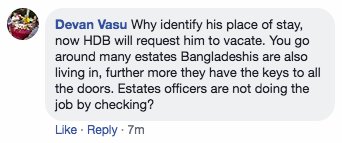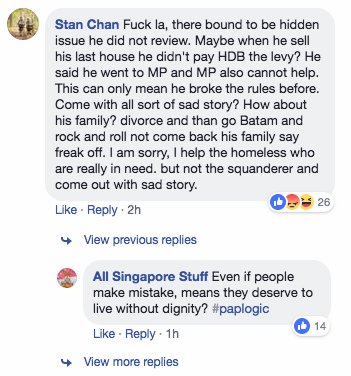 Follow us on Social Media
Send in your scoops to news@theindependent.sg 
No tags for this post.