A Singaporean has blasted the Inland Revenue Authority of Singapore (IRAS) for disqualifying her from receiving Grandparent Caregiver Relief (GCR) scheme it administers because of her marital status.
Under the GCR scheme, Singaporeans can apply to claim up to $3,000 tax relief on one of their parents, grandparents, parents-in-law or grandparents-in-law if they live in Singapore, do not work and care for the applicant's young children.
Only working mothers who are married, divorced or widowed are eligible to benefit from the scheme. The scheme automatically disqualifies single mothers who were never married. Working fathers are also disqualified, even if they are married, divorced or widowed.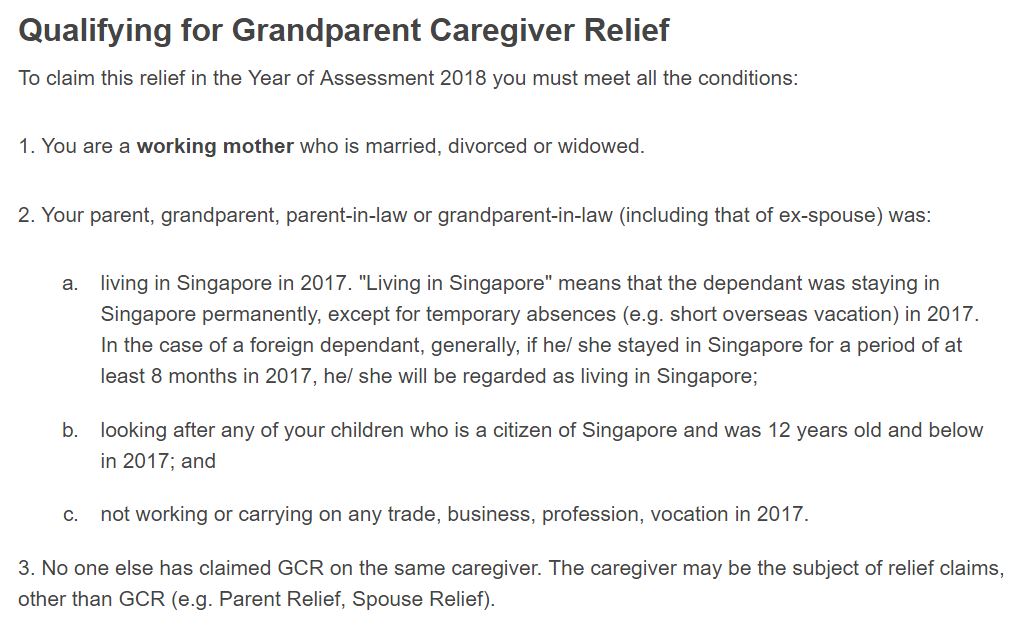 Facebook user Tania Chew has criticised IRAS for disqualifying her from the tax relief under the GCR scheme since she is a single working woman.
She shared a letter from IRAS showing that her Tax Return for the Year of Assessment for 2018 has been finalised without allowing for the Foreign Maid Levy Relief and the GCR she applied for: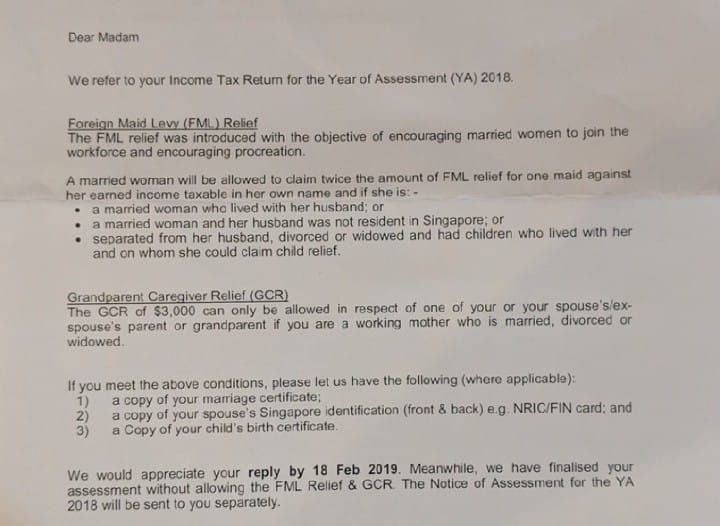 Asserting that IRAS' decision makes her feel like a "second class citizen in [her] own country", Chew asked: "I have been paying for my grandmother's caregiver levy for the last 6+ years and I would really like to know why I need to be married to qualify for the relief? How am I less worthy as a single working woman?"
Claiming a proper answer as she is an "economically contributing, tax-paying" citizen, Chew pointed out that it is curious that her marital status would have any bearing on tax relief since her marital status does not place any restrictions against her when she uses her Medisave to pay for her grandmother's hospital bills.
Sharing a letter IRAS sent her, Chew added: "This feels like it was a non-consultative sweeping hand decision that failed to solicit feedback from the citizens whom you serve. I feel like I am being punished and regarded as less deserving by my government. And the way your letter is worded just smacks of being so narrow-minded and out of touch with the realities of your citizenry."
Revealing the other disadvantages the authorities place on her due to her marital status (such as only being able to buy a resale flat and only at the age of 35, not being given access to HDB loans or any grants even though she lives minutes away from her aging parents), Chew said:
"I certainly don't feel very "WE are Singapore" right now. This is really upsetting. I am angry."
Chew's Facebook post, which was published yesterday, is trending on social media with over 200 reactions. It is unclear at this time whether IRAS will respond to her or whether the eligibility criteria for the GCR scheme will be revised.
https://www.facebook.com/photo.php?fbid=10158318845049966&set=a.10150092563519966&type=3&__xts__%5B0%5D=68.ARDOo-FTwr4ukNhpkmbhqg7qq8eAB2fDexlMZqhWeadYgQKrYZh8GCpLJ8xyznr8QXxNfQ2RLivhG-AMlgpBAtIrzbuNiu1mfEKwhZIAkcXgeA5FED9l5sQu2rXC4DNWmRdZEYGRn77vEPCmIp0ekHH52wUijDEIPtphG9NQ4dEpCGKK3wnXU4RAX2Q6P0RdsYtrfVaMTtP_TKPRlQ&__tn__=-RFollow us on Social Media
Send in your scoops to news@theindependent.sg 
No tags for this post.