Additional reporting by Jewel Stolarchuk
23-year-old Singaporean student Sean Lim Wei Xin has been met with sharp criticism by his peers, after he reported an offensive meme that he believed glorified terrorism to the police. The meme in question was posted by Nanyang Junior College (NYJC) students on the @nyjcmememachine Instagram page.
The meme, which featured the former Al-Qaeda leader Osama Bin Laden photoshopped beside a picture of the burning World Trade Center, was posted on September 11, on the 17th anniversary of the attacks.
The meme's tagline read: "Believe in something. Even if it means sacrificing 3,000 lives and two steel towers."
The words were a play on Nike's viral advertising campaign, which featured former National Football League player Colin Kaepernick, who would kneel when the United States national anthem was played before a game as a protest against racial inequality and police brutality. The controversial footballer's ad for Nike sparked a boycott of its products and services and incited many memes.
This particular meme however caught Lim's attention and he proceeded to lodge a police report about it. Interestingly, Lim first declined to identify himself when he was interviewed by the press over his report. He was only described as a "23-year-old undergraduate who declined to be named".
Lim seems to have a change of heart after the police report began trending on social media.
NYJC principal Low Chun Meng came out to say that even though the meme was "posted in jest", the students certainly crossed a line that they should not have. He further revealed that the students involved will be undergoing counselling.
The @nyjcmememachine Instagram account also deleted their page before creating another account @nyjcmemegenerator to offer an official apology. Clarifying that it was not their intention to glorify acts of terrorism, the page admins also announced that they will be shutting down all their social media accounts: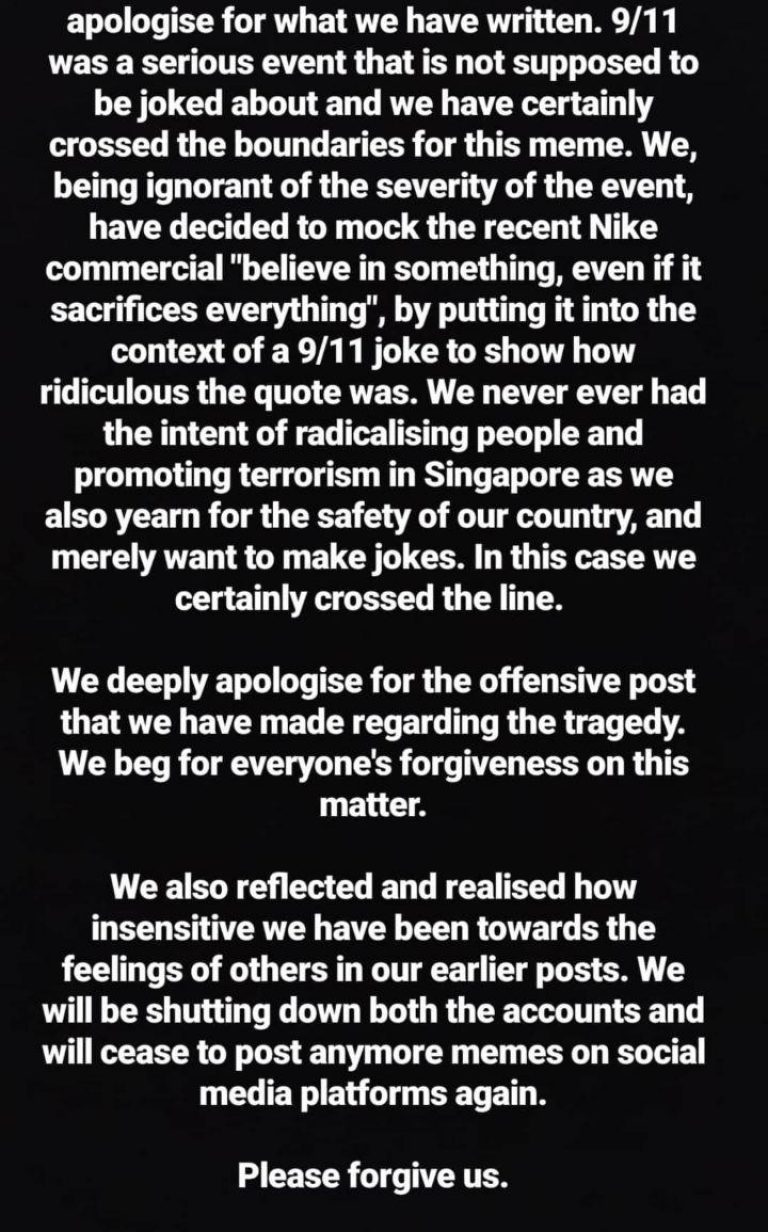 NYJC's apology appears to have made Lim so gleeful that he outed himself on social media. Boasting that he "single-handedly made the nyjc meme page – with close to 9.6k followers – close down," Lim said: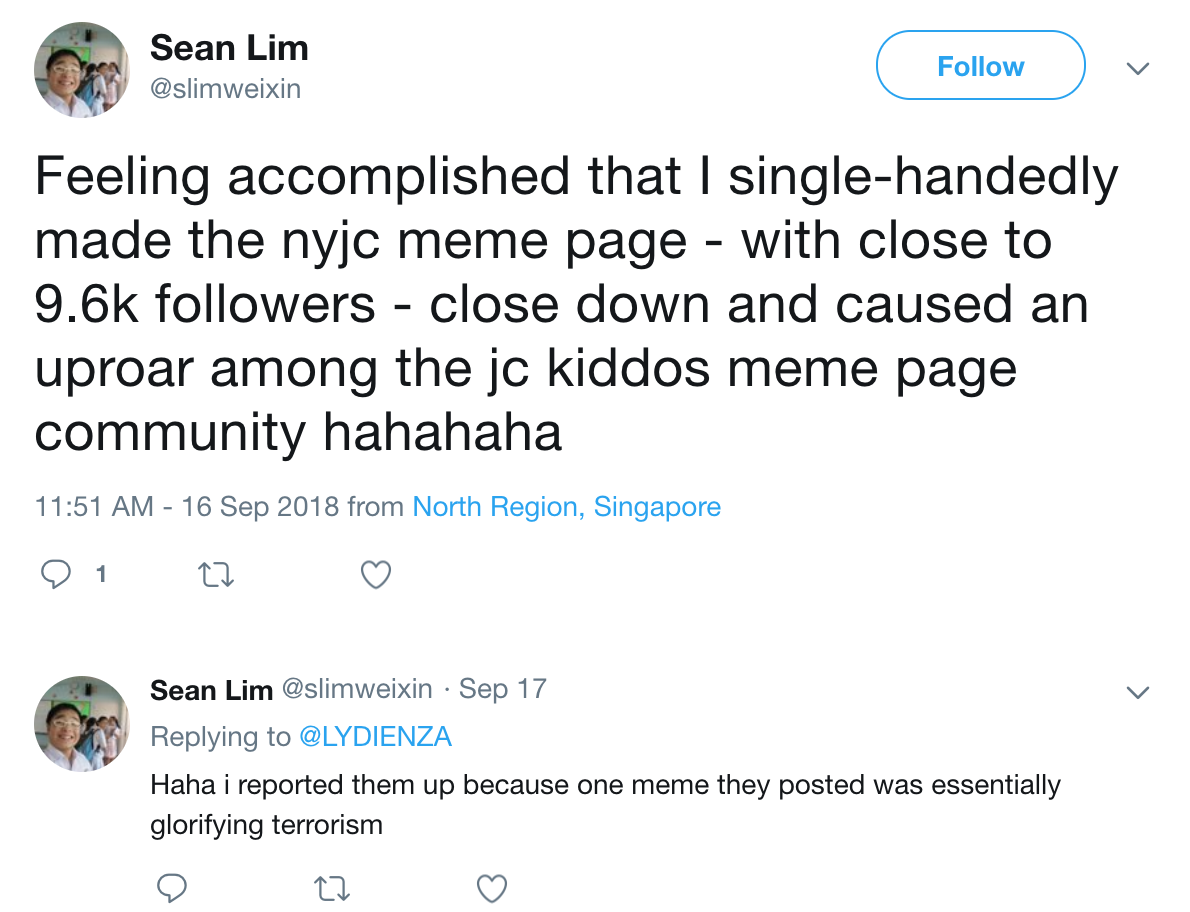 He later took to the forum page of the national broadsheet to rebuke the publishing of the meme further: "a line has to be drawn. Trying to glorify terrorism with the 9/11 terror attacks-related image and jeopardising our national security in the process is unacceptable, never mind that it was done through a seemingly innocuous meme."
Lim proselytised, "Worse still, graphics are powerful and have the potential to contribute to self-radicalisation, which is reportedly a real threat here…It is no longer just about sensitivity, but about the threat and danger such pictures can bring.
"There are some things we should never joke about – race, religion and issues of national security – because of the wide-ranging implications they may bring."
While some have agreed with Lim's views and actions, voices from several quarters have criticised the young man for his stance.
Several local meme pages came out to stand in solidarity with NYJC's now-closed down meme page:
https://www.facebook.com/KMFST/posts/778000079258586:0
https://www.facebook.com/MemedefSG/posts/1844973555540064
The most interesting reaction, however, seems to have come from JC students from multiple junior colleges in Singapore.
Hwa Chong Junior College's meme page, tkk.jc, slammed Lim as a "conceited clown" after he allegedly sent them additional responses threatening to escalate matters and boasting that he will "blow it up to the media."
Asserting that the NYJC incident should be a warning to similar meme pages, Lim allegedly threatened Hwa Chong JC's meme page: "Maybe I should sound out this page to ST too – after all, they have a few more hours to go before getting tmr's paper printed."
Refusing to be cowed, Hwa Chong JC posted Lim's messages on their instagram page and countered that he could have approached NYJC's meme page directly before blowing the matter up: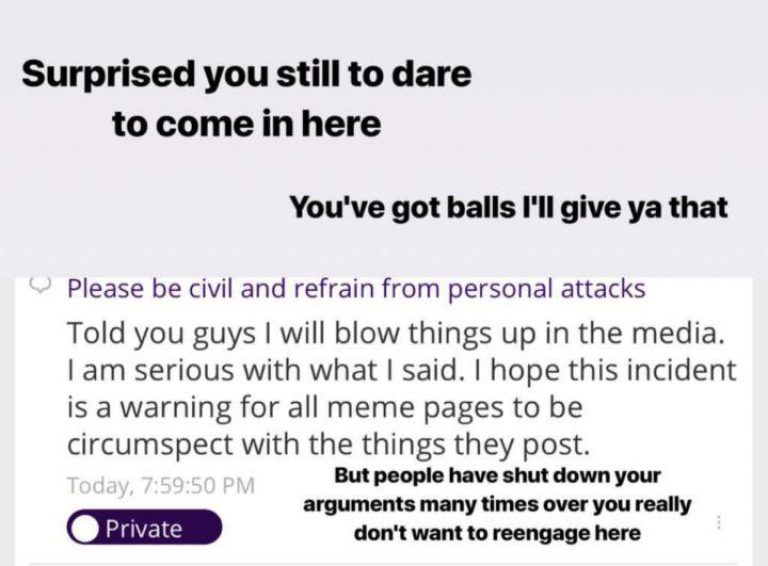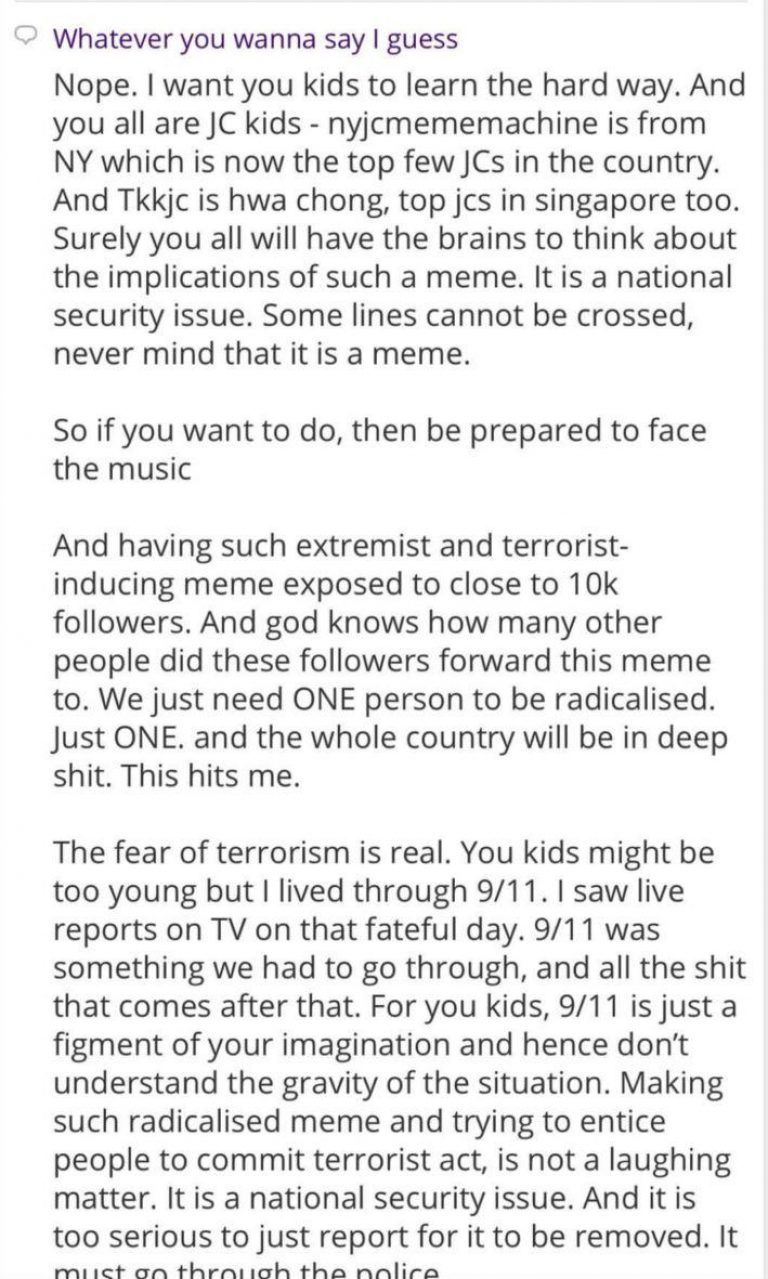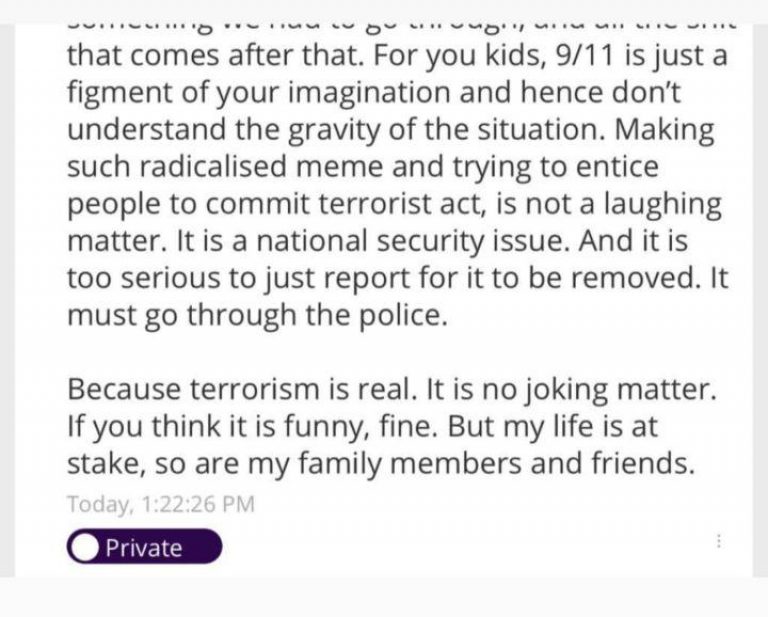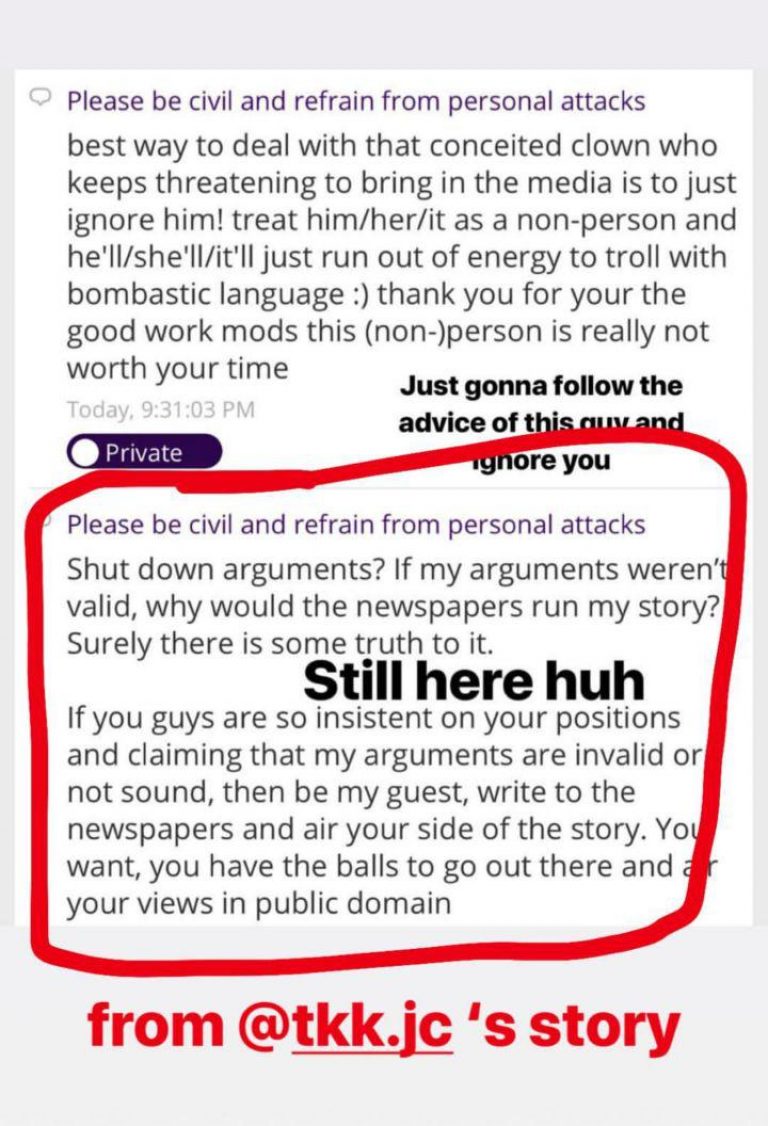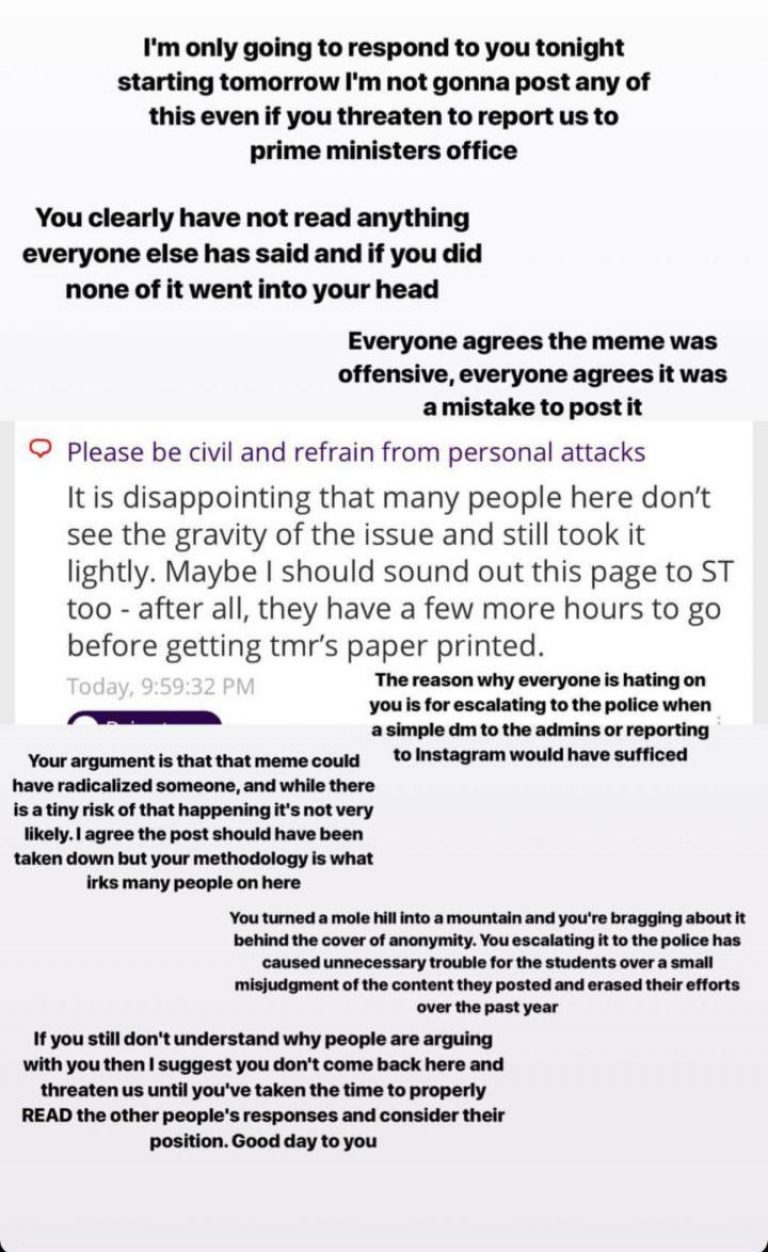 Victoria JC students who run the @eastcoastjc instagram account also chimed in and said that the issue is not whether the meme is offensive – the issue is that Lim is deaf to the views of others and is "now using the threat of media coverage and police investigations to defend himself":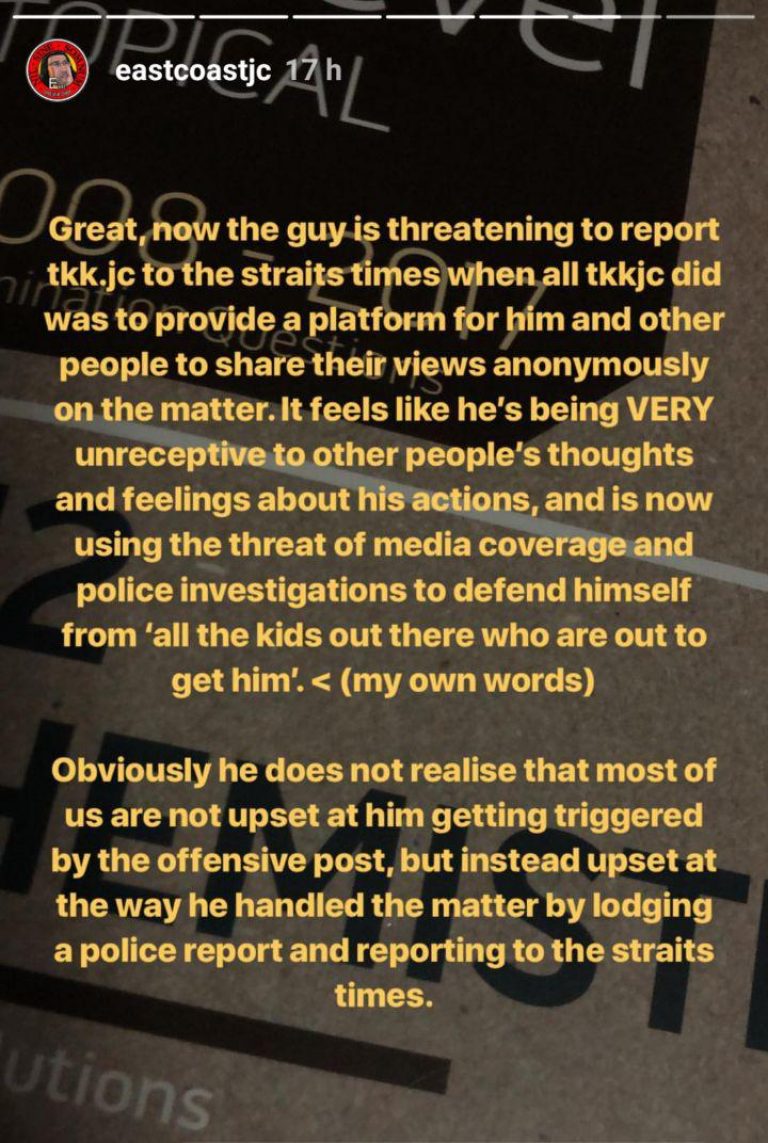 Follow us on Social Media
Send in your scoops to news@theindependent.sg