According to a Facebook post by netizen, Joel Tan, during Deepavali celebrations at SportSG, a "pretty high up officer" found to have made a racist caricature of an Indian man. Netizens reacted with much anger at the incident, slamming the officer. The officer has since been identified as Singapore Sports Institute (SSI) chief Toh Boon Yi, with SportSG apologizing and issuing a statement regarding the event and incident.
In the Facebook post, Joel wrote, "On top of the racial drag, the source also describes head shaking, random bursts of Tamil, and the handing out of kacang puteh during the celebrations".
https://www.facebook.com/photo.php?fbid=10161023716000317&set=a.10150406469115317&type=3&theater
Joel's post, on Friday, November 23, received almost 1000 reactions from netizens as well as a slew of angry comments.
In his post, Joel also wrote that he felt racism did exist in Singapore, "This is what happens when we collectively agree that "race" is not a Singaporean concept".
However, SportSG has since responded to the incident with a statement of their own, saying that netizens have shared the posts without "the benefit of understanding the context".
SportSG's statement in full:
"We are aware of a photo taken during our annual Sport Singapore (SportSG) Deepavali celebration circulating on social media.
The event was organised by staff to celebrate Deepavali with our Indian colleagues. The event encompassed both cultural and fun elements that included a sharing of the origins of Deepavali, learning about mindfulness and treats of traditional Deepavali goodies. There was an energetic group dance competition and pageant, where people were encouraged to be attired in both traditional and fancy dress.
The staff captured in the photo was dressed up by his colleagues in a sarong, towel head wrap and a beard, and asked to serve Deepavali snacks. He gave a traditional "hello" greeting in Tamil as staff arrived for the event.
The caricature of a kachang puteh man was neither intended to be disrespectful or to poke fun at others. If anything, the intent was to create a celebratory and appreciative atmosphere amongst our multi-racial colleagues.
We would like to sincerely apologise if any of this has caused offence to people who have seen the posts on social media without the benefit of understanding the context."
Netizens were divided on the issue, with many being offended. However, some added that claiming that a racist caricature was portrayed was an overly sensitive perspective.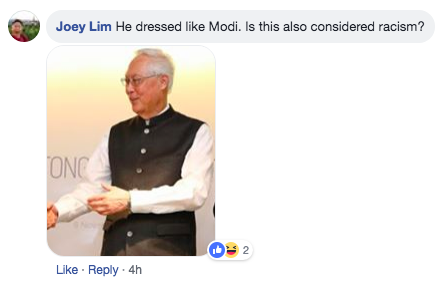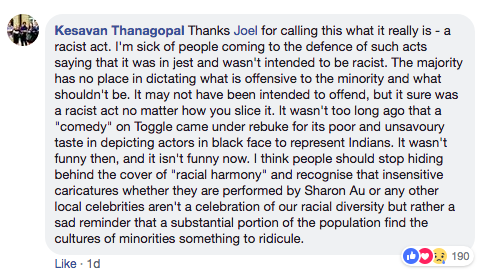 TISG has also reached out to SportSG for further comment.
________________________________________________________________________
obbana@theindependent.sg
Send in your scoops to news@theindependent.sg