From Dec 29 to Jan 3, Singapore will have a "disappearing" statue of Sir Stamford Raffles along the Singapore River in Boat Quay, believed to be the landing site of the British in 1819, as part of the commemoration of Singapore's Bicentennial anniversary launching on Jan 28.
Onlookers were shocked, amazed, curious, and such in awe of the statue as it "disappears" into the OCBC Bank Tower background, resulting from an optical illusion created by painting with outdoor acrylic paint over a layer of liquid masking on the original white, polymarble statue that was built in 1972.
The person behind this "trick-eye" masterpiece is Teng Kai Wei, an artist best known for the interactive light installation, titled Leap Of Faith at last year's Singapore Night Festival. He is from the Hong Hai Environmental Art, a company specializing in designing and fabricating landmark sculptures and environmental art.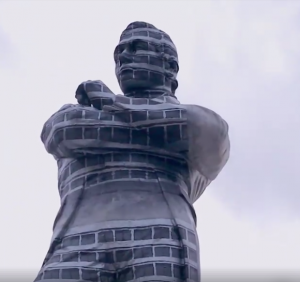 Photo: Screengrab from Facebook
The Singapore Bicentennial Office (SBO), set up in 2017, commissioned Teng four months ago to create a "monumental sculpture" in time for the 200th anniversary of the arrival of Sir Stamford Raffles. Together with a team, he completed the design over two and a half weeks in December.
Teng recounted that it took them three months to brainstorm and conceptualize everything. Considerations like weather, the cast of shadow on the statue at different times of the day, and no sky as a backdrop were also thought of meticulously.
In an interview, SBO deputy director Wong Chock Fang explained the rationale behind the "disappearing" act of Raffles Statue. He said that it is "to arouse curiosity, maybe some reflection and ultimately, to spark conversations about our history."
"As we enter the Bicentennial year, we want Singaporeans to think more deeply about our history – is our story just about one date or one man? The act of Raffles 'disappearing' is an opportunity to engage Singaporeans in an open dialogue about the many other men and women who also arrived on our shore and made significant contributions."
"It is an invitation to explore our longer history."
Wong also added:
"Our history is a longer, 700-year story that dates back to 1299, and will be told over the Bicentennial year with many events planned, many of them by community groups with long histories."
SBO's Facebook page explored on what is The Singapore Bicentennial through a video:
"The Singapore Bicentennial is the 200th anniversary of the arrival of Sir Stamford Raffles. But our story did not start in 1819. It started in 1299, 700 years ago. The Singapore Bicentennial is the time for you, for me, for all of us to discover more, to retrace our journey, to reflect on our history before and after 1819. This is our unique journey from Singapore to Singaporean."
However, the change in the statue has drawn different opinions from the netizens. Some were not happy, others considered it as vandalism.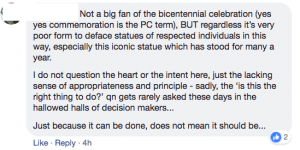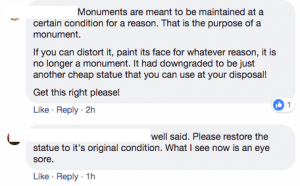 Photo: Screengrab from Facebook
But SBO reasoned out on that issue:

Photo: Screengrab from Facebook
Others were also dismayed on the short period allotted for public viewing:

Photo: Screengrab from FacebookFollow us on Social Media
Send in your scoops to news@theindependent.sg