Netizen Marvin Tomandao is a Filipino citizen who worked at Universal Studios, and still considers Singapore to be his second home. He took his niece for a vacation at the Lion City last week, and naturally, wanted everything to go well, which it did, until they were on their way back to Manila.
A Xiamen Air plane overshot the runway in the Philippines' main airport, Ninoy Aquino International Airport (NAIA) last Friday, August 17, which caused flights in and out of Manila to be delayed up to several days, at worst.
One flight from Taiwan scheduled for Friday, August 17, was canceled. The carrier, Eva Air, booked hotels stays for the passengers, telling them to come back early on Saturday morning for updates. They finally boarded at 4:30 pm, but the plane was unable to land in Manila. It flew around Manila, waiting to land for a couple hours, and was then rerouted to another airport 110 kilometers away because it needed fuel. The poor passengers waited at that airport for another five hours, before they flew again, not to Manila, but back to Taipei. This means they had been on the plane for around 10 hours, but never got to their destination.
https://www.facebook.com/christinesandiego/posts/10155354138301529?__xts__[0]=68.ARDx7z9Nji1Z3jnhr96KeBJDzLx3bWVhng9wj1JYBWiyPSwqHO9Lum2MR1-QBYfGOsdCH-B2y9G-rYhqogfNtiacy0yduNN6LGMVIFeNspJZYRGyEPB8pm0BQsviyTxJwxIdZCI&__tn__=-R
The Xiamen Air plane inconvenienced thousands of people in many countries, including Mr. Tomandao and his niece. But unlike many who recounted their horror stories, their experience ended up being a pleasant one, thanks to Singapore Air Lines.
Mr. Tomandao wrote a Facebook post praising SIA for the way they handled the considerable delays, and how well they took care of the inconvenienced passengers. He wrote about how SIA Manager Haziq Sulaiman himself updated passengers about the situation, always beginning with an apology for the inconvenience.
He then wrote about how the airlines served them unlimited drinks while they waited, and when it was clear that they would spend another night in the country, how they were provided with a buffet dinner, limousine service and accommodations at five-star hotels.
Furthermore, the next morning, SIA assigned managers to meet them at hotel to assist with checkouts and get them cabs back to the airport, where they were given special lanes for a fast check-in and then served snacks and drinks again. When another delay was announced, they were given S$15 breakfast vouchers. And, before they finally flew out, managers came to them again to wish them a good flight and to apologize for the delay yet again.
https://www.facebook.com/permalink.php?story_fbid=10155771273333527&id=706033526&__xts__[0]=68.ARBYa_M0spQkLZ8c6wvGngafb0HJ-Yfw35w20iK7dtMjarcnwcPAegF-XeAp4EXzUNnp6GCXr2t3J25_WEHtu8etdRdkzcYW-1UUZHhfA86kKfOOnqq9b2yzToWIARKfyXWXIjg&__tn__=-R
Mr. Tomandao's post has since gone viral, especially among his fellow Filipinos, who were very impressed at Singapore Airlines' service.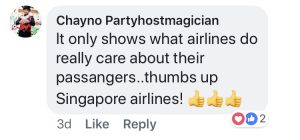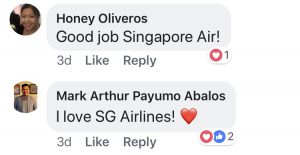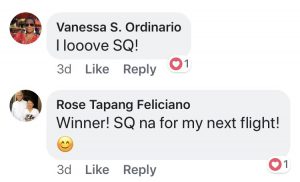 If anything, last weekend's experience only solidified Mr. Tomandao's love for Singapore Airlines.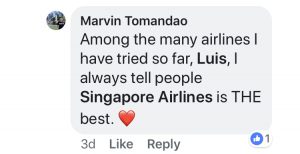 Follow us on Social Media
Send in your scoops to news@theindependent.sg