Shocking surveillance footage of parang-wielding thugs accosting a middle-aged man in Malaysia has been going viral online.
The video of the incident, which is believed to have occurred at the Alma pasar malam area in Penang, has garnered over 150,000 since it was shared online on Tuesday.
Due to the violent nature of the incident, the video is behind a Facebook-imposed cover online. It can be viewed here.
In the video, a silver car pulls up in front of a closed storefront and the passengers within the car appear to converse with the victim, who is seated on a parked motorcycle in front of the storefront. The car passengers appear to ask the victim whether the store is closed and the victim gestures that it is.
Suddenly, one passenger exits the vehicle and walks up to the victim. Saying something to the victim, the thug makes it clear that he is holding a weapon in his hand.
A second thug also wielding a weapon walks up to the victim as the victim appears to fish for his wallet. A brief scuffle occurs as the victim appears uncooperative and the second thug raises his weapon above his head as though he is about to strike the victim and threatens him.
The victim pays up and the thugs get into their vehicle and leave the scene.
Although the CCTV footage of the video does not have audio, the video of the incident that is circulating online is accompanied with some Hokkien commentary. It is unclear when the incident captured in the video occurred.
Meanwhile, Singaporeans responding to the video have urged those who commute to Malaysia to be careful. While some have claimed that "all Malaysians are like that," others have said that all countries have crime and that visitors and residents should ensure that they are able to defend themselves when they go out alone: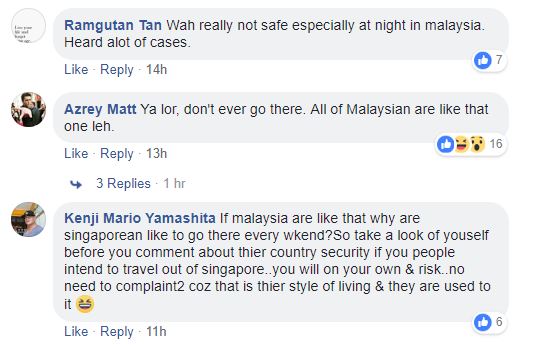 Follow us on Social Media
Send in your scoops to news@theindependent.sg