A Singapore Armed Forces (SAF) regular was found dead on Thursday, February 14, at Kranji Camp II.
Singapore's MINDEF said in a press statement late Thursday evening that while the Police regard the fatality as an unnatural death, they do not suspect foul play.
The unidentified serviceman was a 33-year-old male. He was found lying motionless at the landing of a building in Kranji Camp II at 5:10 pm on Thursday.
A SAF medical officer pronounced him deceased on the site.
MINDEF's statement reads, "Based on preliminary investigations, the Police do not suspect foul play. The Police have classified the case as unnatural death and investigations are ongoing. The Ministry of Defence and the SAF are assisting the family in their time of grief."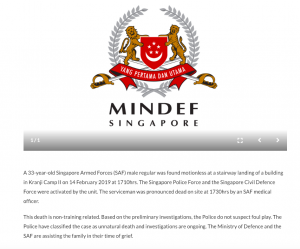 The clarification that this fatality was not training-related may have answered a question in many people's minds since it occurred only weeks after the death of actor Aloysius Pang in a training exercise in New Zealand.
The 28-year-old reservist succumbed on January 23 to serious injuries he sustained to his chest and abdomen four days earlier, despite several surgeries.
Pang's training-related death was the fourth in sixteen months.
Channel NewsAsia reported that there have been a spate of other non-training-related deaths within the SAF.
In September 2018, a SAF full-time national serviceman, a transport operator from 706 Squadron was found hanging in his office at Sembawang Air Base.
A few months earlier, in July, an off-duty regular with SAF had also hung himself to death,  this time in Nee Soon Camp.
Read related: Defence Minister Ng Eng Hen seeks to reassure parents of sons' safety during NS training
https://theindependent.sg.sg/defence-minister-ng-eng-hen-seeks-to-reassure-parents-of-sons-safety-during-ns-training/
Follow us on Social Media
Send in your scoops to news@theindependent.sg