Local blogger Roy Ngerng has urged citizens to vote for change in the upcoming General Election and avoid waiting "until it is too late, when you finally have to go on the streets and fight."
Mr Ngerng was perhaps alluding to the recent protests in Hong Kong as he made this remark in a Facebook post published last Tuesday (8 Oct). The Singaporean has expressed his support for the protesters in Hong Kong in the past.
In June, Mr Ngerng participated at a solidarity rally in Taiwan that was held in support of the Hong Kong protests and urged protesters not to allow "HK [to] be like Singapore where people live in fear."
In one of his most recent Facebook posts, Mr Ngerng urged citizens to "vote for people who will be fair" if they disagree with the "unfair" ways Alfian Sa'at, Kirsten Han, Pingtjin Thum and Terry Xu are treated. He added:
"If you do not want to keep living in such an unfair society, or to have to tell your children you are sorry they have to grow up in an unfair and unjust society, then do something about it now.

"Vote to have a fairer society where people are not threatened for doing good, and where people in high places will not get a get out of jail free card even when they do bad. Singapore is already becoming more and more unfair and unjust as it is. Vote to reverse it, to get back a fairer Singapore.

"Don't wait until it is too late, when you finally have to go on the streets and fight. Don't tolerate injustice anymore. Vote for a fairer home for your children."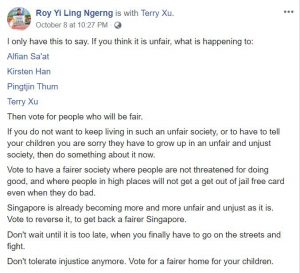 Mr Ngerng was sued by Singapore Prime Minister Lee Hsien Loong in 2014 over a defamatory blog post. The head of government won the lawsuit and Mr Ngerng was ordered to pay S$100,000 in general damages and S$50,000 in aggravated damages to the Prime Minister.
In 2015, Mr Ngerng contested PM Lee's Ang Mo Kio GRC ward under the Reform Party ticket. The six-member opposition team lost to the incumbents.
The next year, Mr Ngerng moved to Taiwan in self-imposed exile, citing difficulties in finding employment in Singapore. -/TISG