A few Malaysian media outlets have waded into the on-going water discussions between Singapore and Malaysia, offering commentaries, opinions and everything in-between.
On Monday, Malaysian media company New Straits Times (NST) published an article titled 'Three sen for 1,000 gallons of water doesn't make sense', that expressed that the price of three Malaysian sen (S$0.01) for 1,000 gallons of water from Johor was "manifestly ridiculous".
The writer, only known by the initials AHM, said that, "No one can buy anything for three sen let alone 1,000 gallons of water. Three sen didn't make sense even in 1962, what more in 2018".
The writer's piece was in response to an interview by Prime Minister Dr Mahathir Mohamad last week where he said he would like to review Malaysia's 1962 Water Agreement with Singapore as it was "manifestly ridiculous".
In a meeting with Kumaran Pillai, Publisher of TISG, Tan Sri Rastam Mohd Isa, Chairman of Institute of Strategic and International Studies said, "MYR 3 cents is too low. It's time to revisit the two agreements".
While heated talks are still on-going, Singapore said the 1962 Water Agreement is "a fundamental agreement that was guaranteed by both governments in the 1965 Separation Agreement which was registered with the United Nations".
The Ministry of Foreign Affairs also released a statement saying, "Both sides must comply fully with all the provisions of these agreements".
The two countries are not new to tensions over the water issue, and the relationship was strained in the late 1990s and early 2000s, during Dr Mahathir's first term as prime minister.
What AHM's letter failed to state was the entirety of the water agreement between Malaysia and Singapore. The legally binding 1962 Water Agreement was guaranteed by the Malaysian government. Until its expiry in 2061, Singapore's national water agency Public Utilities Board (PUB) may draw 250 million gallons of raw water from the Johor River daily at 3 sen per thousand gallons.
Johor is also entitled to receive a daily supply of up to five million gallons of treated water – or 2 per cent of the water supplied to Singapore – at 50 sen per 1,000 gallons.
The cost of the treated water Malaysia buys from Singapore is actually RM 2.40 per 1,000 gallons while Malaysia sells the treated water to Johor citizens at RM3.95 per 1,000 gallons, with a huge disparity between the cost of treating the water and the price the treated water is sold to Malaysia at.
Singapore has also been regularly supplying Johor with up to 16 million gallons of water a day, even though it sees no profits and even makes a loss on treated water.
Relations with Malaysia have not been all tense, as Singapore has been to Malaysia's aid in the past.
In a post on the Johor Southern Tigers Facebook page on Thurday night (June 28), Tunku Ismail thanked the Singaporean government for helping Johor when it faced water crises during the times of drought.
The Star Online reported that Tunku Ismail also added, "We have always helped each other. May the close ties and friendship forged hundreds of years ago last forever".
Many Singaporeans also speculate that the discussions on water are just for Malaysia to strong-arm Singapore into reducing the compensation for the cancelled high-speed rail (HSR) project.
In his letter however, AHM suggested otherwise, that, "This is not the first time Malaysia is being pushed to the corner by Singapore. It was the same with the railway agreement and gas agreement. Singapore needs to understand that a lasting agreement is a just agreement, not an unrealistic one".
AHM also said, "Singapore's stand on the water deal is out of place. I think the word that best describes this kind of behaviour is "ludicrous".
His letter to NST was shared on Facebook, where it was clear that a change was necessary.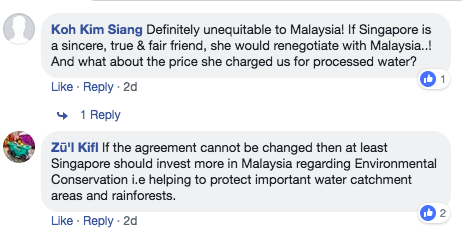 ________________________________________________________________________
obbana@theindependent.sg
Follow us on Social Media
Send in your scoops to news@theindependent.sg