The Public Utilities Board (PUB) is on the hunt for two boys who reeled in a massive peacock bass from the waters in Merlion Park, since it is illegal to fish there.
A video capturing the incident has gone viral online. In the video, a young boy in a red t-shirt can be seen reaching into the water from the steps beside the Merlion and pulling out a large yellow fish. Another boy in a grey t-shirt can be seen holding a fishing rod and laughing, beside the boy in red:
https://www.facebook.com/allsgstuff/videos/327652487805954/
Today, PUB wrote on Facebook that it is investigating the matter and has appealed for more information from eyewitnesses: "PUB is appealing for information on two individuals who were seen fishing illegally at Merlion Park in a video posted by SBS – Sure Boh Singapore. We are investigating the incident."
The statutory board, that is under the Ministry of the Environment and Water Resources, added: "Please contact us via private message if you have information on the two individuals. We also would like to remind the public to only fish at designated spots."
Netizens, however, have criticised the PUB for going after the boys, citing Singapore head of government Lee Hsien Loong and head of state Halimah Yacob who said that it is better to eat fish for health reasons and to cut costs: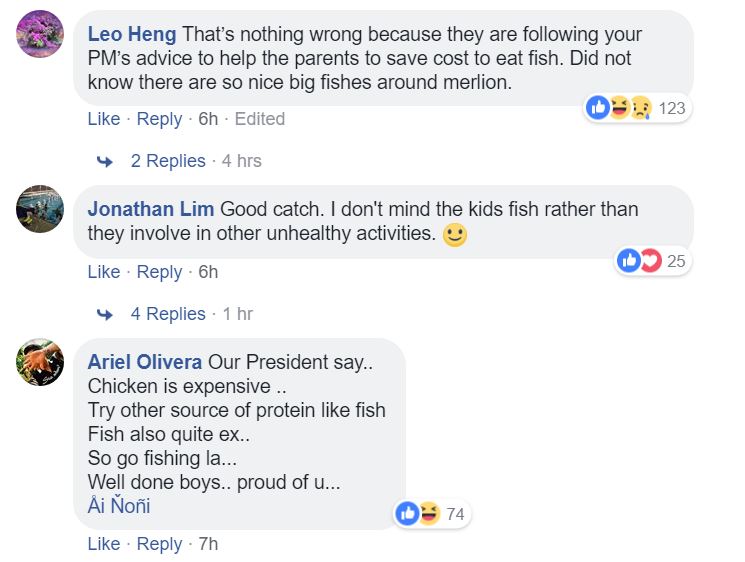 Netizens are also circulating this meme on social media that refers to a speech Singapore's founding Prime Minister made in Feb 1977 calling for the clean up of local rivers.
The late elder statesman had said: "It should be a way of life to keep the water clean. To keep every stream, culvert and rivulet, free from pollution. The Ministry of Environment should make it a target: In 10 years let us have fishing in the Singapore River and Kallang River. It can be done."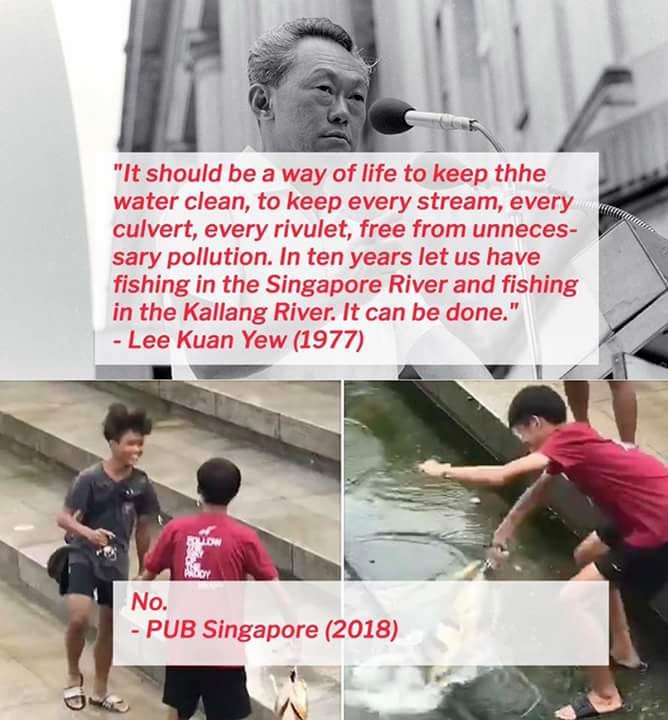 Follow us on Social Media
Send in your scoops to news@theindependent.sg