Pro-People's Action Party (PAP) fanpage, Shut down TRS, has drawn flak online for relentlessly defending the Singapore Armed Forces (SAF) as the nation mourns the loss of NSman, Corporal First Class (National Service) [CFC (NS)] Pang Wei Chong, Aloysius.
CFC (NS) Pang, an armament technician, had been undergoing their reservist training in New Zealand and had been carrying out repair works inside a self-propelled howitzer with his team last Saturday when the gun barrel was lowered, crushing him. Despite the best efforts of medical professionals, Pang succumbed to his injuries and passed away.
The day after CFC (NS) Pang passed away, an Instagram user by the name of gnoyihzoh wrote online that he is "disgusted" at the "negativity" that SAF is facing in the aftermath of the late NSman's death.
The extremely insensitive netizen goes on to ask whether the Land Transport Authority, driving school, car manufacturer or the driver is to blame if a driver gets into an accident on the streets.
He added, "Honestly, we can put in all our efforts to prevent things from happening but end of the day, it's still an individual responsibility. You walk on the street and you fell down, you blame the workers for building the streets?"
Sharing gnoyihzoh post on their public page, Shut Down TRS, added: "Totally agree."
Several furious netizens lashed out at gnoyihzoh and at Shut Down TRS for the post. Instead of apologising or taking the post down, Shut Down TRS further drew the ire of netizens when it relentlessly defended the SAF in the comments section.
It even asked why netizens are blaming SAF if the "victim is careless":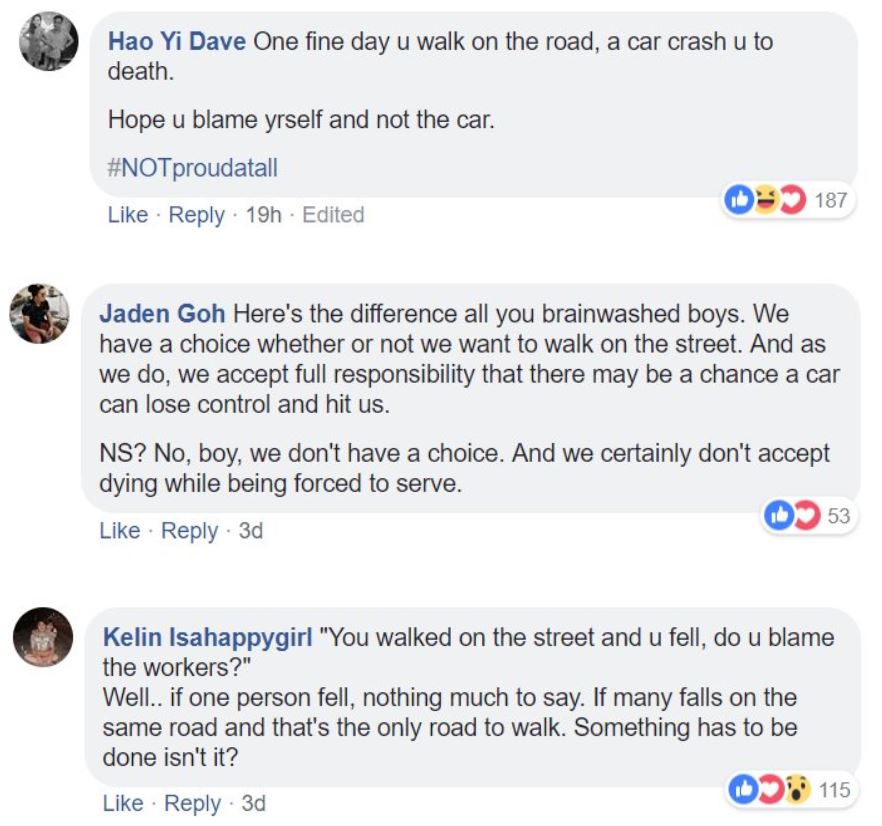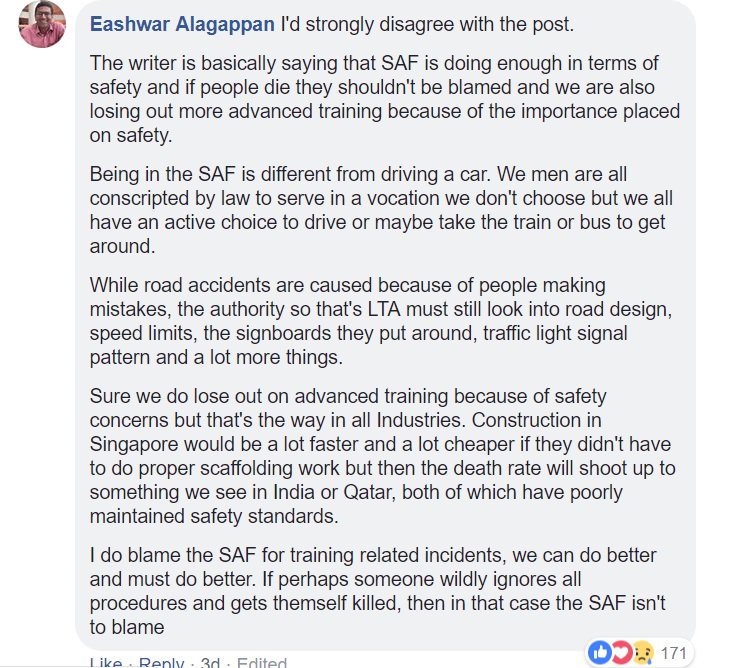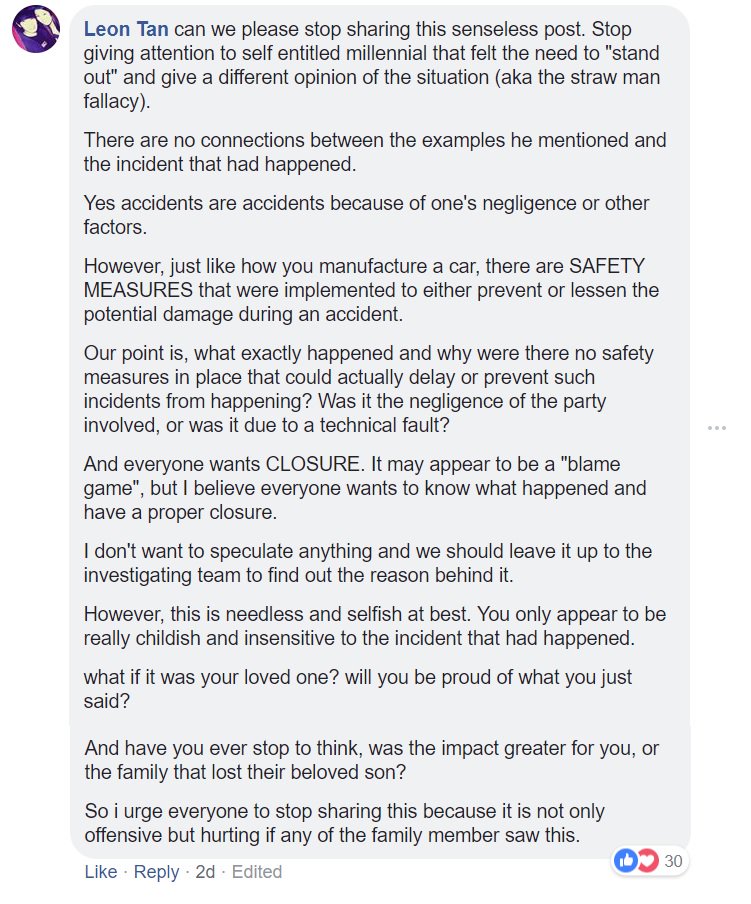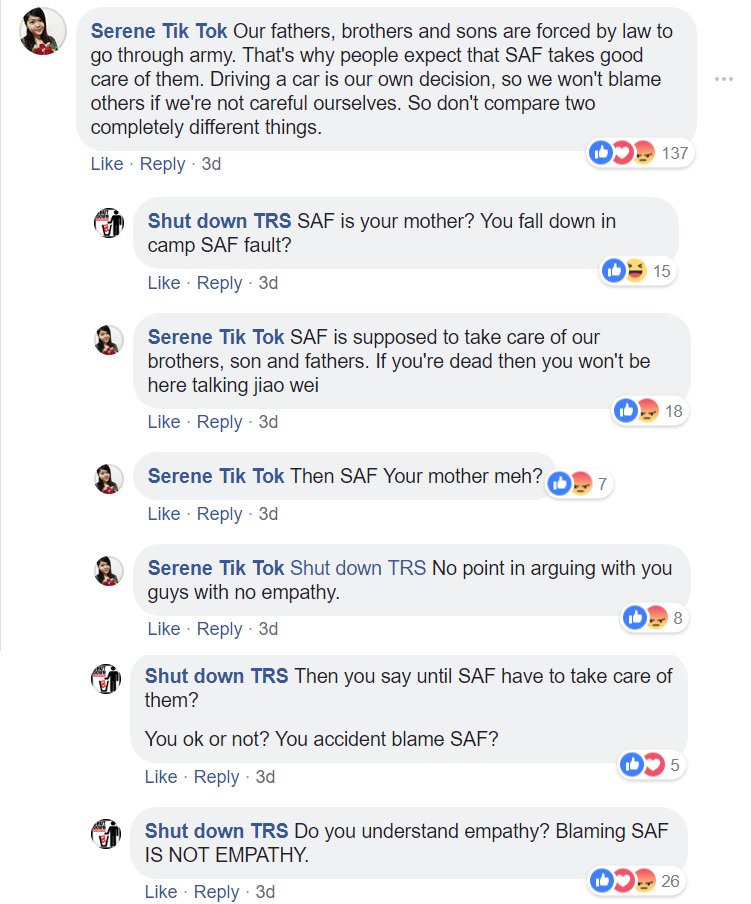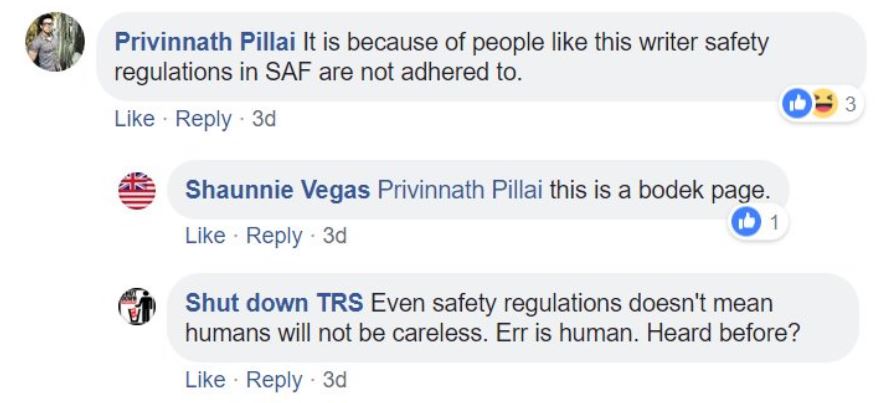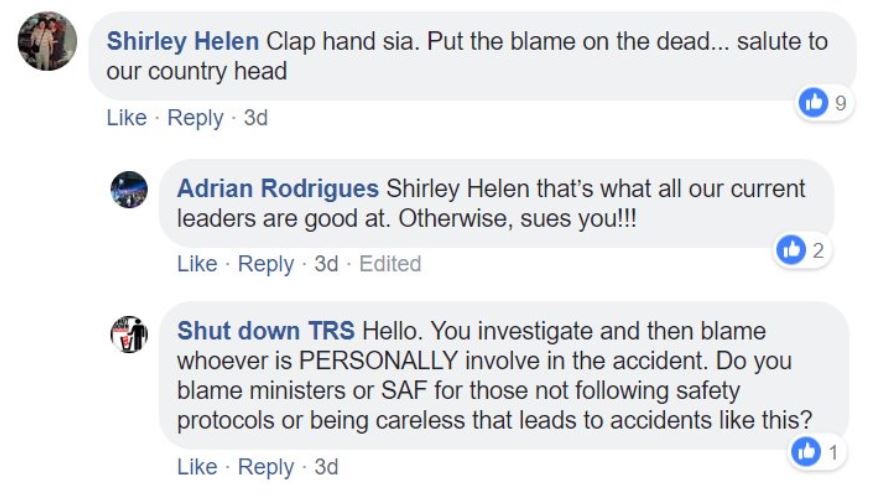 https://www.facebook.com/shutdowntrs/photos/a.1444587209087099/2273450816200730/?type=3&__xts__%5B0%5D=68.ARD0S7doJCVygr8eXr5xX1OtZOLHWaGT0CgEPrvafCtZ8gv6kkCvICiVQIKC2nZuZPT_CWAWQffNvMM-bLrDdzobg6vNtMv1IyUIIvr3i686q5WKxzDHVDe6ObeE2pwZ1hnSzHRm6WqIC7L3Q0LwE7hpVFpsliHT48Nu6HBnEYUHFpge2TfmuT_hU_MiQoBSONA9FUEe1ViAPUOd6WJ2tZKi-zFuPuvn47QK3pmun6OXno-LxxlO7ba8CIiWYRs4mTANg-h1PI09NQTP2kTPrdk4V423tY6C9vney5-Bbn4JeWcFAcpqaDi03IA4hKkaVWgn5rL3MNr3HQxL7VdRGmiTb4jx&__tn__=-RFollow us on Social Media
Send in your scoops to news@theindependent.sg