A closer look into Singapore's privately-run Social Enterprise Hawker Centres (SEHCs) has shed doubts on whether they work in the people's favor. The SEHCs were meant to be an answer to higher costs of living and an increase in food costs. The idea was to make food more affordable and more available for customers while catering to the needs of the hawkers as well—addressing high rental and operating costs.
This news came after Singapore's beloved hawker centres' recent stint in the cultural limelight after Prime Minister Lee Hsien Loong announced on August 19 that they will be nominated into UNESCO's Representative List of the Intangible Cultural Heritage of Humanity.
The announcement sparked excitement in Singaporeans, proud of their food heritage, and prompted a closer look at SEHCs, which have supposedly given hawkers a better deal than what they would normally get out of regular hawker centres. These SEHCs are being run by private social enterprise businesses appointed by the National Environment Agency (NEA). There are currently 13 privately-run social enterprise hawker centres, which include NTUC Foodfare, Timbre, Fei Siong, Kopitiam and Koufu.
In 2011, the government announced plans to build 10 new hawker centres by 2021, as part of efforts to reduce food costs for Singaporeans and provide better, more affordable options. A Public Consultation Panel on Hawker Centres was submitted in November 2011, with a proposal to have the hawker centres "operated for a not-for-profit basis by social enterprises or cooperatives."
The main reasons cited for this management model are that "the community should derive maximum benefit from the centre" and that "the centre should serve as an employment opportunity especially for individuals in the lower income groups and the less privileged."
KF Seetoh, the founder of Makansutra, a well-visited Asian food, culture and lifestyle website, argued that Singapore's Social Enterprise Hawker Centres do not fit the bill of a social enterprise.
"A social enterprise is a cause-driven business whose primary reason for being is to improve social objectives and serve the common good."
One of the major flaws in this issue, cited by Seetoh, is the rent that hawkers are currently paying in the SEHCs. They are said to be paying around $4000, much more than the $2000 or $3000 charged by Maxwell Hawker Centre, which is one of the most well-known and well-visited hawker centres in Singapore. To add insult to injury, the SEHCs are not located in high-density areas, like Maxwell and other popular hawker centres but are in out-of-the-way residential zones that do not see as much foot traffic.
The hawkers have been asked to provide at least one dish that costs below $3. But with so many other charges to take into consideration (for starters, the rental fee), how are they expected to stay afloat?
Some of the chargers the hawkers have to shoulder include 1) collection, washing and return of crockery, 2) quality assurance of food and operations by the management (at a whopping $600!), 3) coin-changing service (which can cost $50), 4) recycling food waste, 5) concept and marketing contributions, and 6) a percentage-based fee (based on profit or rent, whichever is higher) to be paid to the management.
Based on those points, it does not sound like the "common good" is being served here. Reactions on this issue were not mixed. Others agree with the sentiment that these social enterprise hawker centres are not what they say they are.
Calvin Young commented this on Facebook–

One hawker said that "social enterprise hawker centres are not sustainable. Just you wait, a lot of such hawkers are calling it quits soon."
A Facebook comment by Nic Sun Tan confirms similar disapproval and finality, saying that "The government is supposed to look after the needs of Singaporean and NOT a profit organization."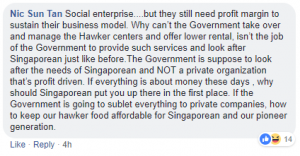 Send in your scoops to news@theindependent.sg