A patient who recently had surgery to remove kidney stones at the Singapore General Hospital has claimed that the Government hospital charged him over three times more for medication that is available for a lower cost at pharmacies around Singapore.
Facebook user Ah Soon wrote on social media that SGH prescribed that he buy four boxes of Citravescent sachets. The probiotic is a urinary and systemic alkalinser, that changes the PH level of urine from acidic to alkaline, thereby relieving the burning discomfort caused by urinary tract infections.
Ah Soon claims that SGH charged him $99.08 for each box of Citravescent, bringing the bill for four boxes of the probiotic sachets to $396.32.
The patient was, however, shocked to find that he could buy the same product for a much lower cost at pharmacies and online.
Indeed, 1 box of 28 sachets of Citravescent is sold for $36.90 at Guardian pharmacies. Online grocery shopping portal, RedMart, ordinarily sells the same product for the same price as Guardian, but is now offering the product on sale at $30.90. Another local pharmacy, Pharmed Healthcare, sells the same product for $33.60 but is now offering the product on sale for $30.80.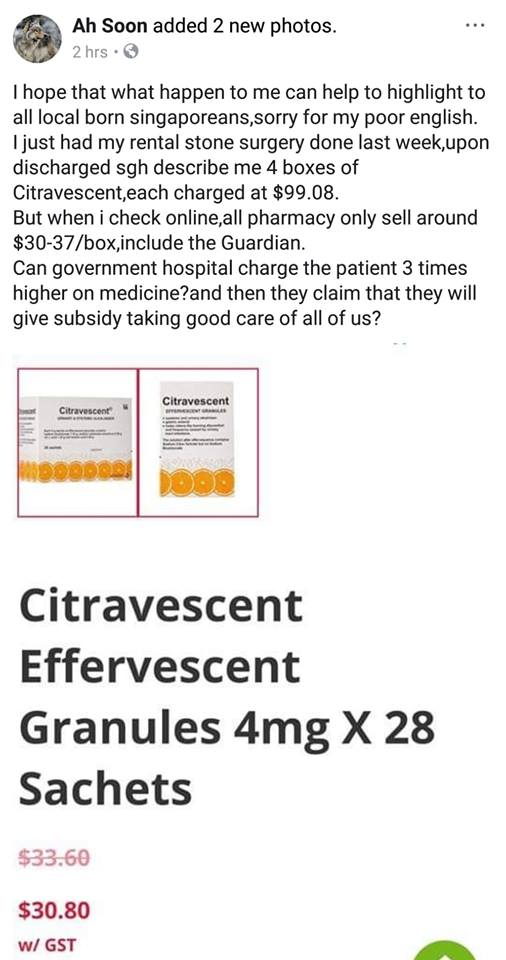 Ah Soon's claim is trending on Facebook with many netizens calling on Health Minister Gan Kim Yong to issue a statement on the matter. Some claimed that they have been overcharged for medication by SGH as well, while others asked for more proof – such as a receipt from SGH – from Ah Soon:
Check the comments from concerned Singaporeans out above.
The Independent has written to SGH to find out whether the Government hospital really does sell a box of 28 Citravescent sachets for nearly $100. We will update this story once we receive a response.Follow us on Social Media
Send in your scoops to news@theindependent.sg